I dunno what the story is, but I can't figure out how to upload a photo directly from my iPhone 4 onto Facebook using the Facebook app. i don't want to email it to Facebook, I want to do it within the app. Is that even possible, and if so, how's it done?
Facebook, both the Web interface and the mobile interface, is an example of "two steps forward, one step back", particularly with privacy and usability. I won't talk about privacy issues here — there are tons of commentators who have done so online if you're curious — but from a usability standpoint, Facebook is just incredibly bizarre. Not a week goes by that something doesn't change, there's a tweak, a change in how things behave or a feature moved from one page to another.
Settings? Preferences? Yeah, not so much on the user experience, and that's just as true for the Facebook app on the iPhone as everywhere else. There are just things that you cannot do, like if someone tags you in a note, it'll tell you about it, but won't let you actually jump to the post itself. Tagged in more than one photo by someone? You can't get past the first one to see the others, even in the Web interface. Weird.
So it's no surprise that you're having a bit of trouble figuring out this corner of the iPhone Facebook app. It took me a while to figure things out too, honestly!
There I was, looking at this first gen Apple iPod that I long ago gave my parents and I suddenly wanted to post a picture of it to Facebook and see what kind of comments it would garner from my friends.
Taking the picture was easy: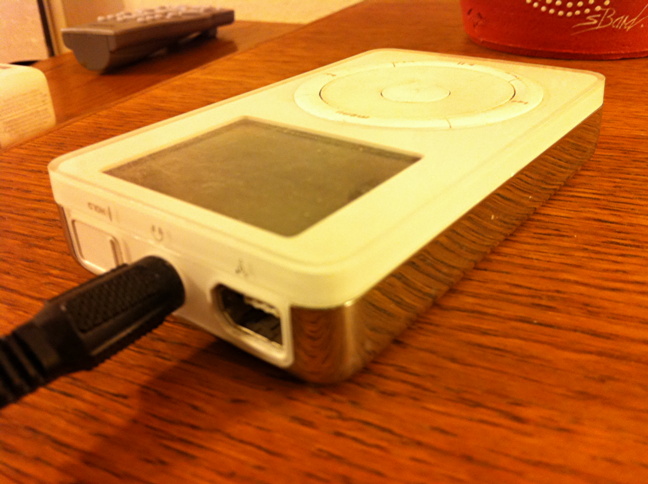 (yes, that's a Firewire port on the device, and look how fat it was! At least twice the thickness of my iPhone 4!)
Jump into the Facebook app on the iPhone, however, and there's no obvious "upload" button: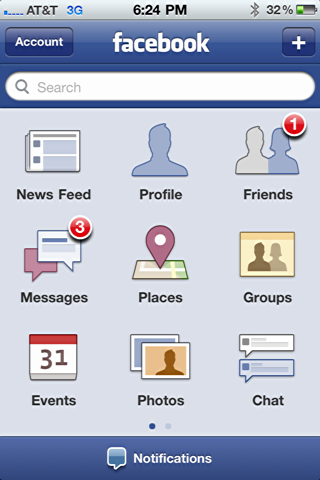 Tap on "Photos" and you see whatever albums you've created and populated on Facebook, as I am seeing here:


The ~ez_ldquo+ez_rdquo~ button looks promising, but if you tap on it, you'll quickly realize that it's how you create a new album, not upload a photo. I suppose you could create a new album just for the single pic, but then you'll end up with too darn many albums.
Instead, I tapped on "Mobile Uploads" which is what they used to be labeled when submitted from the mobile app or via email. Now I see the photos in that particular album as tiny thumbnails:


We're getting somewhere good because at this point you can tap on the camera icon on the top right and it'll give you the choice of taking a picture or choosing one from your album: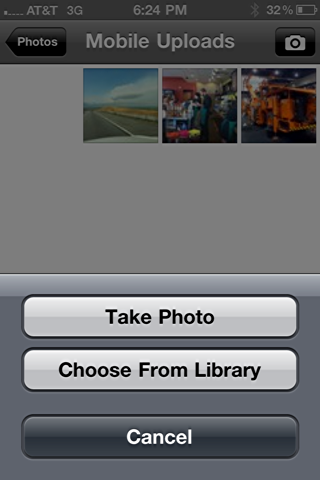 Since I already took the photo with the Camera app on the phone (which I prefer because I can trim or tweak it with another app or take a dozen pics and select my favorite later) I'll tap on "Choose from Library", which opens up the Photos app. A bit of moving around and I find the photo of the 1st gen iPod again: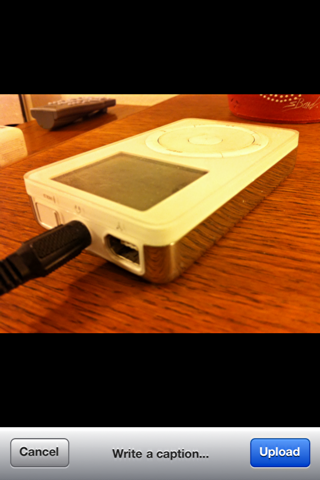 Rather than just upload it, I tap on the words "Write a caption…"


When I'm done with my witty, pithy and amusing caption (oh, come on, it's cute, isn't it??) I tap on "Done" on the top right and I'm back looking at the photo again:


At this point a single tap on "Upload" on the lower right (up, down, left, right, see what I mean about the weird Facebook app interface?) and it starts uploading the image: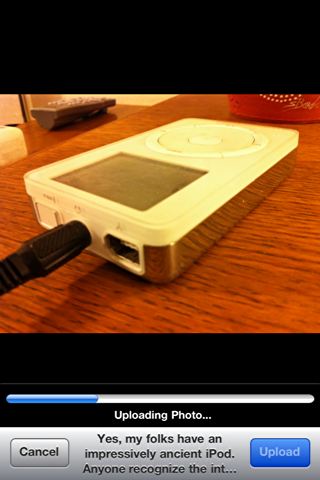 Depending on photo size and network speed, a few seconds to a minute or two pass and the photo shows up in the Mobile Uploads album as a new thumbnail:


Tap on the thumbnail and you'll see the full photo along with comment:


If you wanted to leave a comment, a tap on the ~ez_ldquo+ez_rdquo~ word balloon on the lower right would accomplish what you seek.
Curious about how this upload looks to people who see it as a status update from me? Like this:


That's how ya work with photos from your iPhone and the iPhone Facebook app. Could be easier, but once you get the basics figured out, it's not too bad. Good luck!!