Dave, I host my images on my own server, but I hate using some of the more primitive tools to work with it, especially FTP. So, tell me, is there a way to add images to my blog entries if I'm using Wordpress without using the file transfer protocol software?
That's a great question. I'm more of a Movable Type expert, so I asked my pal Sherman Hu of WordPress Tutorials for his suggestion. He offered the following method which will show you a simple way to upload and host images on your own server, and posting it to your blog.
Let's customize the upload settings first before uploading our image.
First, login to your blog's 'Dashboard' eg. www.domain.com/wp-login.php.
Secondly, click on the 'Options' tab, 'Miscellaneous' sub-tab. Here you can customize which folder will be the default folder where all your future image uploads will be stored in.


I've chosen my 'images' folder, and checkboxed for my uploads to be organized into month/year based folders. Click on the 'Update Options' tab to confirm changes.
Ensure that the folder you've chosen above has the global write permissions assigned for WordPress to use it effectively.
How do you do this? Simple.
Login to your host account using FTP software, right click the 'images' folder, and change your permissions to 'All Write' privileges, or "chmod 777".
The other option is to login to your host account's cpanel, and use the File Manager to accomplish the same permission tasks as above.
Now that we're done the initial setup, let's walk through how we can upload images to your WordPress blog without the use of FTP software.
In your Dashboard, click on 'Write' tab, then 'Write Post' sub-tab.


Scroll down to the 'Upload' feature box, click the 'Browse' button to locate your image in your computer files, along with any descriptions, then click the 'Upload' button. Your image has now been uploaded to your host account.


Just for testing purposes, I've included a screenshot above of what the file structure may look like on your host account using this method.
As you can see, WordPress created a thumbnail image, along with my original image. I'll use the original image for our example.
So let's paste the code to our new blog post, shall we?
If you're using Firefox, simply right click the image and select 'Copy Image Location'.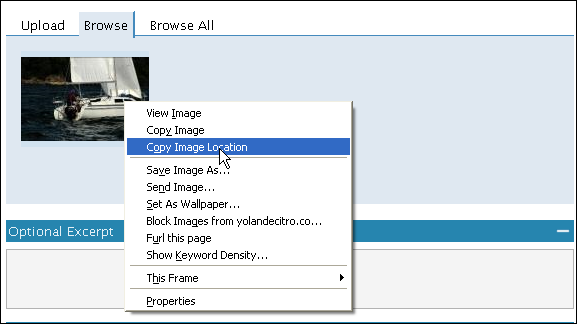 In your 'Write Post' section, fill in your post title, and body content. Then paste in your image code. Below is an example of what it could look like.


Click the 'Publish' button, and let's view our blog to see what our post looks like…


There you go! A simple process to upload images to your host via your WordPress blog dashboard that precludes the need to use FTP software.

If you're interested in WordPress customization, I do recommend you checking out Sherman's WordPress Tutorials site. He has tons of customization tips and tricks and a very active discussion board too.