I'm a bit confused that when I'm looking at photos on my Android tablet, I don't see the "upload to Dropbox" option. So how do I upload photos to my Dropbox account from my tablet?
For something as straightforward as a cloud-based storage solution, it's surprising that the user interface with Dropbox ends up being so different on different operating systems and platforms. Then again, it's quite possible that's because the different operating systems, especially mobile versus desktop, only offer specific ways that the Dropbox program can slip into the user interface in the first place. On an Android tablet there's not really the contextual menu configuration that you might be used to with a Windows PC or Mac system, for example, so even if it could be added, there's no menu onto which to add the "Upload to Dropbox" option!
As a result, for desktop systems, the path of choice is to find the photos and choose "upload" while on mobile devices like an Android tablet, iOS-based iPad or iPhone, Windows Phone, etc, the easiest solution is to download the Dropbox app, log in, then upload the photos and videos you want — and any other files you can find and access, depending on OS — from directly within the Dropbox app.
I went through these steps on my Trio AXS Android tablet to illustrate. To start, launch the Dropbox app. Here's what I see, with my set of folders on the server:
Lots of folders. I'm a big fan of organizing things!
Notice the icons too: Any folder icon with tiny people inside is a shared folder, and any icon with a tiny globe (like "Public") is publicly accessible without a password or the need to know a cryptic URL.
The pics I want to upload from the Trio tablet I'd like to have end up in my "Screenshots" folder, so I need to swipe down just a bit to find it, then tap to go into the folder: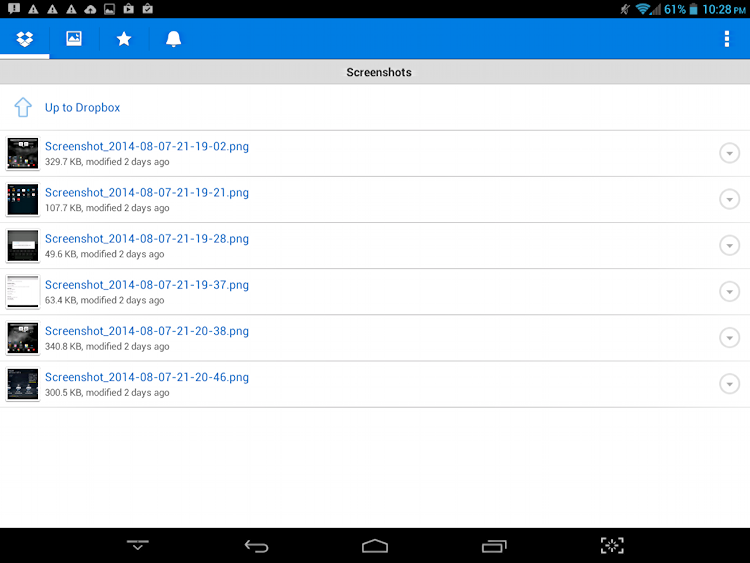 Here's where it's a bit confusing, because the "Up to Dropbox" link moves you up a level in the file system on the server, it doesn't give you the ability to upload content to your Dropbox account.
To accomplish the desired photo upload, tap on the three vertically stacked squares on the top right to pull down the action menu: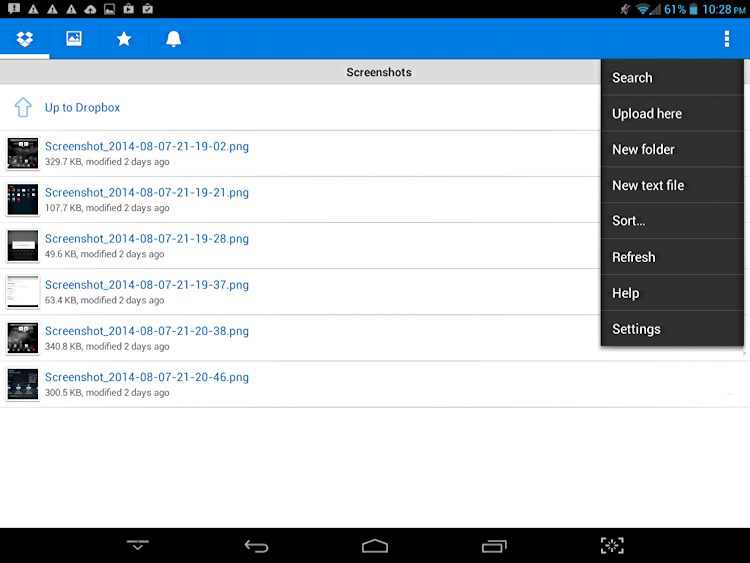 You can guess which one you want: "Upload here".
Tap on that and you'll be able to pick what kind of content you want to upload: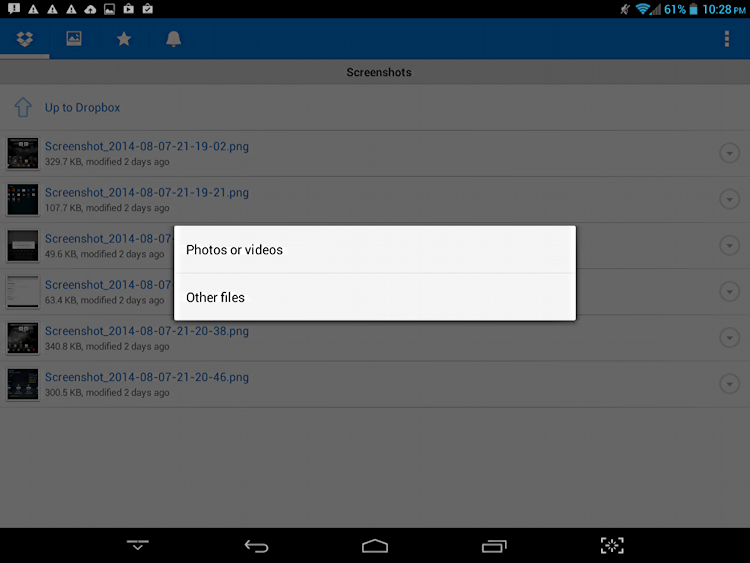 I'm uploading photographs, so "Photos or videos" is the right choice.
A tap and now I'm looking at a display view of the images and video content that's on the tablet:
From this point, simply tap on each of the items you want to upload, confirm that the little checkmark lights up on the top right of the thumbnail (you can see I have selected two videos so far, and no photos), then tap the big green "Upload" button.
That's it. The images, photos, video segments and whatever else you've chosen will now upload one at a time.
Done. Not too difficult once you know that you have to work from within the Dropbox app.