I've had my Kindle Fire since they first came out and it just struck me that there might well be some updates to the operating system firmware (software? what is it called on the Fire?) on the device. How do I check for a firmware update on the Kindle?
As our devices get more sophisticated, it's definitely getting a bit trickier to figure out how to keep them completely up-to-date. Fortunately most of them do the work for us and when there's an update to the operating system firmware, they'll generally notice it within a day or two and prompt for us to let them update. Kind of robot-invasion, if you ask me. 🙂
The Kindle is no different and Amazon's done a great job with the supporting software. As long as you use the device occasionally, when there is an update to the system itself the device should pop up a "update available. apply?" sort of window and you can decide at that point whether you want to proceed.
There are, however, lots of apps on the device too, and if you're like me, you've added even more from the Kindle software store. How do you update those? Again, the Kindle does the work. You just have to know where to look.
Let's say you're using your Kindle and you notice a small number on the top left bar, like this:

Look closely and you'll see a "2" just after the word kindle. This means that there are two messages that the Kindle wants to show me. Okay. I tap on that spot on the screen and the notifications appear:
You can see from the first message that in fact my Kindle is set up to perform automatic upgrades and one of them has failed due to permissions. Well, I'm not really a fan of automatic invisible updates because things just … change … and it can be rather disconcerting, to say the least.
Still, this message is good, because it can lead to the app update area. Tap on it.
Lots of updates for my Apps, including Angry Birds Seasons Free, Concentration for Kids and Words with Friends Free. Easily done, just tap on "Update All", as highlighted.
Some time will pass as the new versions of the apps are downloaded and installed. Part-way through, it'll look something like this:
Once all these app updates are done (signified by "Open" next to each app) tap on the gear icon on the top right (highlighted, above) to check for a system firmware update.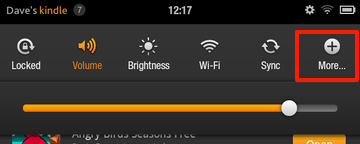 You've hopefully explored this area before with your Kindle, it's how you can adjust volume, connect to a specific wifi network, adjust your screen brightness, etc. We want "More", so tap on that and scroll down a bit on the "Settings" list…
To see what version of the firmware you're running on your Fire and simultaneously have it check to see if it's the latest version, tap on "Device", as shown. The result: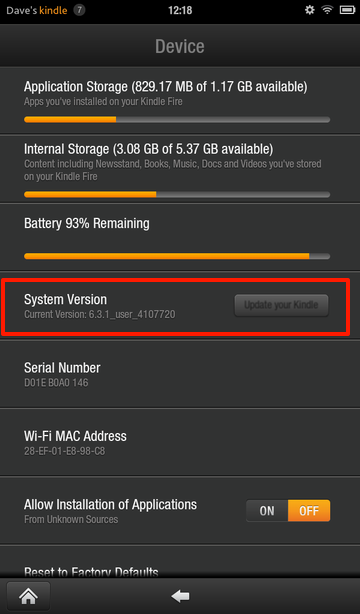 You can see that I am indeed running the latest version of the system, version 6.3.1_user_4107720. If there was an update available, the "Update your Kindle" button would be bright orange and you could update your firmware by simply tapping on that button. Easily done!