Already installed Apple's slick Boot Camp system so you can dual boot your Intel-based Mac into Microsoft Windows in addition to Mac OS X? Perhaps you even used my popular tutorial on How to install Windows XP in Apple Boot Camp to get it all working? Either way, you should be aware that Apple just released an update to Boot Camp that, among other things, will let you install the new Windows Vista in the Boot Camp partition.
Other features of this new 1.2 beta release include:
Updated drivers, including the trackpad, AppleTime (sync), audio, graphics, modem, and the iSight camera
Support for the Apple Remote
Windows system tray icon for easy access to Boot Camp
Improved keyboard support for Korean, Chinese, Swedish, Danish, Norwegian, Finnish, Russian, and French Canadian
Improved Windows driver installation experience
Updated documentation and Boot Camp on-line help in Windows
Apple Software Update (for Windows XP and Vista)
Are ya ready to take the plunge and update your Boot Camp installation? Sure you are!
I am going to make the assumption that you already have Boot Camp installed on your Intel-based Mac system, and that it isn't the 1.2 beta release. Hopefully that's not too radical an assumption!
Your first step is to download the new beta release off the Apple site, which you can do by clicking on Download Boot Camp Now. The disk image you download has both a "Read Before You Install" document which outlines the steps you need. Fortunately, upgrading is easier than installing, so there are only a short seven steps listed.
Also on the disk image is the all important "Install Boot Camp Assistant.pkg":


Double click on that to launch it, then step through the usual license terms, installation target drive, etc. Nothing unusual and it's quickly accomplished. Once it's installed, you'll find the application in
Applications
–>
Utilities
–>
Boot Camp Assistant
. Launch it!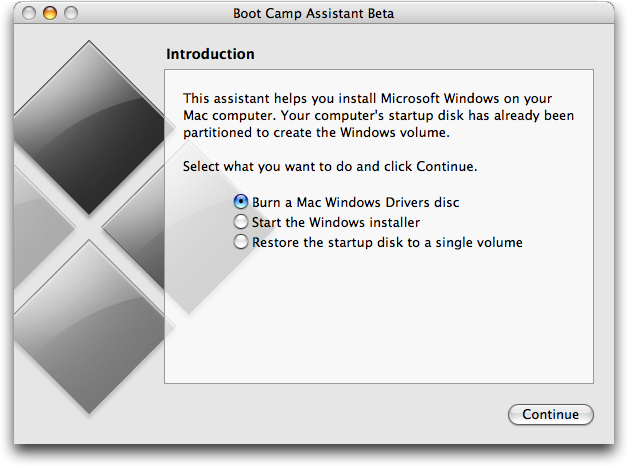 Choose "Burn a Mac Windows Driver disc" and click "Continue":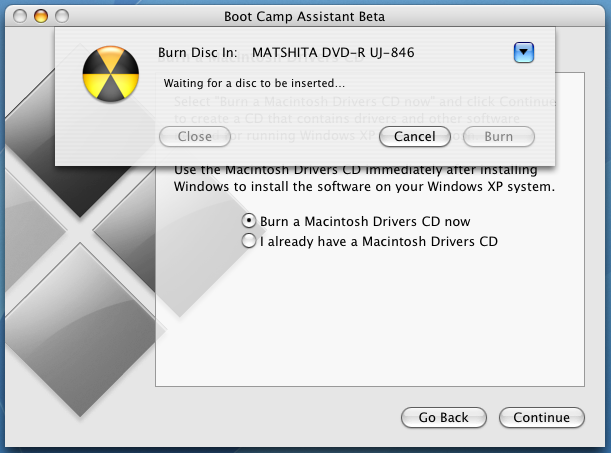 Put a blank CDROM disk into your Mac burner and click on "Burn". Then it'll show you a progress bar:

and, finally, be done. Now you can safely quit the Boot Camp Assistant as we're done with it, now that the updated drivers CDROM has been created.
It's time to boot into your Windows XP that you've already installed into Boot Camp on your computer. The easiest way to do that is to choose
Apple
–>
Restart…
then hold down the Option key so it gives you the choice of operating systems: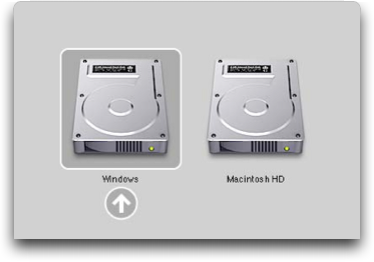 Once Microsoft Windows XP finally gets running, insert the new CDROM and if you have autostart enabled, it should automatically launch the installer. If it doesn't, just go to
My Computer
, open up the CDROM drive (E:) and double-click on the "Install Mac Drivers" icon. You'll see: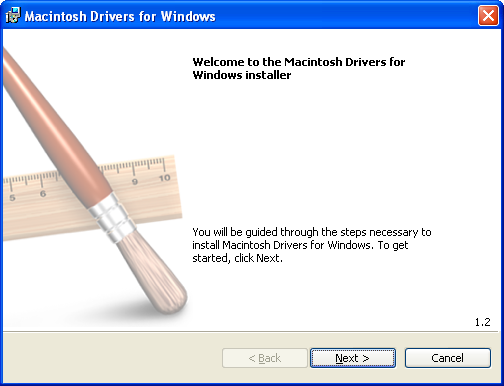 Step through the license (again!) and you'll finally get to choose what feature to install:
Click on "Install" and it'll start chugging along: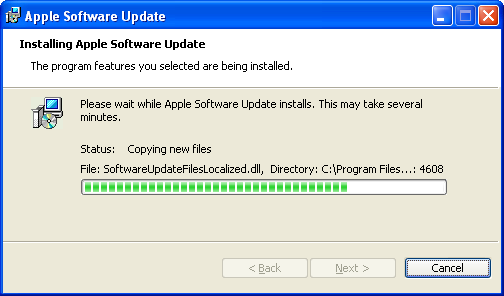 It took a good few minutes on my system for it to completely install all the different drivers. You might well see one or more of these warnings: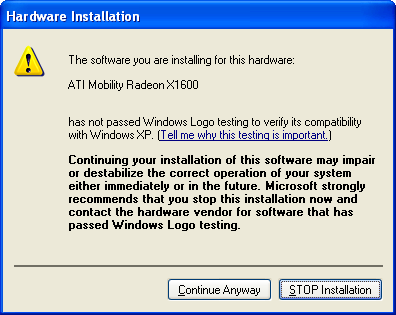 That's nothing to worry about. Just click "Continue Anyway" and, finally you'll get to the final screen, the final step:
That's it. Click on "Finish" and restart your WinXP Boot Camp operating system (probably you'll need to remember to hold down Option again so you don't automatically boot into Mac OS X).
Done!