I haven't logged in to my Flickr account for a while, and when I just tried to go in for some reason it refused my login and password, saying they were invalid. Flickr's owned by Yahoo so I'm using my Yahoo account credentials, as always. How do I prove I own my account and reset my password to something I know, so I can get in??
There's no more common question here at AskDaveTaylor than one about recovering a lost password, resetting passwords or regaining control of a hijacked account, whether it be on Hotmail, Yahoo, Google, AOL or one of the other online services. This is why I emphasize again and again the importance of going into the account settings on these services and setting all the backup phone numbers, backup email addresses and security questions to known answers now, while you do have access.
If they have two-step logins, it's a great time to set those up to. Do that (you can search this site for "two-step" and the name of the site for detailed instructions) and even if someone gets your password they won't be able to log in to your account without your cellphone in hand too. Smart. Easy.
Back to Yahoo and Flickr. Turns out I had a similar problem with my own Flickr account and even my password saving software (1Password) didn't have the password recorded. Instead, I had this sort of experience…
First off, the usual Yahoo sign in window popped up: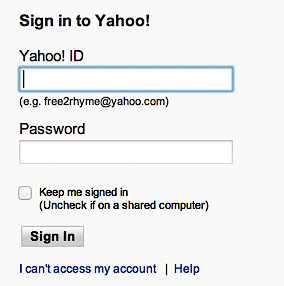 When I typed in what I know is my Yahoo ID and thought was my password, however, it didn't check to see if it was valid because it wanted to ensure I wasn't a 'bot by using a CAPTCHA sort of tool:


After I entered that correct I found out the stark, depressing truth:


Well harumph!
Many tries with many different passwords later, I realized I was hosed. I just didn" know the password to my Yahoo account that I've had forever. Not good.
To proceed, I clicked on
I can't access my account
on the login window, to find that there were multiple ways to proceed:


In this situation, I know my Yahoo ID — dave1taylor — and I'm pretty darn sure that my account hasn't been "compromised" (a fancy way of saying "hacked" or "hijacked" or "stolen") so I proceeded by clicking "Next"…


Again with the CAPTCHA. Tedious, but not horribly hard. I entered my Yahoo ID and the answer to the visual code (zr4eubG in case you're not used to their style of code) and, again, click "Next".
Now I can decide how I want to reset the password:


By default it'll send a password reset link to one of the alternative email addresses you have on file (which is why if you don't have any on file that's a big problem!) but I'd rather proceed by getting a text message from my phone, since I also made sure that number's on file. When I click on the "Send a text message to my mobile phone" link it offers a hint to remind me what number I have on file:


I enter my cellphone number (which I'm not sharing with you here 🙂 and click "Next".
Moments later a text message appears on my phone:


Okay, the secret [one use] code is "5978f762", so I'll enter that in the appropriate spot


One more click on "Next" after entering the code and…


At this point, enter your new password, and make it a good one. Upper case, lower case, punctuation, digits, mix things up and make it impossible to guess!
And that should help you get back into your Yahoo / Flickr account. Good luck!