This is making me tear my hair out, Dave. I bought an Airport Express from Apple a few years ago and I've always just used the Airport Utility to update it, change settings, etc. Nice and easy. Until Mountain Lion, and now it's reporting that the device is obsolete and pointing to a page on the Apple site that actually has no information on how to proceed. I really don't want to buy a new one. How the heck do I update my older Airport Express?
Oh, you gave me a tough one to figure out, for which I think I'm appreciative. No, really, it's an interesting problem because the solution involves kind of getting your hands dirty in the internals of the Mac system because you're right, the latest version of Airport Utility doesn't support earlier Apple Airport Express devices.
Lame or just business reality, Apple is pretty aggressive at phasing out hardware, particularly in a space where there's a lot of change and evolution. Indeed, the modern Airport Express that's for sale today looks almost nothing like what you have from all those years ago. So should it be supported forever? I don't think so. But when it does drop off the map, it can be way more than just frustrating.
Fortunately, in this case at least, there is a solution that doesn't require you digging up an old Mac system that's running an earlier version of Mac OS X.
Turns out you can download just about any older version of that Airport Utility, so back up to version 5.6.1 or so, and save it to your system.
Before you do, though, here's the error I saw when I duplicated this situation:


In case it's too small, it says:
"This version of AirPort Utility doesn't support this base station."
Then there's a link to a page that doesn't actually seem to have much additional information when you check it out. That's okay, I've got your back!
The first step to the solution is to download a slick little app called
unpkg
. Go to the
unpkg home page
and look on the right to find the download button:


Once you've downloaded it, grab a copy of the 5.6.x version of Airport Utility by using this Google search:
download "airport express" 5.6
.
Got them both? Good.
Now launch unpkg by clicking on its icon: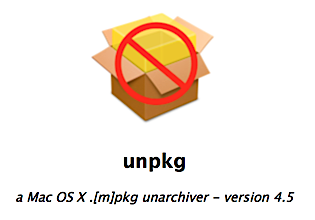 The program will pop up a drag target window, which you'll want to have visible. (in the below pic, it's on the lower right)
Now find the installer package for AirPort Utility 5.6 and drag it onto that window, as I'm doing below: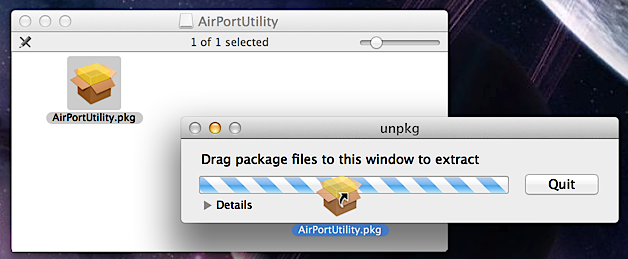 A moment or two passes and the installer package is disassembled and saved in a cascading set of folders in your Desktop, as shown by the progress activity listing:


Turns out that Mac applications have a lot of data files, graphics, and even different versions of code, all organized in a standard set of subfolders. The unpkg program reverses the neat packing of the installer and creates a set of folders, as you can see here:


There's what we want: the older version of AirPort Utility that's in Applications > Utilities.

If you tried to use the shortcut of just running the installer, you found that it refused to proceed because it's incompatible with your more modern version of Mac OS X. Hence all these hoops we're jumping through!

After a few seconds it'll find the old AirPort Express base station and invite you to do something that you most definitely do NOT want to do:


Click on "Cancel" so you can just use this version of the program — it'll work just fine — and you'll see the old AirPort Express show up on the list of devices:


Click on it to select it, then choose "Continue" on the lower right to configure or update the device within this older version of the Utility.
One you do, though, your computer will drop your existing wifi connect in favor of the Express, which the program warns you about:


That's fine. "Switch" is the next button to click, and now you can dig into the configuration settings, change passwords, update the device's wireless name, etc:


This process is pretty tricky so read through these directions a couple of times, then proceed slowly. The key is to resist your normal urge to update apps!
Good luck, and let us know how it goes!