Hey Dave! Whenever I change my profile picture on Facebook all my friends are notified of this change. Not good. How do I stop this? Thanks.
Ya see, this is another reason not to have any friends, because then you could change profile pictures to your heart's content without ever worrying about anyone being notified.
Well, maybe that's a bit drastic as a solution. The problem is that you can't actually turn off those friend notifications of updates you make like a new profile photo. There's a kind of workaround that people use, but it's not a perfect solution, just a kind of dirty band-aid on the madness that is the Facebook user experience. 🙂
The idea is that you update your picture, then immediately delete the fact that your profile picture changed from your Timeline. From that point forward — theoretically — your friends won't see that notification in their timeline, though there's still a small window between when you set the photo and when you delete the notification where it is still available.
Let me show you how it works…
First off, here's the top left corner of my own Facebook home page, with a tiny thumbnail of my photo, etc: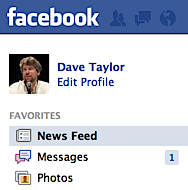 To change my profile pic, I can simply click on the profile picture thumbnail. Then I'm looking at my own profile page. Hover the cursor over the image and an option pops up: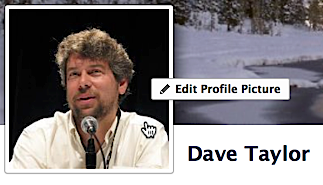 Move the cursor into "Edit Profile Picture" and some options appear: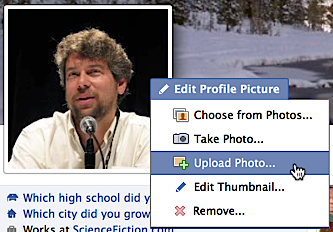 As you can surmise from the option I'm selecting here, choose "Upload Photo…" if you have a new picture you want to use, or "Choose from Photos…" if it's one that's already on Facebook and accessible to you.
I'll upload a fun picture I have from when I worked at a medieval games (though frankly the outfit is more renaissance than medieval, as far as I know. Still, it's a pretty interesting photo…)
After a moment or two the profile picture is shown updated and I'm done. Easy enough: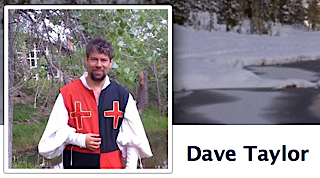 Problem is, now I want to get rid of the update notification. I can't, though, the event's already happened, but in a somewhat confusing manner, removing it from my own timeline makes it less visible to others. To do that, I need to
reload my profile page
to see the new notification: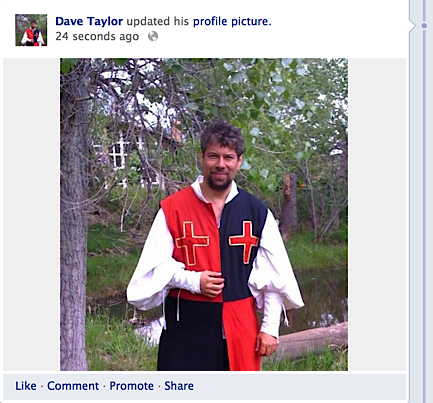 Yeah, I've "updated my profile picture" alright. I just don't want people to know I've done it! 🙂
Again, move the cursor to a hidden spot, this time on the top right of the box that contains the image and update information…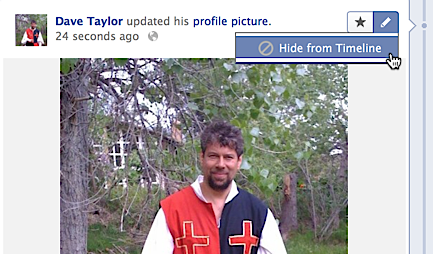 That's the choice. "Hide from Timeline". But that's not enough, as Facebook hints when it tells you that the update has been hidden:

Okay, you crazy interface! How do I actually
remove
the darn update from the system? How about clicking on "Delete"? Seems reasonable…

Yup. Now people can see my profile picture has changed, of course, and they can see the notification on my timeline about the photo upload (tho that can be deleted too) but the notification about me changing my profile pic should be invisible.
Now if only Facebook would add an "anti-promote" or "unpromote" option to updates, they could make some coin off of my desire to keep things hidden. Or should I not suggest that to them?