Dave, I use Apple Maps for both driving and biking routes and directions and am wondering if I can have it avoid toll roads or even busy roads and hills when on my bike?
Apple has been diligently working on its Maps software and system for many years an it's pretty darn slick nowadays. Yes, when first released, it had some issues, including a tendency to route you along one way roads and through private areas, but that's all the in past, and its routes – and traffic info – are on par with the very best mapping systems online.
This isn't to say that it's not smart to occasionally go into the preferences and settings area to ensure that it's calculating routes that match your own preferences in this regard! Confusingly, these settings appear in different places and don't seem to sync across devices, so if you calculate routes on your Mac with Maps, then send that to your iPhone, you might well have an issue. Let's look closer…
APPLE MAPS FOR IPHONE: SETTINGS
Go into Apple Maps on your iPhone and you'll see something like this: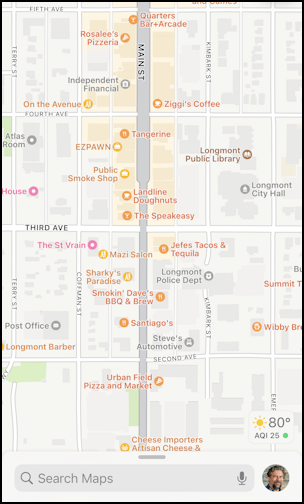 You've undoubtedly seen this view a thousand times. But have you ever tapped on your profile picture? That brings up a menu of key features and tools:
Choose "Preferences" to proceed…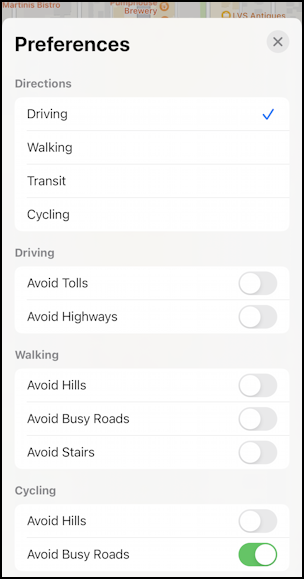 This set of options probably covers most of what people want to tweak about their directions through Apple Maps, and it's pretty cool that you can say "Avoid Stairs" with walking directions too. While you're on this screen, swipe up, because there are more settings and preferences too.
IPHONE SETTINGS > MAPS
Interestingly, there are different settings if you go into the Settings app and check out what's shown for the Maps program:
Between these two sets of preferences, you should be able to get your iPhone app to work as desired. But what about on your Mac?
APPLE MAP SETTINGS IN MACOS
On the Mac, it's easier to get to the settings: Launch Maps and go to Preferences:
Basically the same routing options. Just make sure that they have the same settings as what you've specified on your iPhone and you should be good to route yourself to your destination safely, whether on your bicycle or in your car.
Good luck!
Pro Tip: I've been writing tutorials for both the Apple iPhone and Mac since they was first released. Please check out my extensive Mac help area and iPhone help area for lots and lots of useful content.