I've been running Microsoft Windows 8.1 on my new laptop and relying on Windows Defender to keep me virus and spyware free. So far, so good. But how do I update the virus definitions and other data that Windows Defender uses?
After years and years of leaving us Windows fans to suffer with third-party anti-virus and anti-malware programs of various levels of efficiency, Microsoft finally stepped up to the proverbial plate and included a surprisingly powerful and effective antivirus program with Windows 8 and Windows 8.1 called Windows Defender. What's amazing is how few people realize that it's part of the OS, but that might be because they've been conditioned to think antivirus = third party. Or it might be because those same third party companies push aggressively to retain their market share. 🙂
In any case, Microsoft Windows 8 — "Win8" — does its best to keep everything updated on your computer and it should also be updating your virus definitions, etc, for Windows Defender too, but sometimes that doesn't seem to work. No worries, here's how to force an update with Windows Defender itself.
First, launch the program. The easiest way is to use the Charms Bar and search for "Windows defender":
There it is.
Click on it — or just press RETURN when it's highlighted. The program launches.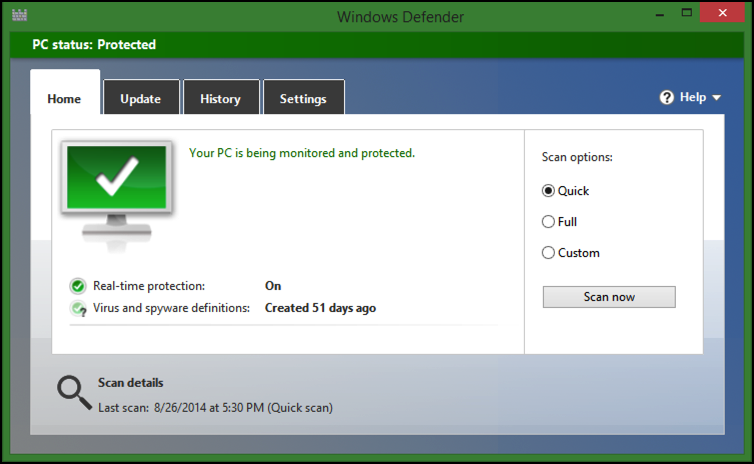 Uh oh. My virus and spyware definitions are 51 days old, and I haven't scanned my PC since then either. Not good!
I can opt to scan now, but since my virus definitions are woefully out of date — and 51 days is forever in virus terms — it's kind of pointless.
Instead, click on the "Update" tab.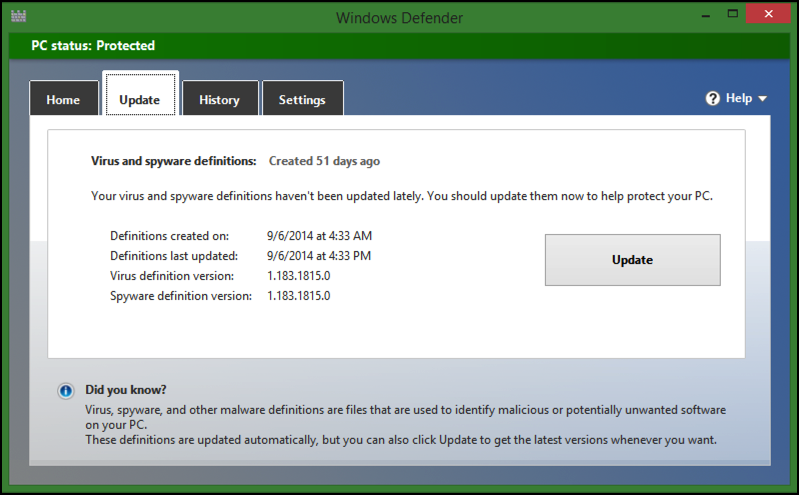 You can probably guess. Click on "Update".
It takes a while to download and install, so you'll see this:
Then eventually you'll see this:
Now while that's going on, I suggest you click on the "Settings" tab and make sure you actually have Windows Defender, well, defending you:
As you can imagine, I strongly recommend you enable "turn on real-time protection". So do so. Then click "Save changes".
By this point, hopefully the download, install update is done. Find out, click back on the "Update" tab:

That's better. You always want to see "Up to date" on those virus and spyware definitions.
Now go run a proper scan and get a cup of tea while you wait. It's time well spent!