Okay, this is crazy. My friend and I both have Apple iPhones. We both have Facebook accounts, and we both have the Facebook app for the iPhone. On his, however, if he shakes his phone it gets the latest data from his Live Feed, but on mine, nothing happens when I do that. Is my iPhone 3GS busted, or what??
You've hit on a curious design gaffe for the Apple iPhone, actually, one that constantly surprises me when I bump into it since so much of the iPhone user experience is seamless and delightful: for many apps the settings and preferences are actually disconnected from the app itself.
The problem is that while many apps have their preferences accessible from within the app, that means that the settings data file is part of the app or something like that, something that some iPhone application writers (including the development team that built the super-slick Ask Dave Taylor iPhone app [iTunes link], which you've already checked out, right? I hope so!) don't seem to like, for some reason.
So while some apps like Bump, AroundMe, Starbucks, Fandango, Pandora and GPS Drive have preferences accessible within the app (typically, look for a little geared wheel icon), many other apps – including Facebook – don't.
Instead, you need to rather unintuitively poke around in the iPhone Settings to find the Facebook setting you're talking about, the one that lets you get Live Feed updates by shaking your phone.
So start out with the main screen, or wherever you've dropped your "Settings" icon: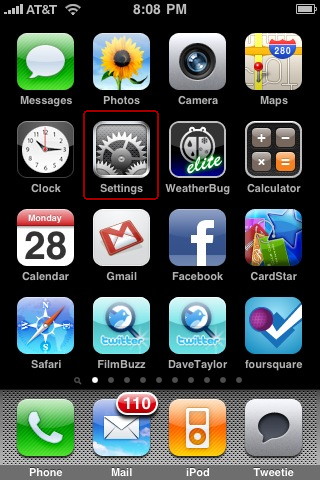 Click, uh, tap on it, and you'l see your usual Settings options: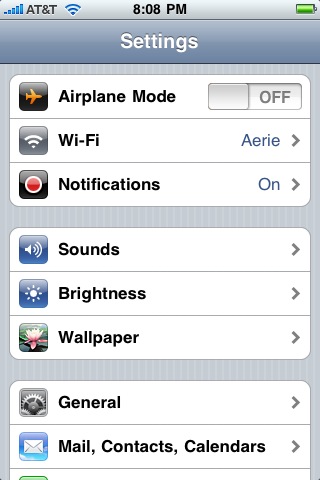 Nothing there yet of interest, but slide your finger to scroll down a bit and you'll be surprised at just what shows up: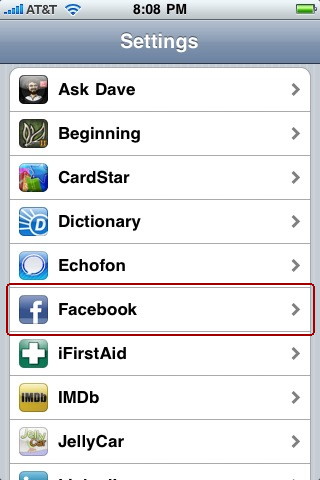 There we go! There's where the iPhone Facebook app preferences are located, oddly enough. Tap on it and you'll see there are two options available: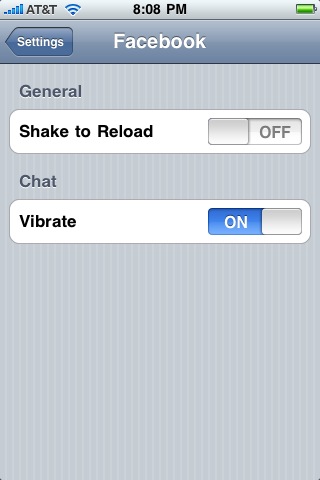 The first one is what you seek, I'm sure! Nothing's wrong with your phone, you just have to enable "Shake to Reload". Do that, move to any other screen or app, and next time you're in the Facebook app, shake your phone!
Hope that's helpful! Now, while we're here, a few words of assistance: I have lots and lots of
iPhone help
,
Facebook help
and even an
Ask Dave Taylor Facebook fan page
. Why not spend a few minutes and learn more about what I can do to help you get the most out of your online time? Thanks!