My kids are a menace. At least, they are when they get their hands on my iPhone and iPad! Well, now that I think about it, they're just all-around menaces. 🙂 I'd like to add some sort of restrictions to my iOS devices so that they can't just go and buy stuff willy-nilly. This is possible, right? How do I enable content and purchase restrictions on my iPhone and iPad?
I can't comment on your children being a menace to your iTunes Store bill since to do so will inevitably incriminate my own children too, though I have to admit that they're good about asking before they make any in-app purchases. Still, the in-app purchase problem is sufficiently huge that there were some lawsuits a year or two back about unexpected — large — transactions on iTunes Store receipts!
Apple's done a nice job of enabling a variety of parental controls in iOS 5, fortunately, ranging from the type of content that children (or anyone else without the necessary password) can purchase and view or download to whether purchases can be made at all.
Let's have a look!
To start, go to "Settings" and tap on "General". Now scroll down to "Restrictions":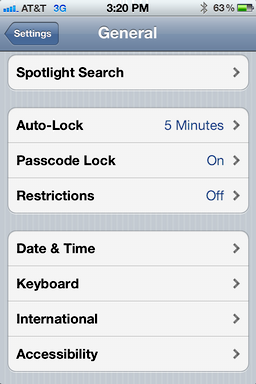 It's confusing because on first glance it says "Off" so it seems like there's nowhere to go from here, but the ">" on the right should be your clue that there's more underneath this. A lot more. Tap on "Restrictions"…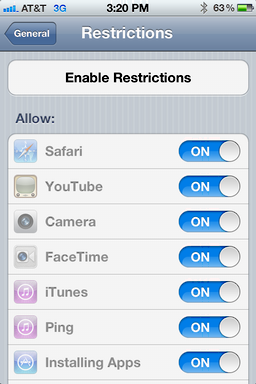 Uh oh, as you can see from the top display, I don't have restrictions enabled on my iOS device. To enable them, I need to tap on "Enable Restrictions", which then causes the phone to prompt me for a secret code:
As a handy tip, if you have a lock code for your phone, it's best
not
to use the same code for your restrictions access control, otherwise a day will come when you tell one of your children your iPhone's lock code and, well, they can now get to anything they want!
Once you've entered the code — twice — you'll have enabled restrictions and can make changes on an app-by-app basis: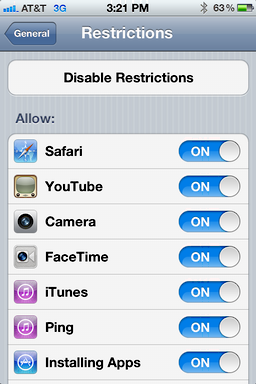 I'm not a huge fan of YouTube for children (too much inappropriate junk) so I disable that one, along with turning off FaceTime: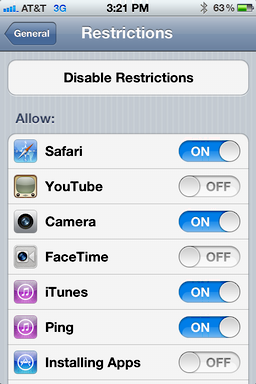 Scroll down a bit and you'll see there's even more you can tweak and modify while you're making changes. One useful change: disabling the ability to add or delete apps: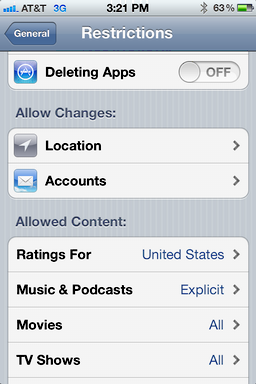 Finally, if you tap on "Movies" you'll get a good sense for the more granular restrictions you can put in place:
Good luck with it all and with those menacing children!