I want to have song from my song list in iTunes into a ringtone I can use on my iPhone? Is it even possible, and if so, how do I go about this?
There are a couple of different ways to accomplish your goal, including a ton of iTunes ringtone apps you can fiddle with, but since I like to get my hands dirty, I figured out how to turn just about any music or song you have in your iTunes library into a ringtone. It's tricky and involves a lot of steps, but once I show you, you'll be able to go through the process as desired, making a few — or even dozens — of ringtones.
Further, I'm going to focus on the Mac side of things, but if you're a PC / Windows user, the process is almost exactly the same with one tiny variation that I'll point out. In all cases, I'm going to assume that you already have an audio track in your playlist that you want to use as your new ringtone.
With those disclaimers and with a second reminder that this is pretty darn complicated, let's jump in!
The most difficult part of the process is to isolate a 10-30 second snippet of a favorite song. I'm going to use a track from the soundtrack of the brilliant BBC TV series Sherlock, a track called "The Game is On"…



Having found the track and paused the player about 0:26 into the track, I'll now click on the small arrow icon to bring up the context menu: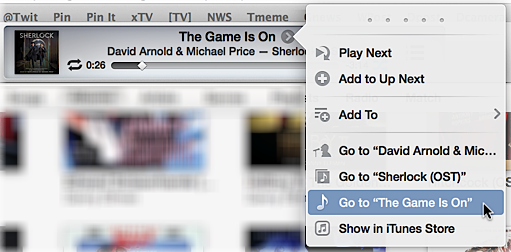 Select "Go to" and the track number so you can see the contents of that particular CD or collection, with the desired track highlighted. Now press Cmd-I or choose "Get Info…" from the "File" menu. On the Options tab, you'll see Start and Stop times: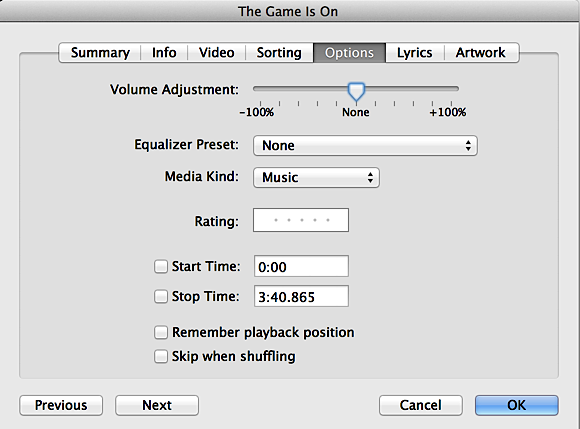 For 99.999% of your songs, start time will be 0:00 and end time will be the exact length of the particular track. For a ringtone, however, these need to specify the exact (down to a fraction of a second) start and stop times of the snippet you want to use. Mine ended up looking like this:



This process will take a lot of time. Specify start and stop, then switch to a different track, then back to the track you're tweaking so you can hear the exact start and stop easily. Notice, as I do above, that if full seconds are too long to get just the right downbeat in the song, you can enter fractions of a send to really nail things down.
No kidding, it took me about ten minutes of tweaking the timings to get the segment exactly as I wanted.
Once you're happy with your segment, Cmd-click or right click on it in iTunes to bring up the pop-up contextual menu: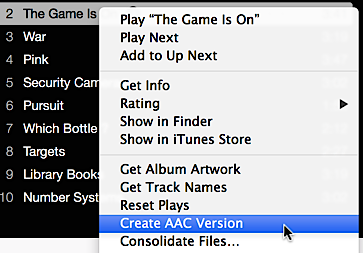 Select "Create AAC Version" and don't worry, it won't mess up the original track! If you don't see "AAC" as an option, check your iTunes Preferences to ensure the high-quality AAC format is enabled.
Once it's done, you'll now have two copies of the track, one that's the full and proper length, and one that's 0:30 or shorter. Mine's only 20 seconds long, as you can see:



Now's one of the tricky steps: You need to find that actual file in the Finder (or, if you're on a Windows system, in Windows OS) and change the filename suffix. The easy way to do this is to Cmd-click or right-click on the short version of the track to again bring up the context menu:



"Show in Finder" and you'll be looking at the folder that contains all the tracks for the CD or compilation that includes your ringtone track:



Pay attention to file sizes, select the shorter – ringtone – track, then choose "File" "Rename…" or use "Get Info" on the track or use the Finder shortcut of a single click on the filename, then after a few seconds another single click on the filename. However you do it, change the filename suffix from "m4a" to "m4r":



Great. You're over halfway!
Now that you've renamed the actual file, you can sidestep later iTunes complaints about tracks it can't find by deleting the short ring tone version of the song from the CD with another Cmd-click or right click: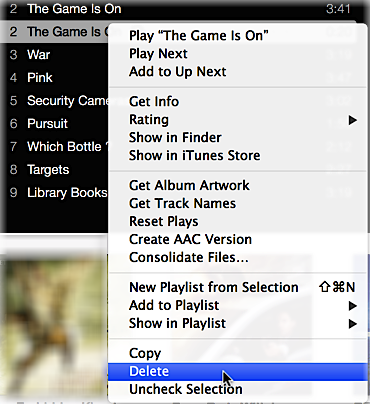 You've deleted the track, but the newly created m4r file is still sitting there. Now you need to get iTunes to know it's there, and that's done by adding it to the library from the "File" menu: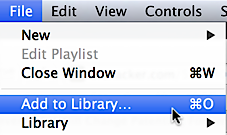 Simply navigate to the location of the new "m4r" file and click "Open":


You're done. Congrats!
Well, let's keep going through the last few steps. First off, you can check that it all worked by going to "Tones" on the library menu (in iTunes 11):


If you've done all the above steps correctly, there'll be a new ringtone in town!



Very cool. 20 seconds long, and all the track info is accurate, a handy bonus.
To ensure that the new ringtone is copied to your iPhone next time you sync, plug in your phone, click on the "Tones" tab and ensure you've got it set to sync:



Sync your iPhone with your computer now, and the new ringtone will be copied onto the device. Now you're officially done and you can assign a specific ringtone to a friend, family member or someone else by simply editing their contact record and choosing the new tone as their assigned ringtone. Like this:


That's it. Start to finish. Complicated, but really, the hardest part of the entire process is simply nailing down the start and stop times in the track at the beginning of everything. Once that's done, it's just a simple step-by-step. Or, as I said at the beginning, you can also just opt to purchase an iPhone or iPad app to help make this easier.