I work at a facility where everyone runs Ubuntu Linux and our computers lock the screen after just a few minutes of inactivity. I don't mind the screen turning off, but can I set it up to not require a password if I immediately wake it up?
What you're talking about is something a lot of people get confused about; screen blank time versus screen lock time. On some systems, it's basically the same thing, but on Linux, you have more control over exactly how you want your system to behave. And if it's set wrong, it can be a pain when the screen blanks and you immediately move your cursor or press a key just to find you have to log in again. Since it sounds like you work in a secure facility, these settings aren't quite as important as they would be at a facility like an Internet café or school lab, but still, getting everything set up correctly can make a big difference in the quality of your overall experience.
I'll show you how to change the key settings on a modern Ubuntu Linux system, but be aware that your admin might have locked things so you don't have permission to tweak them. If that's the case, perhaps a polite email request will result in them changing your settings remotely. Hopefully.
UBUNTU LINUX: BLANK SCREEN DELAY ON INACTIVITY
In a surprise twist, the easiest setting to find in Ubuntu's Settings app is also the wrong one. Well, it's not wrong, it just hides most of what you want to change. Let's have a peek, though. Go to Settings > Power and you'll find these options: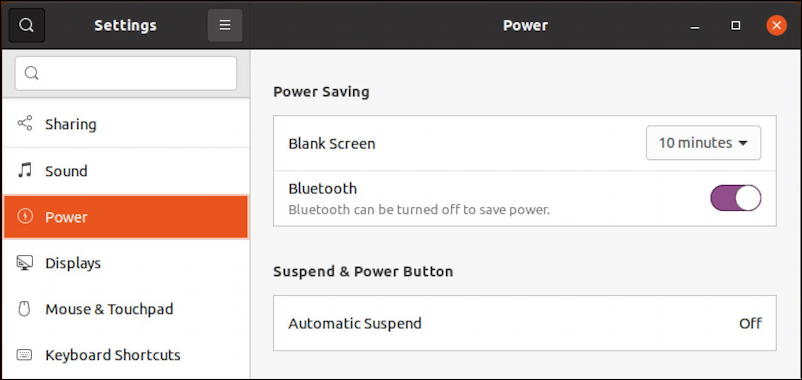 You can change the Blank Screen delay (it's currently set to turn off the display after ten minutes of inactivity), but where are all the other controls?
To find those we have to go elsewhere…
UBUNTU LINUX: PRIVACY SCREEN LOCK SETTINGS
Find "Privacy >" on the left menu of the Settings app, then choose "Screen Lock". Now you're in the right place!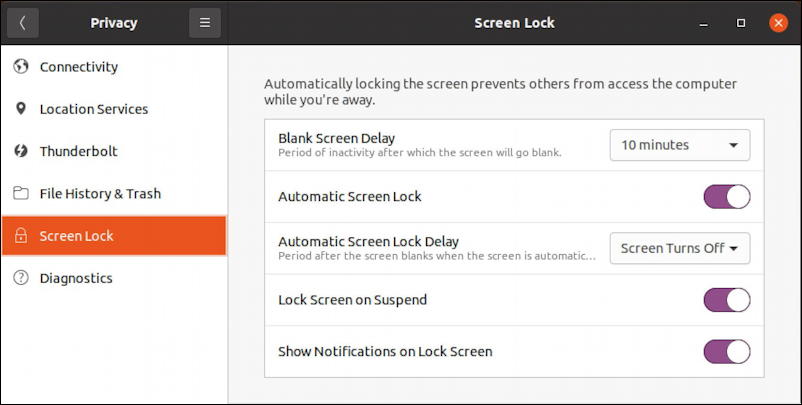 Finally, you can see the separation between Blank Screen and Screen Lock. The "Blank Screen Delay" lets you specify how many minutes of inactivity should be allowed before the display goes black. "Automatic Screen Lock Delay" specifies how much time after the screen's gone blank that the system should lock (requiring you to enter your password to log back in when you wake the system from sleep).
You can set that Blank Screen Delay from the insanely quick 1 minute to being completely disabled with "Never":
I don't recommend "Never" as a setting for most situations, but a system in a secure facility like a server room could ostensibly be always open and unlocked for admin use. In terms of the screen lock, notice that you can disable this feature entirely too so that the display might go blank, but you'll never be prompted for your password upon wake. Again, not a great choice if you are even slightly worried about security, which you probably should be!
RECOMMENDED UBUNTU LINUX SCREEN LOCK SETTINGS
Here's how I have mine set up, a set of choices that I think offers a good balance between the system being ready to use without fuss when you're busy, but locking things up fairly quickly if you walk away:
If you're at home or in your own private office, it's safe to enable "Show Notifications on Lock Screen" too, but in a more public space, that's best disabled so notifications of incoming email (etc) aren't sitting on the otherwise locked screen.
Don't forget that at any time you can also instantly lock your screen with the admin menu options accessible from the top right area of the display:
Easy enough, really. Then you'll be, again, looking at that login prompt, as will anyone else who has walked up to the system and wants to use it…
Armed with all this information, you should be able to set up your Linux system exactly as you would prefer. Good luck, and don't forget to use a good, complex password too.
Pro Tip: I've been writing about Linux since the dawn of the operating system, and Unix before that. Please check out my extensive Linux help area for lots of additional tutorial content while you're visiting. Thanks!