My colleague was showing me something on his Linux system and I couldn't help but notice that instead of having all the running app icons on the left bar, he has a floating dock along the bottom, just like a Mac system. Nice. I want! How do I set up my Ubuntu Linux system to have this style of dock?
If you ask a group of users which OS has the best user interface and user experience, odds are good you would get a vehement disagreement, not a single answer everyone endorses. Add ChromeOS and Linux, and the range of answers will be even broader. The fact is, different interfaces appeal to different users, and sometimes it's as simple as the one you learned computing on that's the winner. As a result, it's no surprise that developers are constantly trying to create utilities and themes that let one system look like another. Running Windows 11 but wish it looked like WinXP? You can do that. Running Linux but miss your Mac interface? You can tweak things to bring the UI closer in appearance.
Purists, of course, are going to say that even if you make it "look" like it's a Mac, you're still running Linux and still using the GNOME window manager, so at some level it's never going to be entirely Mac-like. They're right, but I'm with you; if changing a few settings to make your computer look more like a Mac is appealing, let's do it!
WHAT VERSION OF GNOME ARE YOU RUNNING?
The first step is to ensure that you're running a version of GNOME that supports these changes. As a baseline, though, let's look at my own desktop in Ubuntu Linux 22.04:
You can see that the Dock is on the left side, stretched from top to bottom, looking pretty unlike Windows and pretty darn unlike MacOS. But we can fix it.
To identify your version of Gnome, go into Settings > About. Here's what I see:
I'm not sure what version of GNOME added the features I'm about to demonstrate, but if you have something in the 40s or higher, you should be good to follow along and make the changes on your computer too. On an older version? Check for a system update!
CHANGING DOCK SETTINGS IN LINUX
While you're in the Settings utility, choose "Appearance" from the left side.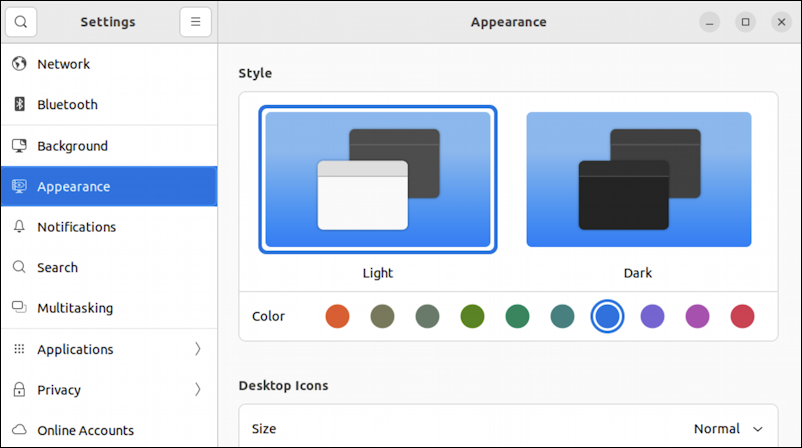 Notice that light/dark themes and highlight color are super easy to change in this latest version of the Settings utility. It's a nice, bright, open design that makes tweaking and tuning your Linux system a breeze.
Scroll down on the Appearance window and you'll find all the Dock settings you need in one area:
The key setting here is "Panel mode". Disable that and your dock immediately switches from taking up the entire left side of the screen to adapting for the minimum width needed to show all its icons. Notice you can also switch the Dock to show up on a different monitor if you have more than one display hooked up.
Step two is to move the Dock location from the left side to the bottom. Easily done with "Position on screen":

Choose "Bottom" and bam! It's changed and looking very Mac-like:

Pretty darn cool and clearly inspired by the MacOS floating Dock much more than the Windows Taskbar.
MORE FUN WITH THE LINUX DOCK
There's a bit more worth checking out while you're in this Settings area. One thing many people appreciate is the ability to change the size of the icons (and thereby the Dock itself). Try zooming to make everything larger, or shrinking to make everything quite a bit smaller…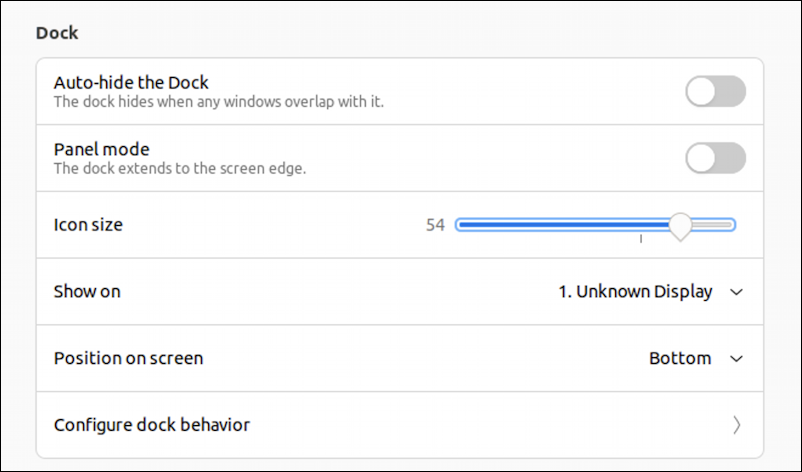 See the last entry? Click on "Configure dock behavior" and you'll see there are a few additional options that can be selected:
Between all of these settings, you should be able to change the appearance of the Linux Dock to just what you prefer. On my computer, it now looks like this:
Quite a difference from the first screenshot, I'd say!
Pro Tip: I've been writing about Linux since the dawn of the operating system, and Unix before that. Please check out my extensive Linux help area for lots of additional tutorial content while you're visiting. Thanks!