My sister shares audiobook files with me in Mp3 format. They work fine, but I notice that they are listed as "music" in iTunes. How can I get them to actually be "audiobooks" instead?
There are a remarkable number of different ways to acquire audiobook digital files, ranging from simply copying them out of your iTunes media library after purchasing them through the iTunes Store to downloading them directly (legally or illegally) to making your own recording from Audio CDs or even ancient cassettes (see my video review of a product that lets you do just that). I always encourage everyone to use legal means to acquire your media content because if we writers, artists, videographers and musicians don't get our royalties, we're not going to proceed with creating new content in the first place.
In that spirit, the audio book mp3 file I'm going to use as an example is the quite engaging history "The Sea Wolves: A History of the Vikings" by Lars Brownworth and I'm going to recommend you click and pick up a copy for yourself, either in print, kindle ebook or an audiobook (that would end up being an mp3 file anyway). Now, let's say your sister bought this audiobook and sent you the file to share in regular mp3 format.
You're going to end up with a Mac file that looks like this: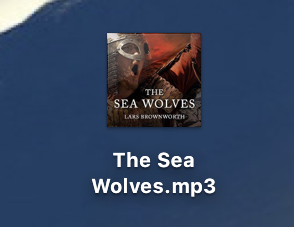 If you're curious, a File > Show Info (or Command-I mouse click) will reveal the file info window that includes running time for mp3 files:
It's in the More info section, "Duration" shows it's 7:14 long, over 7 hours of Viking history. Sounds interesting, yes?
To import it into iTunes is a simple matter of a double-click: Double click on the mp3 file and it's automatically be handed to iTunes for playback. As part of that process, it's imported into the music library too. Easy enough.
The problem, however, is that they end up in your music library, not categorized as actual audiobooks.
To fix that and a myriad of other things likely wrong with the mp3 file you've just imported, simply click on the file then press Command-I on your keyboard (or use Song > Song Info from the menu bar if that's easier). You'll see something like this:
In this instance, The Sea Wolves mp3 file had an embedded image that worked fine for iTunes, but most mp3 files you import have zero imagery. This is where you can fix that if you want, in the "Artwork" tab of the Info window. Start out by fixing the artist and album information (I changed the "_" to a ":" as you'll see).
To fix missing or poor artwork with something better, your easiest bet is to pop over to Google Image Search and search for "audiobook cover" and the name of the book. For example:
We're not listening to the audio from the movie of the same name with Gregory Peck, David Niven and Roger Moore, so you'll want to explore and find the best image of the options shown. Then click (once) on the image to open up a bigger view of it in Google Image Search, then right click (Control + mouse click) on it to bring up the context menu:
As I've highlighted, choose "Copy Image" from the menu, then go back to iTunes, make sure you're in the Artwork tab of the Info window and simply use Command-V to paste the new cover image and fix up your audio file!
You're not done yet, though. The single most important step in this process is to go to the "Options" tab where you 'll see these options:
Now I've already made the most critical change: "media kind" is switched from "Music" to "Audiobook". That's the key change to make this mp3 file an audiobook in iTunes. While you're here, however, I suggest you change the "equalizer" setting to "Spoken Word", as shown above. Now, album info, cover art, and media kind all set properly? Click "OK" and wait…
After a few seconds the audiobook will vanish from iTunes. WHAT? No, it's okay, because you're still looking at the "Music" category. Switch to "Audiobooks" (see image #3, above, where "Music" is highlighted) and suddenly your audiobook shows up with any others you might already have in your library:
That's it and you can see that The Sea Wolves is neatly nestled amidst my history, thriller and sci-fi audiobooks. All great listening! And I will reiterate that "The Sea Wolves: A History of the Vikings" by Lars Brownworth is well worth the purchase price on Amazon or Audible.com!
And that's all you need to do. If you ever want to change the audiobook art, it's the same process of Command-I with the track (or multiple tracks!) selected. And remember, on iOS devices, those audiobooks can be found in iBooks, not within iTunes.
Pro Tip: We have hundreds upon hundreds of useful Mac tutorials here on the site, please take a few minutes to check 'em out!