Just about every Thanksgiving I tend to write something related to the traditional American celebration of this holiday. We may have the mythology of Puritans and Native Americans sharing a turkey around a long colonial table, but the underlying concept of gratitude is universal. And so…
This year instead of writing something completely new, I thought it would be fun to have a bit of a retrospective about some of the other Thanksgiving related posts I've made, because it seems I was more interested in tryptophan than family on the site. Having said that, family really is the center of our celebrations, that and an excuse to stop, take a pause on our hectic lives, and reflect on what we each have to be thankful for. Turns out that Thanksgiving is actually about gratitude, something that we can all practice sharing more often.
But hey, did I talk about that in previous years? Let's find out…
Back in 2007 (yes, this site's been around that long!) I wrote a post entitled What is Tryptophan where I concluded:
…the amount of tryptophan in the turkey you eat is probably less a cause for your post-meal drowsiness than the simple fact that you've just eaten a big meal and it was probably loaded with carbohydrate-rich food. So don't blame the gobbler: if you had a tofurkey and all the same side dishes, I bet you'd be just as sleepy during the Big Game anyway.
It was a different era: I also linked to a Whitehouse.gov article about the subject, an article that no longer exists on the site. 🙂
Then in 2009 I was apparently more focused on the shopping side of Thanksgiving than the family celebration of gratitude or the food because that year's article was Why is the Day after Thanksgiving Called Black Friday? In that piece, I wrote:
It's the biggest shopping day of the year (which is pretty amazing if you think about it) and the day that many retailers and manufacturers become profitable on their books, essentially switching from "red" debt on an annual Profit & Loss statement to "black" profit. Simple enough.
Then in 2010 I went a bit more controversial, perhaps reflecting the times, by asking the pointed question Should We Skip Thanksgiving Turkey Because of Tryptophan? Again with the tryptophan!
In that piece I concluded rather scientifically that:
Tryptophan is found in most protein-based foods or dietary proteins and is particularly plentiful in chocolate, oats, milk, yogurt, cottage cheese, red meat, eggs, fish, poultry, sesame, sunflower seeds, pumpkin seeds, and peanuts. Despite popular belief, however, the amount of tryptophan in turkey is typical of most poultry, not abnormally high.
Oh, okay! Now you know.
Meanwhile, back at the "first" Thanksgiving…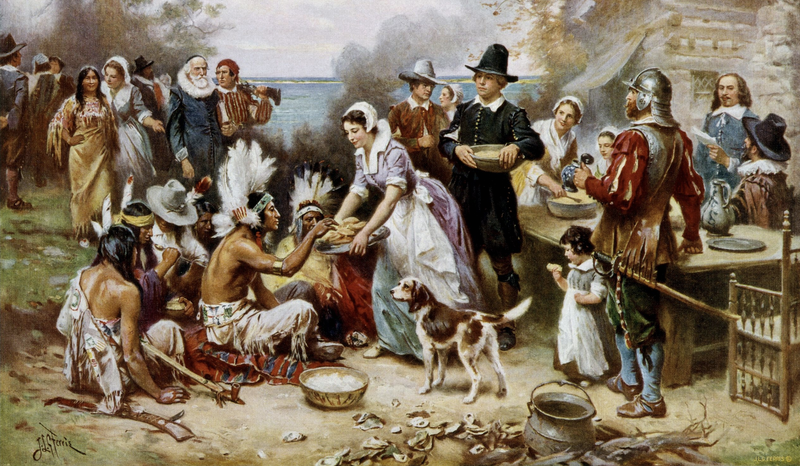 Last year I asked a more fundamental question, trying to pierce the veil of mythology around Thanksgiving in the United States with a piece about Who Invented Thanksgiving? My perhaps surprising conclusion:
It wasn't until the middle of the Civil War that President Lincoln decided it would be a good national holiday and established Thanksgiving to be celebrated on the last Thursday of November each year.
And so, it turns out we can thank President Lincoln for another great milestone in American history: Thanksgiving.
Now it's time for me to meet up with family and check out the tryptophan levels in various foods, indulge in side dishes galore and, of course, dessert, then debate what sport – if any – we should subsequently watch.
From the AskDaveTaylor family to yours: Happy Thanksgiving!