I just bought an iPhone 4 and am psyched about it, but I want to copy music from my iPod Nano onto it and am stuck. Is there a special cable or something I need? How do I copy music from an iPod onto an iPhone?
This is a rather classic question, especially for new iPhone owners, and the the answer is "it depends". It depends primarily on whether the iPod and iPhone are both syncing off the same iTunes library on the same computer. If they are, then it's pretty darn easy: sync your iPod to ensure that all the music on the iPod is also on the computer, then when you plug in your iPhone, go to the "Music" tab and pick which albums, artists, playlists or genres you want to have copy onto the phone. Should actually be pretty straightforward.
If the iPod isn't set up to sync with the iTunes library on the computer you're going to be using, well, then things get a bit more complicated. The hurdle we're going to have to overcome is that the iOS mobile devices from Apple (iPod, iPod Touch, iPod Nano, iPad, iPhone series, etc) are tightly paired to a specific computer to try and minimize illegal music sharing and copying. Which rather breaks down if you have more than one computer, among other situations.
What we'll need to do is figure out how to sidestep the iTunes protection and copy music off an iPod into an iTunes library that isn't the one it's paired with. To do this there are some terrific third-party apps available for both Mac OS X and Windows PC systems. I'll demonstrate with a Mac, but the concept will be 90% identical.
If you're on a PC, I recommend you check out iPodCopy ($32, but well worth it) and on the Mac I'm a big fan of Senuti (free, donation encouraged).
When I plug in an iPod that isn't paired with the current iTunes library, I see this error message: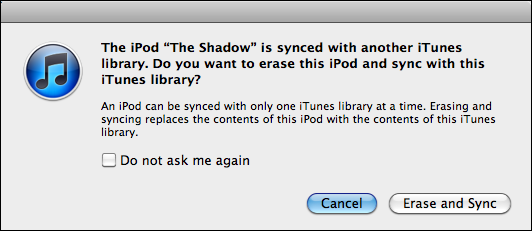 Not good. Here's the trick, though: before you answer this dialog box, the iPod seems to be in a weird state, so just let it sit there while you do the rest of the steps. It won't hurt anything, it won't suddenly decide it needs to erase the content. It's good.
Instead, click on
Senuti
to start it up and you'll see the slick logo: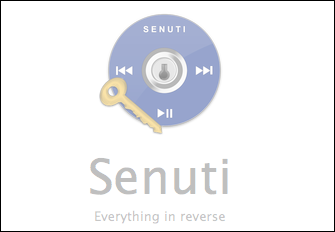 A few seconds later it'll show you the entire contents of the iPod, including playlists: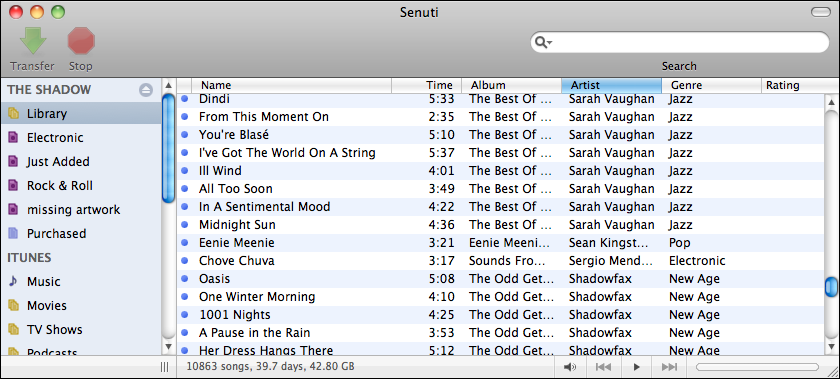 Did you see that I have 42GB of music on this iPod, over 10,000 songs? Yeah, it's my main reference iPod for docking to stereos, listening to in the car, etc. That's a lot of CDs!
What you want to do is select what you want to copy off the iPod. You can just select everything or a small subset. For this test, I'm going to copy the soundtrack to the splendid movie Red Cliff, composed by Taro Iwashiro: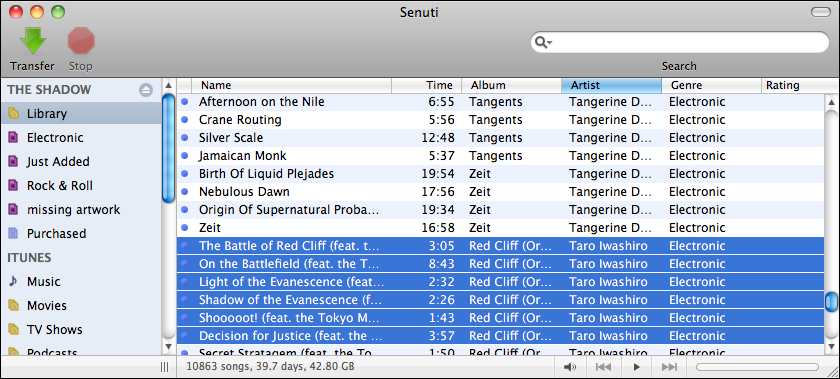 Before I click on the "Transfer" button on the top left, however, it's worth going to Preferences and making sure that things are configured as I desire. Here's what I recommend if you want to integrate the newly copied music into your existing iTunes music library on the computer. I've highlighted the three sections I recommend you pay particularly close attention to so it matches your expectations: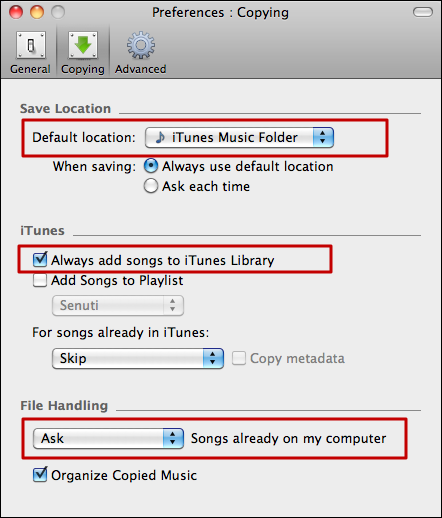 Now we're ready to transfer everything. Close the Preferences window then click on the green "transfer" button and almost instantly it beeps, indicating the transfer has completed.
Finally, you can click on the "cancel" button on the iTunes error window, then eject the iPod (or just unplug it). Double-check that the music copied properly. Here I'll check by searching my iTunes library for "Red Cliff":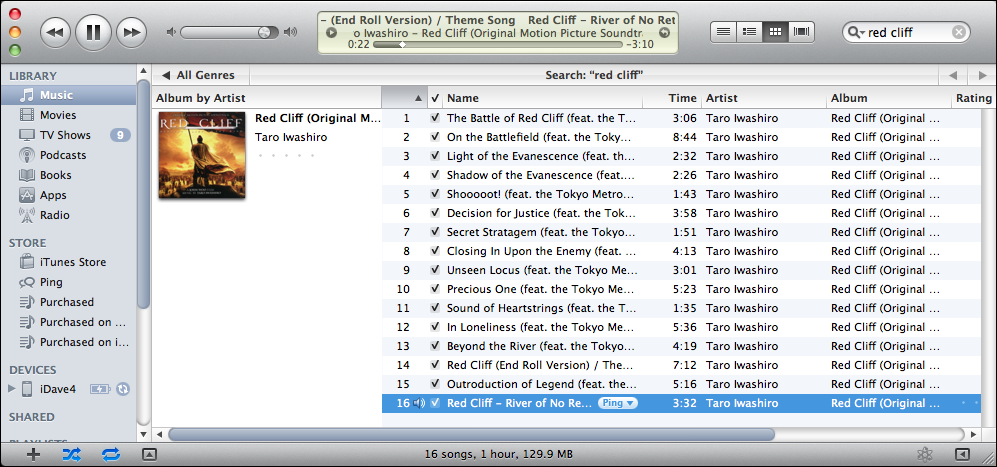 Looks great. Time to plug in the Apple iPhone 4 / 3GS / etc and navigate to the "Music" tab of the iPhone information area in iTunes. Whether by choosing a playlist, a genre, a musician or album title, find the material you want to copy to the iPhone, select it, then click on "Apply" on the lower right: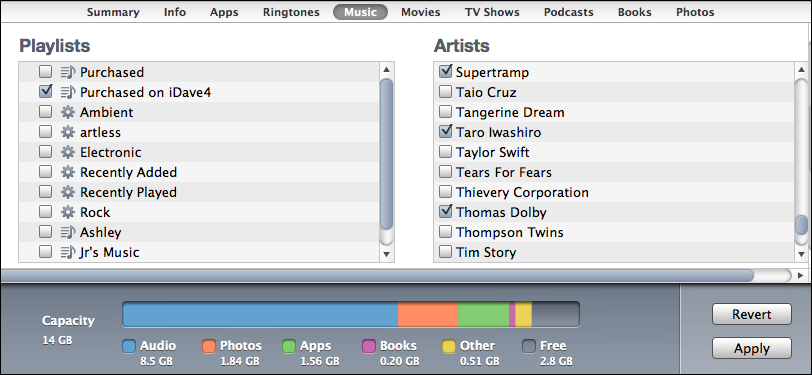 Once it's done, eject. Congrats, you just copied music from your iPod to your iPhone!!