My husband got me an Android based tablet computer, which is great, but it seems like most of the movies and TV shows I want to watch on it came from the iTunes Store. Which means that it's tied to iTunes and I can't play it, even if I copy the original m4v files. Solution?
The Apple iTunes Store uses something called "FairPlay DRM", a digital rights management system that does exactly what you're talking about: tightly pairs video and audio content with not just specific software (iTunes) but with your iTunes Store account too, so that if you give a copy of the file to a pal, they won't be able to watch the show or listen to the music. From an anti-piracy perspective, I think it makes complete sense and definitely appreciate all the great movies, TV shows and music being produced by artists who know that they'll be paid for their efforts.
Having said that, I also believe that buy once, play everywhere is the fairest rights management system and while it might be difficult to implement from a technological standpoint, I find it really frustrating that a movie I rent through Xfinity or a TV episode I purchase through the iTunes Store or a movie I rent through the Xbox Store on my Windows 8 tablet can't be viewed on all of my other devices. By tying rights so tightly to individual platforms, I think that vendors assume we only have their products, so those of us with a Mac and an Android phone, or a Windows tablet and an iPhone are in a very difficult world where buying something in one format — like a physical DVD at the store — doesn't mean we'll be able to consume it on the device of our choice.
Enter TuneKit for Mac. It's a program that lets you strip off the digital rights management wrapped from video content that you buy or rent from the iTunes Store. For you, it's perfect: buy the shows you want through iTunes, run it through TuneKit for Mac, then copy the resultant files onto your Android tablet for your later viewing pleasure. Better yet, they're all still available through iTunes too, so you can also watch a favorite on your AppleTV or computer too.
Having said that, programs like this that remove DRM are also opening up the opportunity for you to pirate content, renting it from iTunes then making an archival copy for yourself without paying the full price for ownership. That's a bad idea, and the biggest reason is that it means the artist hasn't been properly paid for their work. Think that's not a big deal? Well, next time you're about to get your paycheck, imagine what it'd be like if your boss said "oh, it's only 10% of normal: we just copied what you did to make things easier." So don't do it, gang. I'm only endorsing TuneKit for Mac for its ability to let you view iTunes video content that you've purchased on devices that aren't supported by iTunes.
With that caveat, let's see how it works, because it's sure easy and fast to use.
Here I am in iTunes, checking out the classic Twilight Zone series: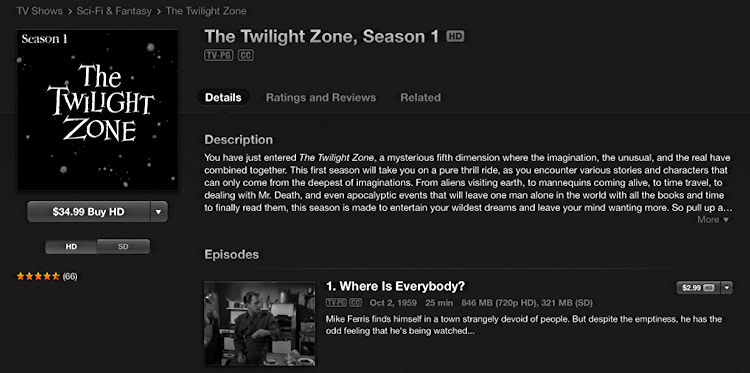 Scroll down, find an episode that's particularly good (I recommend the terrific "Time Enough At Last"):

Click on "Buy" and after you confirm your account password, it downloads and is ready to play.
You've already done this plenty of times, haven't you? 🙂
At this point, launch TuneKit for Mac and it shows a blank screen. Fairly austere:
Click on the "Add Files" button along the top and a small window pops up with your iTunes DRM-protected content:
That's the episode I want to convert for my own Android tablet, so I'll select it and click on "Convert"…
It took about four minutes to convert a 25min TV episode so you can do the math for a 2hr movie or other content. Pretty fast, actually, and all subtitles, closed captioning, 5.1 surround sound, etc, are retained.
When it's done, the converted video file is found by clicking "Converted" on the top right. Here's the file:
After thinking about all my options, I decided that the easiest way to get the file to my Android tablet was to tap Google Drive, so I just dragged it onto the Google Drive folder and let sync do its magic: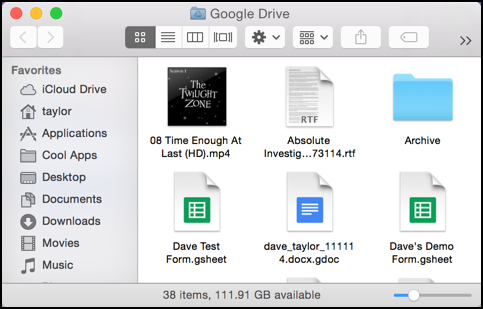 Since Google Drive is available for Android through the Google Play store (and it's free) that's easy enough. You may have a different, preferred strategy for copying files across, but that's all there is to it.
Is TuneKit for Mac worth $44.95? If you have a library of content that you want to migrate out of the iTunes world, the answer is probably "yes". Learn more: TunesKit for Mac.
Disclaimer: TunesKit sponsored this review by sending along a free license key and paying an additional small honorarium. Please be thoughtful and honest about how you use this program: we only endorse it for moving your own paid content onto devices that aren't supported by iTunes.