I am a bit frustrated that my ISP lets me do whatever I want to the software in my account, but doesn't make my actual log files available from my server. This effectively means I can't track my traffic. Or can I? Are there solutions for tracking site traffic without being able to install software on my server?
What an odd situation you find yourself in! My first inclination is to find a new hosting company, because I can't possibly imagine why they wouldn't let you have access to the traffic logs from your server. If it's mixed in with other sites they're hosting, that's a simple "grep" task and one that any halfway competent admin should be able to do.
Nonetheless, you pose a challenge and I'll help you out because, well, it's actually pretty cool just how many different solutions there are in the marketplace for letting you gain data about traffic to your site, profile or blog.
The premier solution is probably Google Analytics, which is a logical outgrowth of their AdWords advertising system. It's easy to use too: as with all of these solutions you set up your account on their site, then simply add a few lines of JavaScript to the bottom of your pages (or, in your case, your blog templates) and you're up and running. Oh, if you get a ton of traffic, you might need to know that there's a cap of 5mil pageviews/month for non-AdWords advertisers. Then again, for $20/month you can have a play AdWords account anyway.
Sign up is pretty straightforward, as shown here: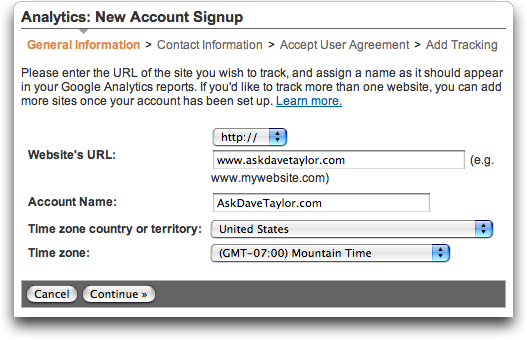 then: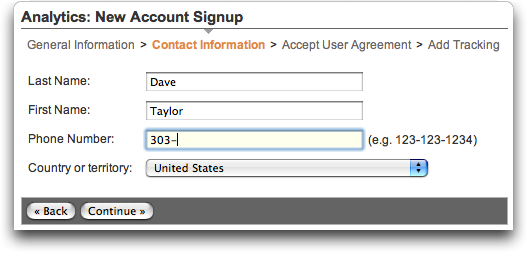 then, finally, the all-important code that you need to drop on the bottom of all your pages (or template):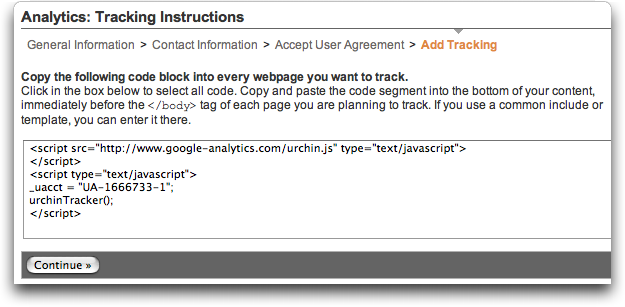 It's a nice, popular solution that many people use in the blogosphere.
Two other choices are worth mentioning, however, if you'd like to try something different and/or are a bit paranoid about Google knowing that much about your site and how it all fits together:
HitTail
and
BlogWindow
. Fair disclosure: I like both of these companies, and in particular am good friends with Gene Kavner, head of BlogWindow's parent company Affiliate Brand.
Both of these services also let you simply drop in a few lines of code to watch what's going on with your site and, indeed, you can have all of 'em running at the same time if you want. Not sure what value that would have, but it'd be, um, interesting. 🙂
BlogWindow actually is designed to give you a simple widget to display the top ten articles on your site, like this:
I like that feature, but what I really like is that it
emails you
basic traffic statistics every night. Yes, that's rather retro but I like being able to glance at the report and see how things went the previous day. Here's a snippet of my latest report: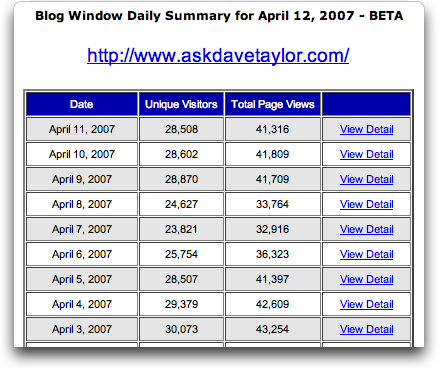 For its own part, HitTail offers a far more interesting feature than just tracking your traffic too: it offers
suggested topics
to increase your "long tail footprint". Further, HitTail just introduced a new premium service which:
"In addition to the basic features, HitTail Plus will conveniently bring suggestions right to your mailbox and/or RSS reader by secure, password-protected RSS feeds. It will also give you a representative sitemap of your site and inform you whether the code is installed on all of your pages. Sitemaps are ready to be exported to Google and Yahoo, which can help your site to be indexed properly. HitTail Plus users will also have the added support for tracking on secure https pages."
One way or another, all three of these tools,
Google Analytics
,
HitTail
and AffiliateBrand's
BlogWindow
will give you lots of ways to capture, analyze and act upon the traffic your site is receiving.
Good luck!!