I'm already a long-time fan of Apple's iMessage program [tip: It's now called "Messages" in Mac OS X] but I'm wondering whether there's more I can do with the program than just send lines of text back and forth?
That's a great question because in fact there's a lot you can do with the Messages program in Mac OS X that makes it a far easier simple message service (SMS) tool than even using your smartphone to text your friends and family. Yeah, that's still the core capability, the ability to send and receive text messages directly from your Mac system, but as you suspect, there are a couple of other things you can do that can make it even more helpful.
First thing to do is make sure that you're hooked in with iCloud so that your smartphone — your iPhone — and your computer stay in sync, though sometimes they don't anyway. Still, Messages is super useful regardless!
By default, for example, all your conversations are in a single window: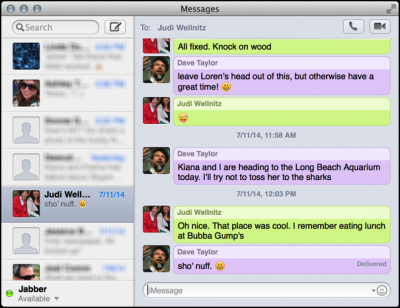 But Control-Click in the blank area just under the date/time stamp in the conversation and you can pull out a single conversation into its own window:

Just choose "Open Conversation in Separate Window". Easy.
Now let's have a quick look at the input window. More specifically, the little smiley face icon.
Click on it and… a menu appears with all those fun emoji:

fun, eh? I'm a huge fan of emoji, actually, to the never-ending bemusement of my friends.
Control-click on the input area too, to bring up that menu too: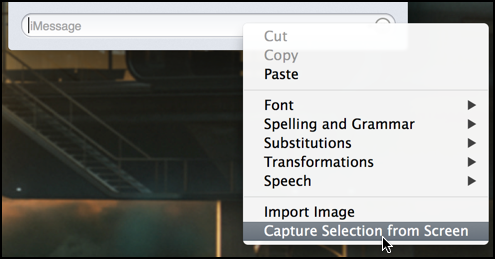 The feature I like is "Capture Selection from Screen" because you can then click and drag to define a region which is automatically then sent to the person with whom you're chatting.
Choose Capture Selection and a little window pops up to explain what's going on: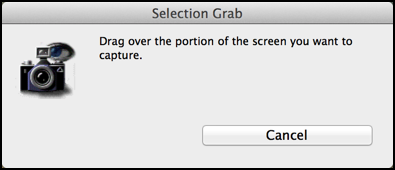 Move the cursor and click-drag to define the region:

Then when you let go it's automatically copied into the input window:

It's full size, by the way, and the recipient can tap or click on it to get the full size image.
The point? Well, when someone's telling me that something's going wrong on their system, their ability to see what's on their screen while I'm still on my iPhone? Darn handy. Plus it's fun!
This should also be a good reminder that nothing's really private as you can see it'd be trivial to share a conversation you're having with someone else by capturing that particular discussion window.
One more neat trick. Enter some text, select it, then Control-Click:

Off the "Transformations" menu you can easily make it all upper case — in case you NEED TO SHOUT AT SOMEONE — or all lower case if you're learning how to stop yelling at people or, the least useful, capitalize transformation, which Makes The First Letter Of Every Word Capitalized.
Those are the main features I've found in iMessage [no, no, "Messages"]. If you've found other features that are also useful, leave us a comment!