Hey Dave! I'm heading to Boulder, Colorado with my girlfriend and would like to check out a few famous spots in town. Highest on her list is the Mork and Mindy house from the old TV series. Can we preview what it looks like today?
There are of course a zillion Web sites that offer information on famous locations, often utilizing the very same images, but which are actually legit and up to date? A smarter strategy in these situations is to actually utilize something that makes it possible to be a digital tourist: Google Maps Street View. Google has spent years driving up and down every street in the United States, and quite a few around the world too, building this enormous database of easily perused images.
It's not entirely clear how to interact with Street View once you're using it, however, and depending on when the images were taken, there can be obstacles that make the view less than great too (as we'll see in this example). What to do in those situations? Let's jump in!
WHERE IS THE MORK & MINDY HOUSE
The first step is to identify the street address of the house in question. That's easily done with a quick Google search: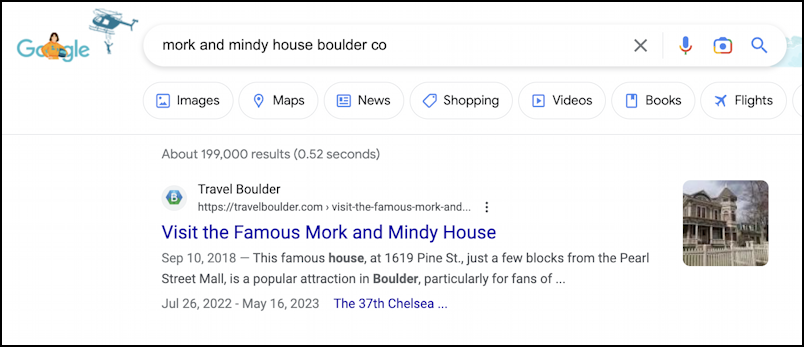 To double-check, I asked ChatGPT the same query. Here's its answer:
Mork and Mindy, a popular TV sitcom that aired from 1978 to 1982, was set in Boulder, Colorado. The show was about an alien named Mork from the planet Ork, who comes to Earth and befriends a young woman named Mindy McConnell.

In the show, Mork and Mindy lived in a house located at 1619 Pine Street in Boulder, Colorado. The house was a Victorian-style home with a distinctive turret and was often featured in exterior shots throughout the series. However, it's worth noting that the interior scenes were filmed on a soundstage in California, not in Colorado.
A good point, but the street address does match, so let's enter that into Google Maps!
MAP VIEW: GOOGLE MAPS
I usually jump to maps.google.com and then enter the address, but you can find a link from the original search to maps too. Either way, you'll get here: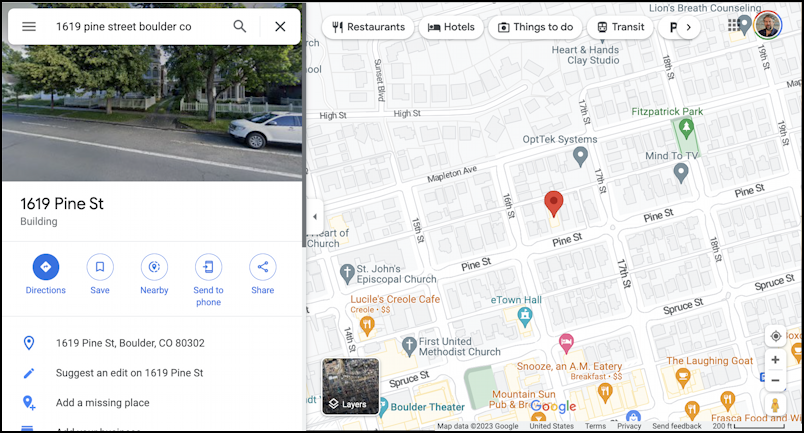 Which, honestly, doesn't look like the right place at all, especially in the tiny preview picture of a car, a fence, and lots of big, healthy trees.
To get to street view, you need to click and drag the tiny yellow person icon on the lower right corner of the map. That's not so obvious, which is surprising: Why isn't there a labeled "Street View" button? Once you drag the little guy onto the map, it changes appearance: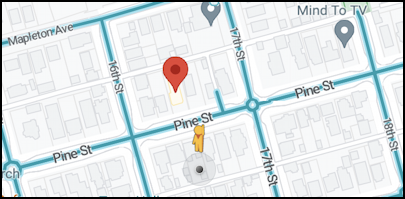 Those lines denote where the Street View vehicle has driven and captured imagery. The alley behind that house is not in blue, so you can't check out the rear view of the house, but drag the guy right onto "Pine St" and you should be looking at the house, right?
Uh, what's that? It's the house across the street, and boy do they need to trim their yard!
Again, it's not so clear how to move around in Street View, but clicking and dragging on the image does the trick. You can do that to "turn around" your view too, so you're finally pointing at the house: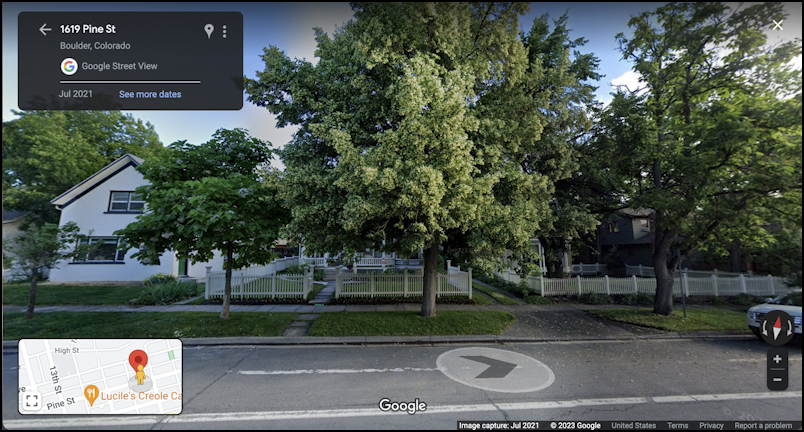 Is that the right house? Will that help you identify it when you get to Boulder? Who knows. It's just one big darn tree. Now what?
EXPLORING A HISTORY OF STREET VIEW IMAGES
What most people don't realize is that in a well-mapped area, Google has an archive of previous photos of the same location you can peruse. In this instance, perhaps there's one from winter, when the tree in the front yard would be leafless.
To check out the historical images, click on "See more dates" in the floating box on the top left. It opens up a strip of images along the bottom:
Ahhh, that image from Nov 2018 might be a few years old, but given that the TV show ended back in 1982, that's probably okay. To view that image instead of the more recent one, simply click on it.
A ha! That is indeed the correct house, as a quick Google Image search of the opening credits from the TV show reveal:
Possibly repainted to not have the trim quite so glaringly white, but definitely the same house. Now you know, and when you get to Boulder, you can check it out. Good luck and nanu-nanu to you both!
Pro Tip: I've been writing about Google tools forever! Please check out my extensive Google tools help areas while you're here, for lots more useful tutorials and guides! Thanks.