I know, you have an iPhone and have been using the Mail app on the phone for years. But do you know all of these great insider tips and tricks for maximizing your efficiency and working smart with your email inbox on your smartphone?
Once you master the basics of working with an app you probably never delve deeper into the interface. I mean, it works, why bother cluttering your brain with potentially useless features, right? Then again, what if you're using the slow, clumsy approach when there's a faster and more streamlined option just a swipe or tap away?? Kinda like how you learned equation solving in math, I expect: First you learn the long, tedious, labor-intensive way, then at some point your teacher showed you the shortcut or faster solution that simultaneously made it way easier and ratcheted up your frustration level with math both: Why can't they just start with the easy solutions? 🙂
Anyway, this is about email, not math, so let's just jump into my inbox on my iPhone 11 Pro running the latest version of iOS13. As you'll see, it pulls from two email services and offers up a consolidated inbox (itself a handy trick if you've been switching accounts to keep track of your email). The basic user experience remains the same, however. And so, here's my inbox: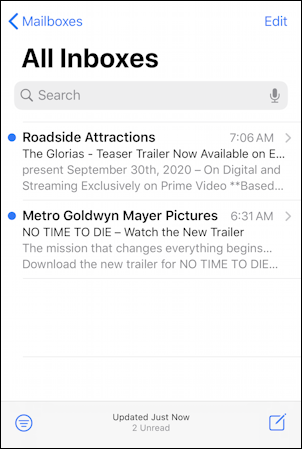 If you're like most people, your interaction with the program involves tapping on email messages as they arrive and not much else. But turns out you can swipe left or right on a message and get to lots of shortcuts.
For example, swipe right and you can mark it as read even if you haven't read it:

Swipe right with a long swipe and you don't even need to tap on the 'read' button shown. Swipe left and there are even more options that show up:

Flagging a message lets you find it more easily later on, once your inbox gets more and more full. Trash is self explanatory – and you can also trash an email by long-swipe-left. But what's underneath that More button? A tap reveals quite a few cool features and capabilities: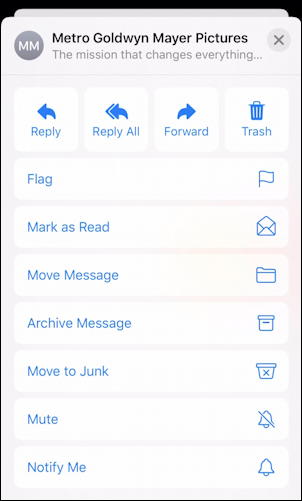 Ahh, so that's where forward has been hidden! But there are a lot of useful shortcuts under that More button, as you can see. A few are worthy of more explanation: Mute means you won't get notifications for subsequent emails that arrive that are part of this discussion thread (handy if it's the in-laws planning their next visit to your city!) and Notify Me is the opposite; any message that arrives within this thread gets its own notification so you can stay on top of their planned visit, um, I mean any email that comes in. Helpful!
Going back to the main inbox view, did you know that if you tap and drag the entire screen downward it'll force a check for new mail? That's the rotating radial graphic in the below. And while we're looking at that view, it's easy to figure out that the lower right button lets you compose a new email message, but what does the three horizontal lines in a circle icon on the lower left do?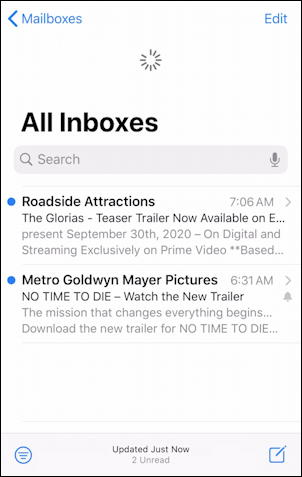 Tap on the Filter icon and you'll find it; it's a shortcut for Filtering your inbox to ensure that the most important messages are visible. A short tap enables your last filter, probably just Unread:
Long-tap on the same button and you'll get to the Apple Mail filtering system!
Now you can see how this inbox combines two email accounts. I could set up my filter to only show, say, iCloud email. Or flagged, or only those actually addressed to me, or those with attachments, etc. A powerful set of filters and the bigger your inbox, the more value this set of filters can have to ensure you don't miss important messages in your regular tsunami of email, spam and junk.
One more trick! Go back to the main inbox view and tap on the microphone icon on the top right that's in the search input box. It will offer up a bunch of shortcuts to common searches as if you were seeking to filter your inbox (which you are doing by searching):
You can also just speak your search criteria too – "Ask Dave Taylor newsletter", for example! – or tap on the keyboard to switch to a more traditional search input mode.
I hope you find all these tips and tricks useful. I know these help me be a power Apple Mail user on my iPhone which definitely helps me keep on top of the endless stream of incoming email messages!
Pro Tip: I've been writing about the Apple iPhone and iOS since they first showed up. Please do check out my iPhone help area for hundreds of other useful and informative tutorials while you're visiting. Thanks!