I like to post photographs as I travel with my friends onto Facebook. They tag me, but I don't tag them. What's the fast way to indicate that they were with me, regardless of if they're actually visible in the picture?
I'm starting to think that if it's not posted on Facebook, it didn't really happen. Seems you feel the same vis-a-vis your travel photography, which is cool. What you're asking is one of two ways you can identify someone in a photo you upload: The easiest way (that I'll show) is to identify the people who were "with you" when that photo was taken. The other possibility is to tag people explicitly in the photo.
The biggest difference is that if you tag someone in a photo and they approve that tag then your photo will show up in their photostream and when someone looks at their profile, they will see your photo that includes the person, not just their own photographs. If you identify someone as having been with you, then it shows up for them but generally is a bit less overtly visible for the long term.
I prefer to identify who I'm with since lots of people are funny about what pics of themselves they want online forever. 🙂
While I was recently in Vegas, here's how I did it: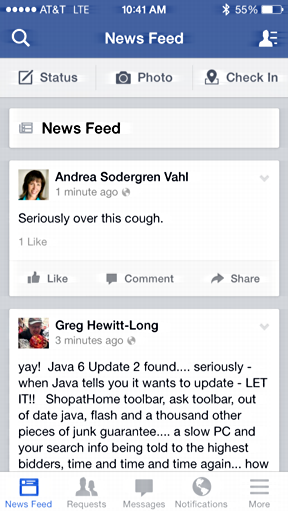 To upload and post a photo, I tap "Photo" just under "News Feed".
This brings up the Camera Roll photo album on my Apple iPhone 5: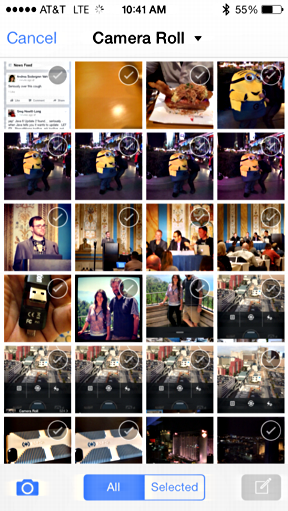 The photo I want is on the top right, so I need to tap the circled checkmark adjacent so it turns green. Once I've done that, other buttons activate too: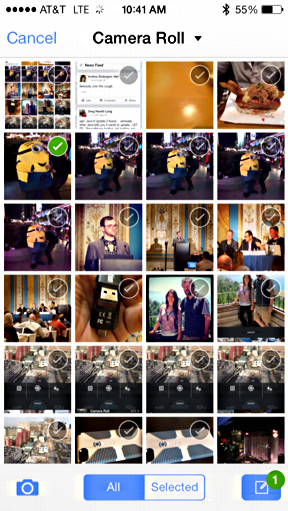 Oops, it moved down one slot, but you can see the bright green and white circle.
Additionally, the lower right has a counter indicating that I've selected a single photo.
Looks good. A tap on the lower right button lets me proceed: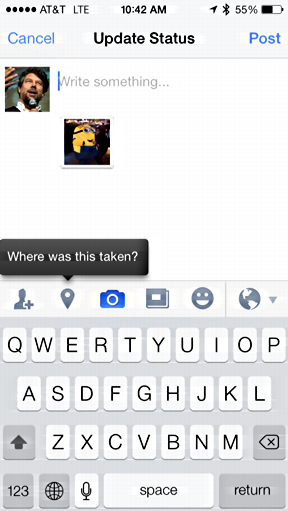 Note that the first thing Facebook encourages you to do is identify the location.
Do that by tapping on the "marker" button, as highlighted.
Then I'll type in some text and here's the interim stage: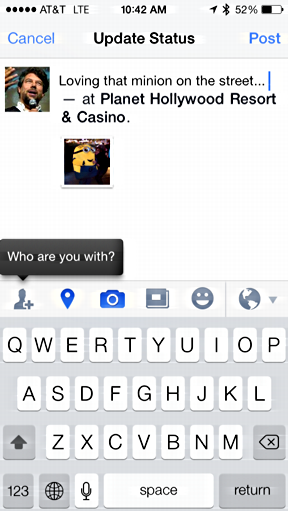 You can see the next prompt: "Who are you with?"
A tap on that and you can start typing in the name of the person or people with whom you were hanging out: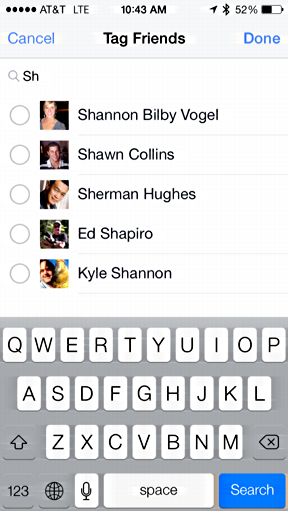 In this case, the gal in the picture with the minion is "Shannon Bilby Vogel".
I tap her name on the list and that's all there is to it. Add an emotion tag (while they're still available) and:
You can see all the extras I've added: an emotion, a person I was with, and a location. Lots of data.
Ready? Tap on Post on the top right and it's uploaded and ready to go: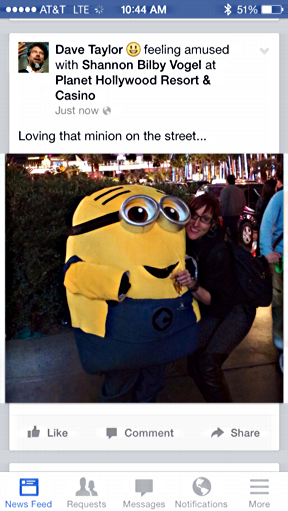 That's all there is to it. Easy enough.
Now if you want to tag someone in a photo, simply tap on the image before you post it and it'll identify faces.