I'm borrowing my girlfriend's Chevy Equinox (don't tell her, but I actually like it better than my Ford F10) and want to be able to use my Apple iPhone as a hands-free cell phone in the car. It has a fancy navigational system that includes bluetooth but I haven't figured out all the steps necessary to pair the iPhone with the Equinox. Do you by any chance know how to do that, Dave?
You're in luck! A few weeks ago I was lucky to have Chevrolet loan me a Chevy Equinox for a road trip (Memphis, TN to Atlanta, GA, and if you're curious, you can read about my experiences and thoughts here: A Week With a Chevy Equinox) and the first thing I did when I got into the car was pull into a local parking lot and both figure out the navigational system and pair my own Apple iPhone 4 with the Equinox GPS system.
I suppose it's lucky that I like to experiment with things, actually, because I more or less randomly pushed buttons on the Chevy nav system console until I started to find interesting areas to explore. I could have read the manual, but really, does anyone actually read user guides for electronics, especially car computer systems? 🙂
Back to task, though!
First step is to ensure that you have Bluetooth enabled on your iPhone. If you don't use it to connect headphones or a hands-free system, by the way, I would strongly advice that you leave Bluetooth turned off to help extend your phone's battery life. That's true of any cell phone, actually.
This is done by going to "Settings"…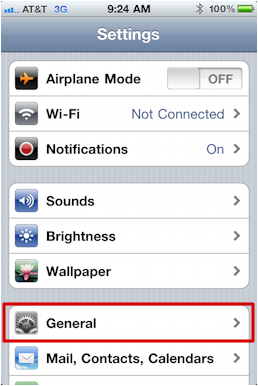 Tap on "General"…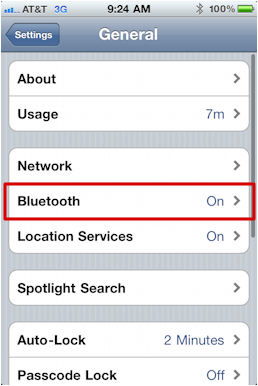 As you can see, I have Bluetooth turned on. If yours says "Off", tap on it and power it up.
Now let's switch to the Chevy Equinox navigational system panel in the car: you can leave your iPhone on the passenger seat while this proceeds…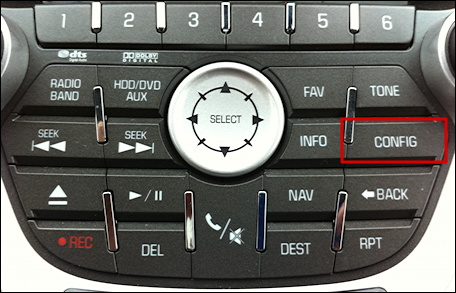 Push on the "Config" button on the console and pay attention to the display. You'll see along the top that there are a number of different configuration options. Tap on "Phone" and you'll see this: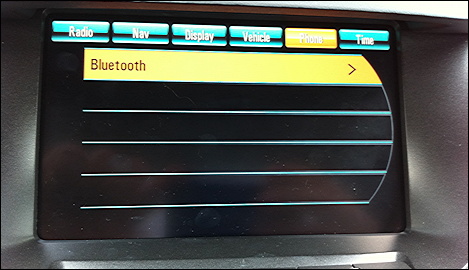 Tap on "Bluetooth" (have I said how much I like touch screens in cars? A huge step forward for the usability of automotive devices)…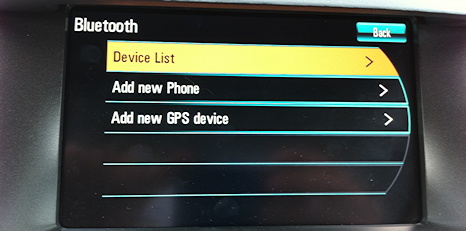 You can probably guess: tap on "Add New Phone" and the Equinox is ready to pair: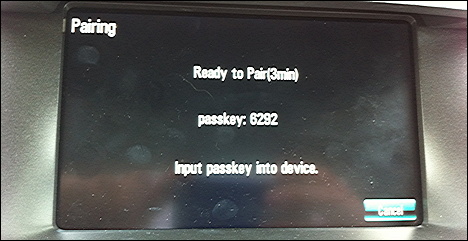 Now pick up your iPhone (or any other Bluetooth-enabled cell phone you seek to pair with the Chevy Equinox, of course) and tap on the Bluetooth entry in Settings. You did leave it there when you put the phone down, right?
You should see something like this: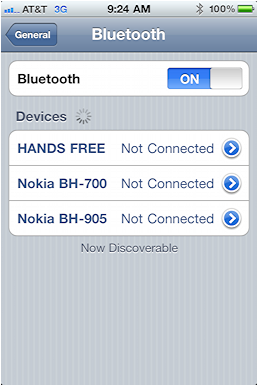 Give it a few seconds and the Chevy Bluetooth receiver will appear as a new device: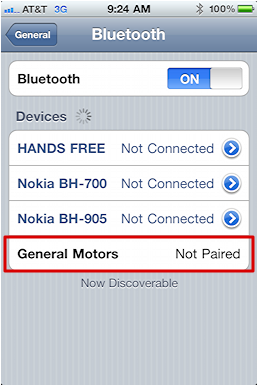 Tap on it, you're almost done!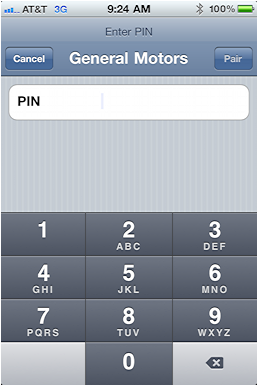 To ensure that you really want to pair the phone and base device (e.g., the car) there's a four-digit password required. If you look at the Chevy nav screen, however, you'll see what needs to be entered here. In my case, it was
6 2 9 2
.
I enter those four digits and the phone confirms it worked: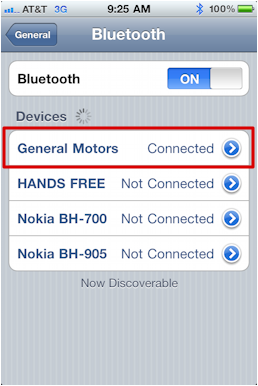 The car nav system also confirms that the devices are now paired: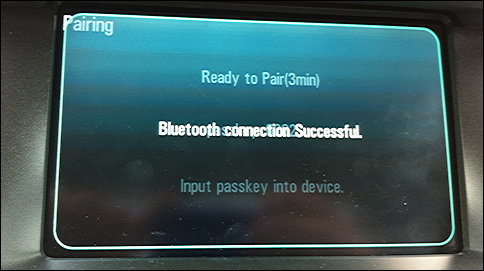 That's all there is to it. Next time you're using your iPhone and are in the car, you'll find that you can initiate the call directly with the Chevy nav system, or on the phone you can select "General Motors" as a source, as shown in this example call: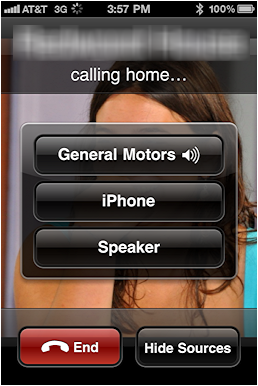 I'm not a huge fan of Bluetooth stereo — too many drop-outs and hiccups — but for phone calls, a hands-free system like the one in the Chevy Equinox is incredibly cool for while driving. It's much better than holding the phone and safer too.