This might be a bit too specific, but I can't figure out how to have my PC see my new Motorola RAZR V3c via the bluetooth system. My PC has bluetooth, but it never sees the phone. Suggestions?
Bluetooth is extremely cool but it's pretty tricky to get things working the first time, so I can understand your frustration. The trick is that you need to put your phone into bluetooth broadcast mode, then launch the Windows XP Bluetooth Setup Wizard, then it should work.
Let's go through all the steps!
First off, if your PC has bluetooth, you should have an icon on your desktop for "My Bluetooth Places". Click on it, then launch the Bluetooth Setup Wizard. You'll see: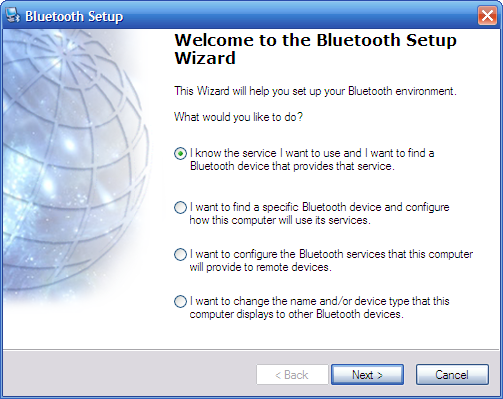 You'll want to choose the second option, "I want to find a specific Bluetooth device and configure how this computer will use its services." Click next and your computer will start looking for your Bluetooth device.
Now you're ready to switch to your RAZR phone!
Here's what you need to do: Click on the
Menu
option, then move over to
Settings & Tools
(the wrench and hammer icon) and move down to option #8: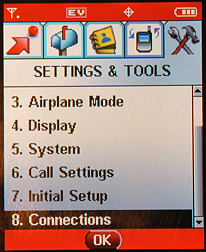 Select
Connections
, then
Bluetooth
and choose
Setup
from the Bluetooth Link screen: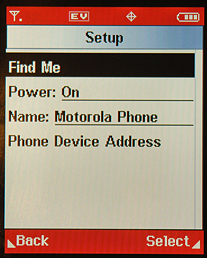 At this point you want to choose
Find Me
, at which point your phone will then be discoverable for 60 seconds: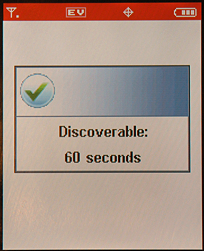 At this point, switch back to your PC, click on the "Search Again" button and after a few seconds, your PC should see your Motorola RAZR V3c: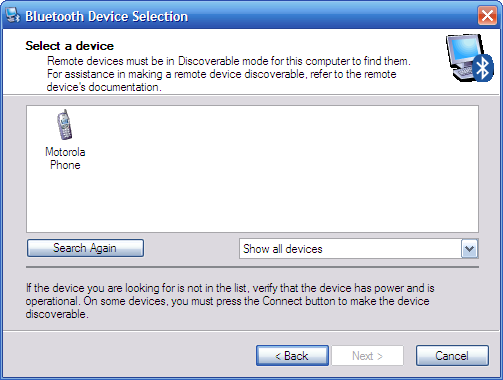 Looks good!
Click on the icon for the phone, then click on "Next" and you'll be prompted to prove that you are in control of the device by being required to enter a passkey on the PC, then enter it again on the phone. It'll look like this:
I entered "13579" as my PIN Code, then clicked on "Initiate Pairing".
Now, back on the cellphone, here's what'll suddenly show up:
My PC is ingeniously called "1866-6GU" but yours will hopefully have a nicer, more mnemonic name. Click on "Yes" on your cellphone, then you'll be asked to enter the passkey again, this time on the phone: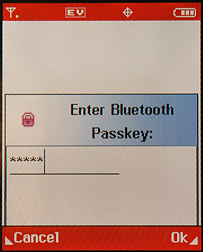 Again, I entered "13579" and clicked on "Ok". The phone flashes a "connected" screen and it's connected!
On the PC, you'll now be able to choose which service or services you'd like to enable. I only allow OBEX, the file transfer protocol: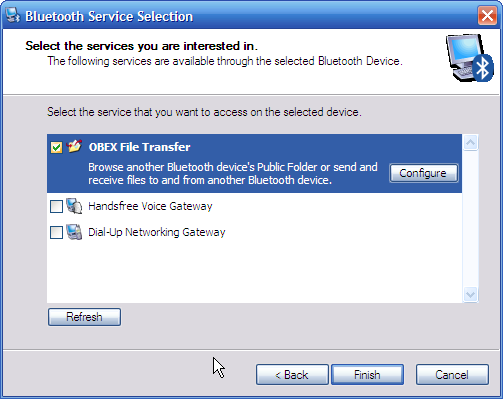 Phew! Almost done! Click on "Finish" and now your "My Bluetooth Places" includes a shortcut link to your phone! Chose it and you'll suddenly be seeing the file system on the phone itself: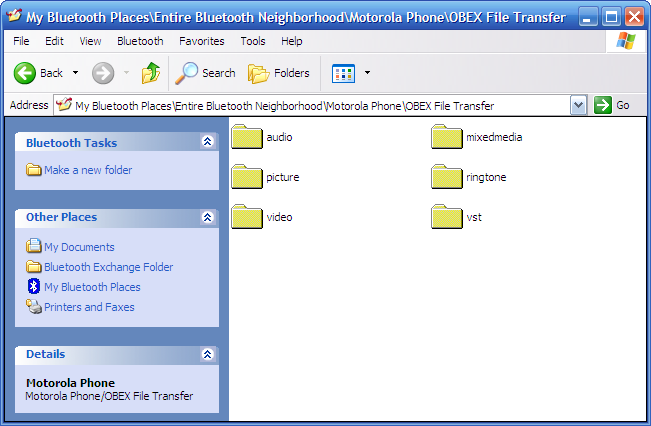 That's all there is to it. You can download free ringtones, free wallpapers, or even grab files from your phone onto your computer by simply using drag and drop on your Windows computer.
This is an incredibly detailed tutorial, but I hope it helps you get your RAZR and WinXP computer working happily together!