I've been running in Hotmail for a long time, but just recently saw a friend log in and was amazed to see that he has a three-pane view, with a preview of the message on the same page as the list of incoming messages! I want! How do I switch?
Hotmail has a variety of different interfaces, actually, though it's not particularly easy to figure out how to get from one to another. What you're using is what they call "Classic View" and it looks like this:

To switch to the newer tri-pane view, you can use the shortcut on the bottom of the page. Look for "Want to race through your inbox even faster? Try the full version of Windows Live Hotmail. (It's free, too.)" and you'll see that "Try the full version of Windows Live Hotmail" is a link. Click it and instantly you'll switch: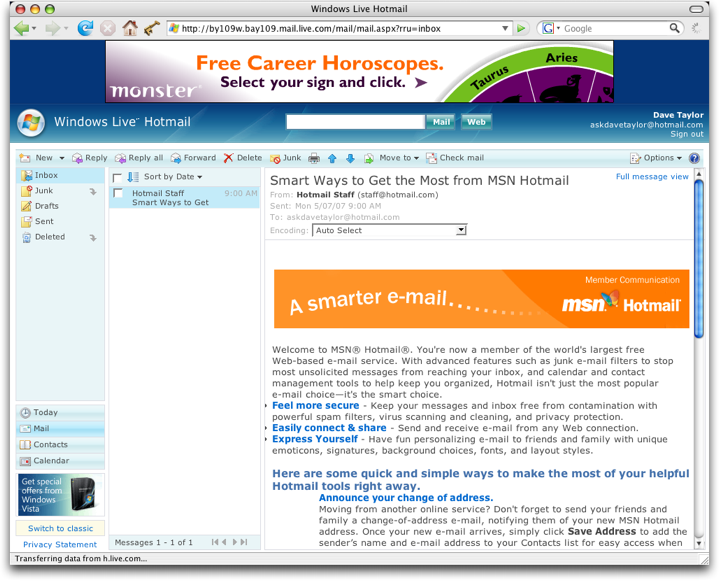 Want to switch back? On the bottom left of that view is a small link "Switch to Classic" that'll do the trick.
If you can't use these shortcuts, you can also just click on "Options" on the top right and you'll see this:
Again, click on "Try the full version" and you'll switch to the newer, modern version of Hotmail.
Since you're in the newer view, it's worth noting that you can easily specify if you want the "preview pane" to be on the right (as it is in the example), below the list of messages, or hidden a la classic hotmail by clicking on "Options":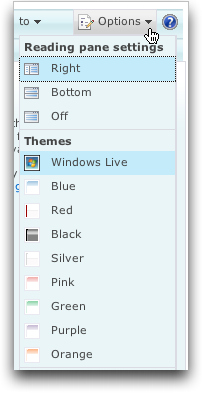 You can also change your theme, which is a slick feature. I particularly like Black, actually. Try it!