I know that there are a lot of different Web browser options available for Windows 10, but I really want to have more privacy online, not less. What's my best option and how can I switch over from Edge or Chrome?
If one of your goals in choosing a web browser is privacy then you're going to love the Brave browser on your Windows machine. Rather than support all of the tracking systems and third-party cookies etc. Brave blocks everything and helps you retain your anonymity in the online world. Even better, it's a solid, fast, and well-designed browser to so you won't feel like you're missing out. In fact you can set up its homepage so that things look just like when you launch Microsoft Edge!
There are other alternatives if you want to go deeper into the anonymous world, starting simply: You can try using incognito mode in Google Chrome or similar in Microsoft Edge. Those browsers aren't designed for privacy, however, so it's not quite the same and blocks same-site cookies and ID info too, so can be a bit tedious as your main browser experience. Then there are tools like the Tor browser, which is great if you want to pop into the dark web, but… probably not as a daily Web browser for all your Internet tasks.
Let's just switch to Brave and you can see what you think after a few days!
First off, if you have the default setup, opening up Microsoft Edge is giving you a screen like this: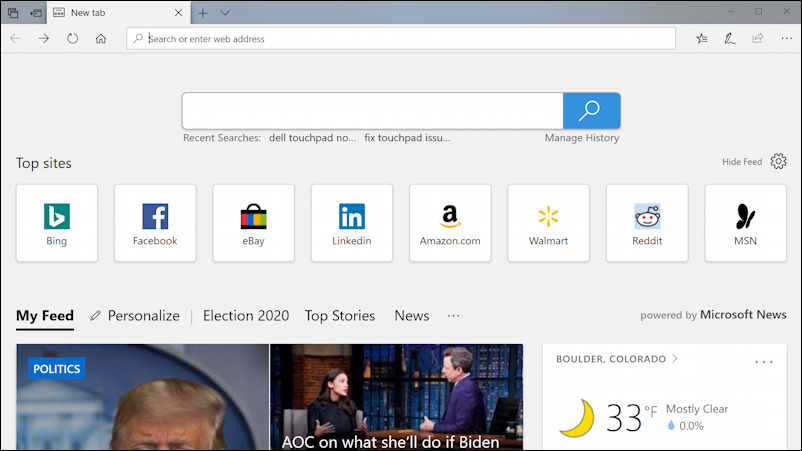 Notice that it's pulling news from Microsoft News. We'll go back and get that later. For now, go to www.brave.com and you'll get a quite attractive info page:
If you're so inclined, poke around and read up on the mission of the Brave project. Or just grab a copy! Click on "Download Brave for Windows 64-bit" when you're ready (it's also available for MacOS X, Android and iOS, among other systems!)
Decide what you want to do (I suggest "Run").

Then you'll go through usual song & dance with an install…
Doesn't take too long and before you know it you'll be looking at your new browser, ready to go: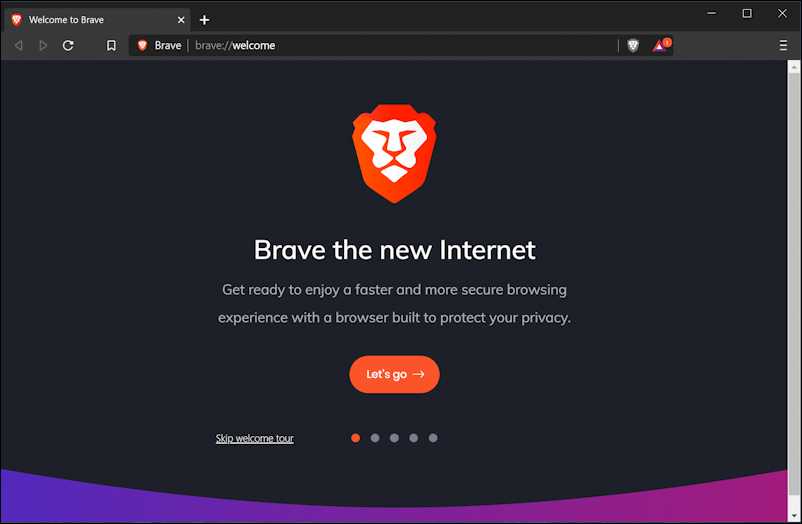 You can go through the tour, or you can just jump into using it by clicking on "Skip welcome tour". I suggest you import your bookmarks and favorites from your current Web browser to make things more friendly; I grabbed all of mine from Google Chrome and a few seconds later was looking at my familiar favorites bar just below the address bar.
Use Brave for a bit and it'll start accumulating data about what it's doing, even telling you a running tally of how effectively it's blocked third party tracking systems while you're using it:
Not sure how they figure I've saved 5 seconds, but it's the first number, Ads and Trackers Blocked, that's pretty interesting. Then again, as a Web site publisher who relies on advertising to keep the lights on, a Web browser that blocks ads might not be in my own best interest. Trade offs, for sure.
That's it. You're up and running with Brave Browser. Congrats.
Before we go, however, let's fix up that opening screen! First, go to msn.com for that same home page you saw in Microsoft Edge: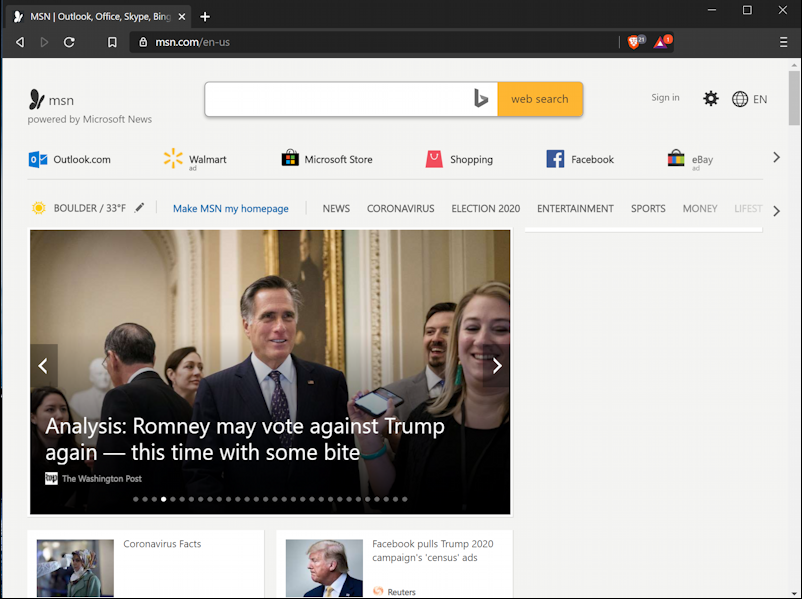 Now, with that showing, click on the three-horizontal-lines icon on the top right and choose "Settings" from the resultant menu.
Then you'll see this:
Simply click on the "Use current pages" link near the bottom and it'll show "MSN | Outlook, O…" (as you can see above) and you're done. Next time you open up a new tab or open Brave from scratch, you'll be looking at the MSN home page. Voila!
Pro Tip: I've been writing about Windows since the early days. Heck, I'm a Microsoft Insider MVP because I've written so much about the Windows system! Please do check out my extensive Windows help area for tons more tutorials.