I have been entering my 6-digit PIN to get into my Android phone for months now, but saw a friend zip his finger over a dot grid to log in and it was faster and looked cool. How can I switch to using something this on my phone too?
In the beginning, there were passwords and all was good. Then things got complicated. We added biometric sensors, smartphone vision systems, RFID chips, other input options, Bluetooth proximity sensing, and more. Now there are a lot of different ways to log in to your device, whether it's the deadbolt on your front door, your car, or your Android smartphone. For the most part, however, there are four main options: a password, a numeric PIN, a swipe pattern, or, with devices that support it, a biometric option like a fingerprint.
Most Android devices have one additional option called "swipe" which disables all security, allowing you to just swipe up to unlock your phone – or anyone else swipe up and unlock your phone – with no additional identity confirmation. This is not recommended, nor do I encourage anyone to choose this option except in the most controlled circumstances (like a developer who keeps their devices in their office 100% of the time).
Interestingly, the pattern is probably the least secure of the options, versus a 5 or 6 digit PIN or password of at least 5 characters. It's all about the math: a 5-digit PIN is 10**5 (100,000) possibilities. A 5-character password is 62**5 (916 million) possibilities, but the pattern input? Most analysis I've seen put it at about 7,000-10,000 possibilities. Still, who is going to try 7,000 pattern possibilities to crack your phone?
CHANGING YOUR ANDROID LOGIN SECURITY
Want to proceed? Let's do it! To change your sign-in requirement to a pattern, go to Settings and search for "screen lock":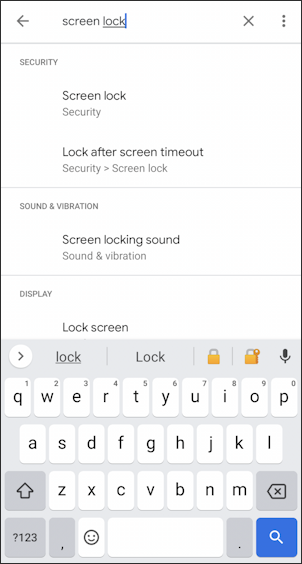 It's the top match you want, "Screen lock". It's confusing, I admit, because it should probably say unlock, but that's the one.
Tap on "Screen lock" and you'll be presented with a variety of security settings and options, with "Screen lock" highlighted, as shown: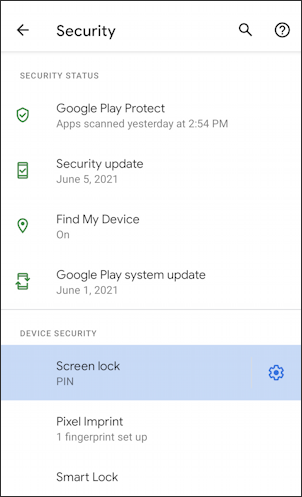 Notice that my current default is a PIN, as shown. Okay, we can change it.
Tap on "Screen lock".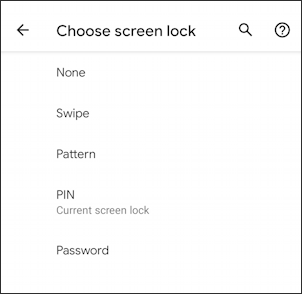 Tempted to disable all login security? Not recommended. Even Android complains if you choose "Swipe":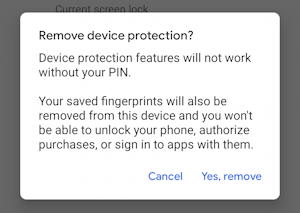 Let's not do that! Instead…
CHANGE YOUR ANDROID LOGIN SECURITY TO PATTERN
Choose "Pattern" and it'll display a 3 x 3 grid of dots: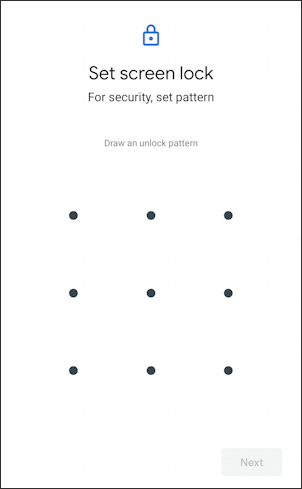 Your best bet is to take a moment to visualize a swipe pattern that is memorable, perhaps a box, an "S" shape, whatever. Consider not using every dot in your pattern, and patterns like starting at the top right and drawing an outer box? Probably pretty easy to guess. You can try a few patterns too: Just tap and keep your finger on the screen as you move.
Me? I'll do "The Z":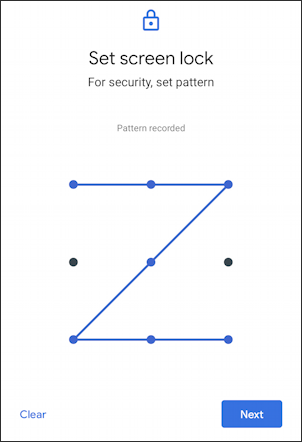 Easy, and probably rather easy to guess. But if I'm worried about that, I'll probably stick with my PIN or change to a password for the added security. If the pattern looks good and is easy to remember, tap "Next" and enter it again.
Done. That's it. Now leave your phone for a few minutes so it goes back to sleep – or restart it – and your new login prompt on your Android lock screen will be distinctly different:
Hope you remember the pattern!
If at any point you want to switch back to your PIN, password, whatever, just go back to Settings and choose something else. Easily done.
Pro Tip: I've been writing about Android since the beginning of the operating system. Please do check out my extensive Android help area while you're visiting, for lots more useful tutorials and guides! Thanks.