I'm running the new Microsoft Internet Explorer 7.0 beta and while I'm impressed with all its new features, I have no clue how to work with RSS feeds (Microsoft calls them 'webfeeds', of course) in the browser. Help?
I've also been running IE7 for a while now, and you're right, it's delightful to see pop-up blockers, tabbed browsing and lots of other new features in this mainstay of the Web browsing world. I particularly appreciated seeing this pop up: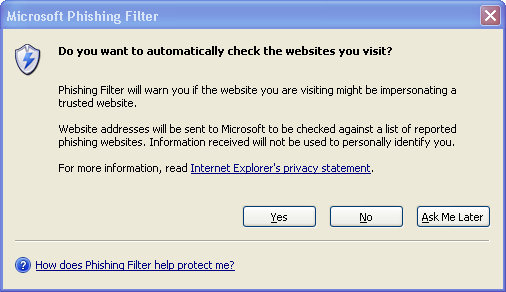 Kudos to the team on a dramatic improvement, and we're only just starting to see what they're doing.
In terms of working with RSS, however, I found that quite baffling too, and it appears to be only half-completed as I still can't figure out how to view a set of RSS feeds in a single consolidated view, as I do with
NewsGator
. In fact, the IE7b1 (that's "Internet Explorer 7.0, release beta 1" in geek-speek) notes state specifically that "In the final version of IE7 you will be able to subscribe to a feed by adding it to your Favorites in a single click. The browser will then automatically notify you of feed updates in real time."
That being said, IE7
does
offer more RSS functionality than they're suggesting, so let's have a look.
Since I almost always work with applications at their default setting, let me walk through how I subscribed to an RSS webfeed in Internet Explorer 7 and you'll see how to do it too.
First off, viewing this page at
Ask Dave Taylor
means that the browser autodiscovers the available feed and the little 'feed' icon on the toolbar changes from grey to red. Click on it and you'll see the feed displayed:
I chose the "RSS" menu item (it shows all the feeds available, hence the pop-up, rather than just a subscribe button) and the browser then shows me an attractive view of the RSS feed data: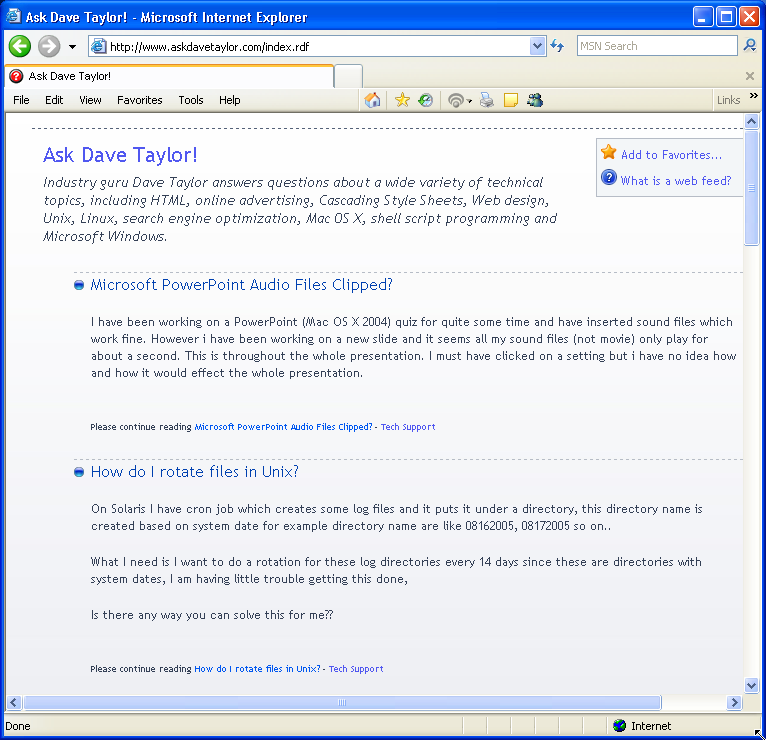 Very nice. Curiously reminiscent of Apple's Safari browser and how it shows RSS feeds (see
How to subscribe to RSS feeds in Apple Safari
to see what I mean), but that's okay. Great ideas, inspiration, memes, and all that.
Now, I click on the "Add to Favorites" link and see this:
As you can see, there's already a folder in IE7 called "Webfeeds", so much of the underlying infrastructure of the RSS / Webfeed capability is clearly in place already. I save my feed there and now leave the page and go elsewhere on the Web. (oh, and I have to wonder if the "Make available offline" feature is for Microsoft blogging celebrity Robert Scoble, who frequently talks about reading RSS feeds on airplanes and other offline venues)
When I want to return to the RSS feed, I simply choose it from my Favorites menu:
It's here that I expect to see "View All" or similar, offering easy access to a consolidated RSS feed viewer which is really the promise of RSS realized on the Web. And yes, at that point, IE7 will officially be a dramatic, huge improvement in Web browsing for Windows users and, finally, a competitor in the browser wars again.
If you're going to experiment with RSS Webfeeds in Internet Explorer 7, then make sure you also recognize that there are some configuration options you can tweak too:
In fact, switching your default behavior to "Add the web feed to Favorites" means that you can have a version of IE7 that lets you have one-button subscriptions to any of the thousands of Web sites, weblogs, and news sites that offer some form of RSS feed.
Nice!
Finally, if you don't have IE7 Beta 1 yet, but are interested in trying it out, then I have noticed that you can download a copy from
Soft32.com
.
When Beta 2 comes out, I'll update this article to reflect the new functionality. I'm looking forward to it.
And so, this begs the question: who cares about Internet Explorer anyway, Dave, since all the cool kids are using Firefox or another alternative browser anyway? Even Walt Mossberg at the Wall Street Journal recommends people eschew IE on their PC! The answer is the same one that Netscape heard in the first throes of the "browser wars": whatever software is included by default or configured by default on a Windows PC is the most important browser in the Internet universe. We may not like that reality, but for every person who even knows what tools they're using and that there are alternatives, there are a hundred PC users who take what's on the box and use it, for better or worse. That's why Internet Explorer 7 is a critical, critical update for the Internet community, in my opinion. And why I'm so pleased that they're doing such a good job with it.