I'm a big fan of the book reviews that Thomas Duff writes on Amazon.com and was suddenly struck with the question: can I actually get his reviews mailed to me so I can keep up on what he's recommending? For that matter, there are a number of other reviews I've found that have very similar tastes to my own, so I'd really like to have some way to keep track of what they're recommending too.
Another Duffbert fan, I'm totally unsurprised! Tom's done a nice job of making sure that he posts his Amazon reviews on his blog too, so one way you can accomplish your goal is to simply subscribe to that, but while that'll get you his reviews, it won't help you with the other reviewers, who probably aren't quite as organized.
Fortunately, there is a new mechanism that Amazon's introduced as they slowly realize that the reviews and consumer-generated feedback are some of the most valuable information on the site and are, in my eyes at least, one of their killer differentiators from the many, many other online retailers.
The easiest way to subscribe to a reviewer's content is to find a review from them and click on the link "See all my reviews". When I check out the reviews of my book Growing Your Business with Google, they all look pretty much the same, with the reviewer name, location and the "See all my reviews" link. A typical entry looks like this:


When I click on the "See all my reviews" link for Chris, I now get to a page that has everything he's written neatly consolidated in one place: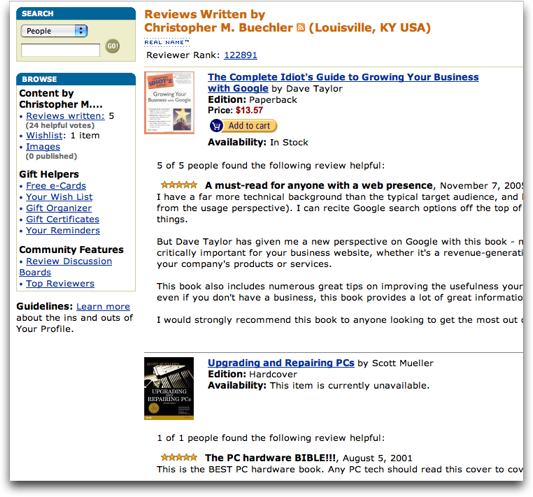 I could just bookmark this page and easily see what he's been reviewing, but it turns out that there's an RSS feed of this information too; if you look very closely, you'll see an almost hidden RSS feed icon just after his name:

It's the little orange square with the curved lines: click on that and you are now reading an RSS feed of his reviews (assuming that your Web browser knows how to display RSS feed data, that is. Otherwise it'll look like incomprehensible gobbledegook).
At that point you probably want to know how to subscribe to an RSS feed, depending on your browser, so here's a helpful supplemental article on the subject:
How do I subscribe to an RSS feed?
There are also a number of supplemental articles about subscribing to an RSS feed in specific Web browsers too:
RSS feed help
.
If you want to subscribe to Duffbert's RSS feed, you can use the same technique: right-click (or Ctrl-Click) on the RSS icon and choose "Copy Link" so you can paste it into your favorite RSS reader or aggregator: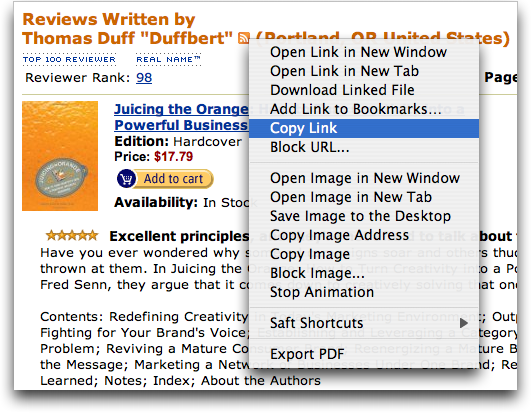 Or you can be lazy:
Duffbert's RSS Feed from Amazon
. 🙂