One feature of iOS 5 that I haven't seen anyone write about is the new Newsstand application that, I think, lets me subscribe to magazines on my iPad or iPhone and automatically receive issues as they're released. As someone who flies a lot, it sounds great. How do I subscribe to a magazine in Newsstand on my iPhone?
You're right that while cool services like Siri have gotten lots of press, Apple's entry into the world of digital magazine subscription services hasn't gotten much ink – real or virtual! – at all. Amazon's already had magazine subscriptions with its Kindle marketplace, of course, so it's not like Newsstand is some sort of innovation, but it's still pretty slick unto itself, and as part of the iBooks bookshelf system, it's worthy of some love. Still, even the most die-hard Apple fan would have to admit that Amazon's still got the edge with its Kindle app. For now.
Anyway, you didn't ask for a compare and contrast essay, you just want to know how to use Newsstand. Okay, let's have a look!
Launch Newsstand on your iOS 5 device by looking for the following icon:


If it's the first time you've played with Newsstand, it's quite possible it'll just be an empty bookshelf, rather than with a magazine displayed, as you can see here: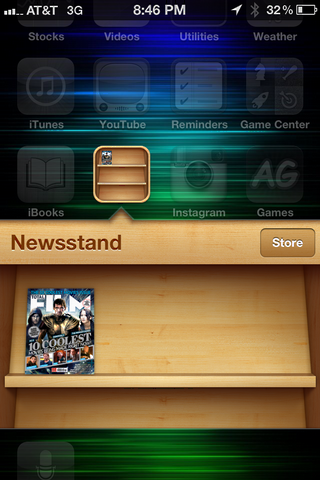 Either way, you'll want to tap on "Store" to go into the Magazine section of iTunes. When iTunes launches, you'll likely see the most popular magazines displayed: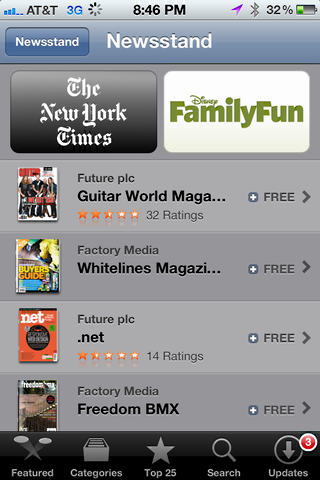 Scroll around, there are quite a few different publications available. I'm interested in
Publishers Weekly
and its just a bit lower down on the list:

Tapping on it produces a full page of information about this particular publication: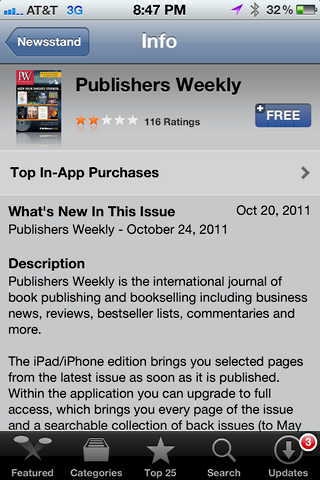 Looks interesting, though the poor rating for
Publishers Weekly
is a little concerning. Still, it's free, so it's worth a shot. To subscribe just tap on the "FREE" on the top right and it'll change to…

Do I need to tell you to tap on "INSTALL" to proceed? Do so. Proceed.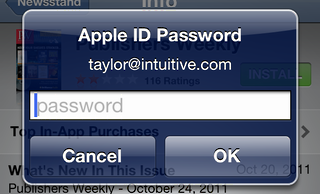 Ah, yeah, enter your account password as needed.
Now iTunes quits and you should be back at Newsstand waiting for the download to begin:
Hopefully no more than a moment or two pass and you'll see it start to load: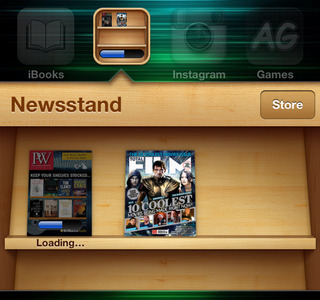 Once it's done, tap on the magazine cover. In this case, I'll tap on the latest issue of
Publishers Weekly
and get what seems like a full-page advert: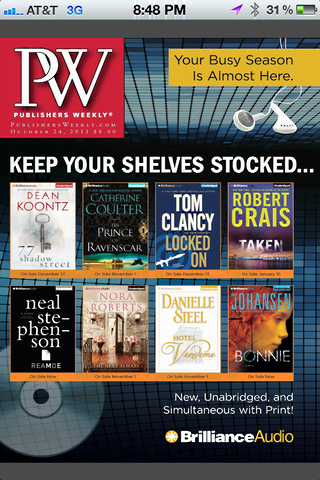 One more tap and I'll finally be viewing the magazine's table of contents, albeit very small if I'm still on my iPhone at this point: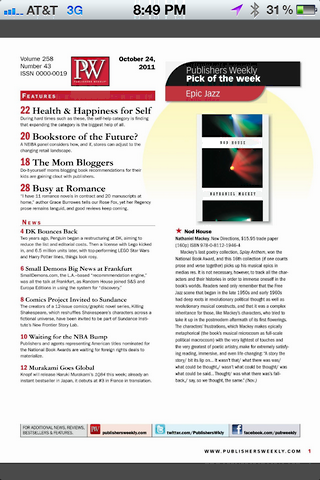 Instead of flicking to proceed further into the publication, simply tap on the screen. Some navigational elements appear on both the top and bottom of the page: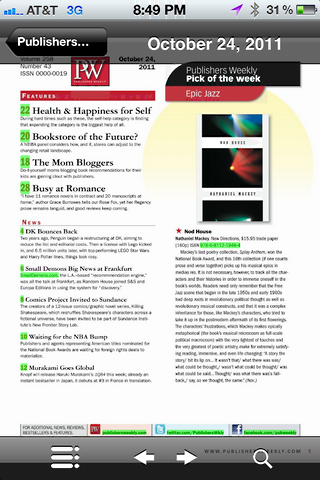 Tap on the button on the top left and you'll be able to manage your subscription: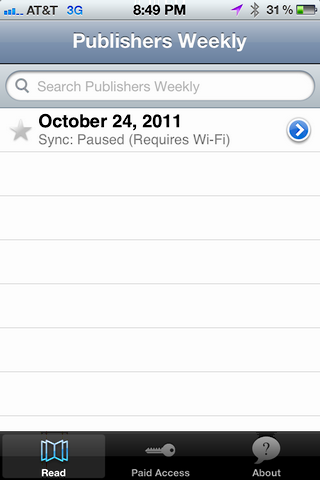 That's it. Now you're ready to subscribe to a few of your favorite magazines to read in
Newsstand
on your iPhone or iPad. Very nice, and no paper to recycle.