I am attending a class online through the local university and keep missing events because I forget to check the online calendar. The school uses the Canvas Learning System and I'm wondering if there's any way to export or subscribe to a Canvas calendar on my MacOS system in Calendar?
Canvas is definitely one of the more popular learning systems in the marketplace, which is handy because it turns out that we use the same software system at the University of Denver, where I teach. Which means I have the same issue, of trying to remember events related to school even as they aren't on my main Mac (and iPhone) calendar. Yep, turns out that if you have iCloud set up properly and are sharing your calendar, then adding a Canvas calendar to your Calendar program will automatically also add it to your iOS device calendars too. Handy!
The Canvas calendar system seems to be an all or nothing system, though, so you can't subscribe to one class calendar while ignoring another because you don't want those events also popping up on your Mac. With that one limitation in mind, it's actually pretty easy once you know where to look. Better yet, if you're a PC user and have a different calendar system, odds are good that it too can work with external calendar subscriptions so the process is almost identical!
On Canvas at DU, our calendar is easily accessed along the left side toolbar: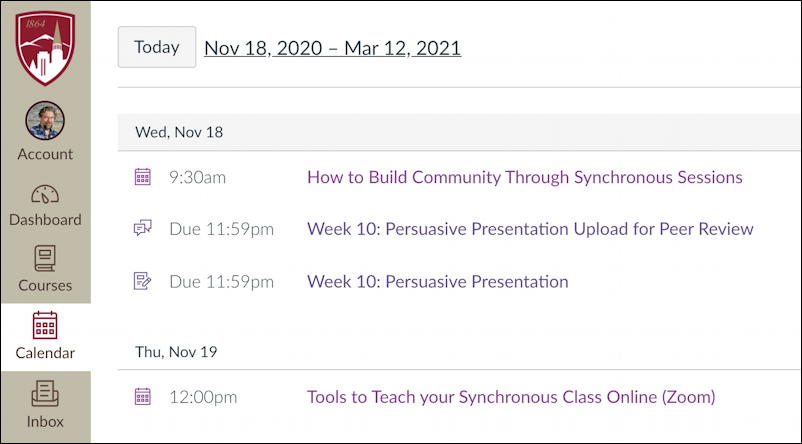 This shows some of the events coming up today and tomorrow, a mix of meetings, online class events and midnight deadlines for submissions. Look closely and you'll notice each gets a different icon too (and only half say "Due", for that matter).
On the right side of the screen is a list of specific calendars being displayed:
As the month thumbnail image makes clear, I have a very busy week!
More important for our task is the "Calendar Feed" link. Click on it and a tiny window pops up:
The link is quite a bit longer than what's shown, but that's okay, copy and paste will grab it just fine. For now, just click in the box, then press Command-A to select all the text, even that not displayed, then press Command-C to copy it all into the buffer.
SWITCH TO CALENDAR ON THE MAC
Now launch the Calendar program on your Mac if it's not already running, then choose File > New Calendar Subscription… from the menu along the top of your screen:
This pops up another tiny window, one that looks a bit more Mac-ish:
As shown, click into the text box, then use Command-V (or Edit > Paste) to paste the URL of your Canvas calendar into the Mac Calendar program (formerly known as iCal).
A click on "Subscribe" and you'll get a chance to configure and tweak the feed once validated:
If nothing else, do rename it so you know exactly what events are being listed. I renamed mine "DU Calendar", simply enough. Also note that to the right of the name is a tiny colored box: That's the theme color for all events from this calendar and I strongly suggest you assign it a color different to those you're already using in your schedule. I'll use green, as you can show.
One more thing to contemplate before you're done is how often you want this calendar updated. If your teacher is a set-and-forget sort of scheduler, that's great, weekly is fine. My calendar seems more fluid so I have this set to be "Every day" so I stay in sync. This means that if a new event is added, it could take up to 24 hours for it to appear in my personal calendar, but an event like that would likely have a few days lead time anyway.
Done? Click on "OK" and after a second or two, all the new events will show up in your Mac Calendar!
MODIFYING A SUBSCRIBED CALENDAR ON MAC
Once you have your calendar subscription enabled, you'll find it gets a special icon on the left side:
I'm demonstrating two special kinds of calendars above. "School" is one I share with someone else so events I create show up on their Mac calendar too. "DU Calendar" is the calendar to which I just subscribed, hence the sort of sideways wi-fi signal icon. "Teaching" is just on my own Mac and related iCloud calendars so gets no special icon.
Here's a cool trick to know: Control-click on a calendar in the Mac Calendar program and a bunch of choices appear:
"Get Info" will take you back to the window where you can change the subscription name and update frequency, and I'll let you explore the other options to ensure your new Canvas calendar is perfectly configured for your Mac Calendar program too. And that's it. Done!
Pro Tip: I've been writing about the Mac system since the very earliest days of the OS. I have hundreds upon hundreds of helpful Mac tutorials here on the site, so please do check it out while you're visiting. Thanks!