My daughter was holding my iPhone 4s and a text message arrived from my boyfriend, a message that was rather more racy than she needed to see. Awkward. What was confusing was that the phone was actually locked and the message showed up on the lock screen. What's the story with that and how can I disable it in the future?
Oh, I can see where that could be quite awkward, actually, and I too have had similar experiences with inappropriate text messages of various types appearing on the lock screen of my own iPhone 4s when there were eyes around that didn't need to know what I was discussing with the other party. And, yes, some were a bit, um, suggestive. 'nuf said on that topic!
What you're experiencing is the Notification Center feature that was added in the latest update to the iOS system and it's a great addition if you know how to tame it and manage exactly what's shown, from what apps. Notifications aren't under the control of the individual apps, however, and that can be confusing when you're trying to tweak things. For example, a lot of games now tie into the notification center and it's really weird to have a message pop up about needing to cook a new cupcake or feed a virtual pet or similar.
To fix it, you need to go into the Notification settings and pick the appropriate application. It's found in "Settings":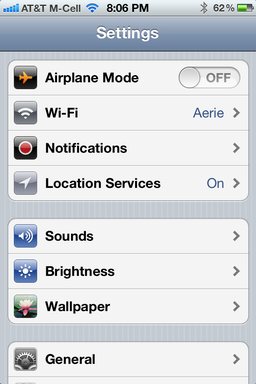 See it? Third entry down, with the red circle icon. Tap on it and you'll see a list of the many apps that are using the Notification Center…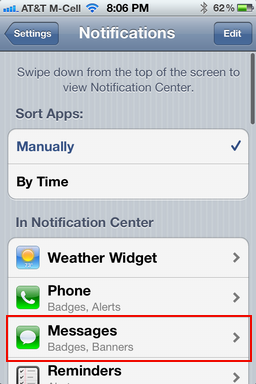 Using your finger, drag down until you can see "Messages" and tap it. Now you can see the configuration options for this particular service (Messages = text messages + iMessage):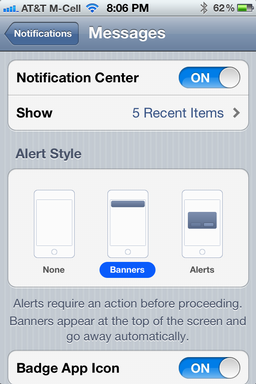 If you wanted to turn off notifications entirely, turn the top option from "ON" to "OFF". Helpful for those pesky games that are bugging you, if you have that issue with apps for your daughter on your iPhone. In this case, however, we want to keep the notifications on, just mask the actual text of the message.
To accomplish that, tap and drag upward to move a bit lower on the settings: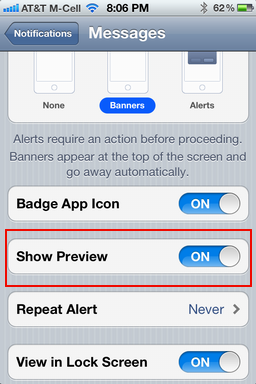 That's the one. Change "Show Preview" and you'll see that you have incoming text messages, but not a single character of the message itself will be displayed, as demonstrated in this message from Jolene: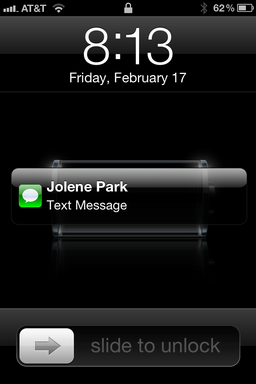 Notice in the earlier settings another option too: "View in Lock Screen". What you could do is have the message show up if you're using your phone, but if your phone is locked there'll be no indication at all that a message showed up. Not my preference, but worth exploring.
In fact, there's a lot you can do with Notifications so I encourage you to experiment and poke around a bit, trying different settings and customizing your experience to match your specific needs. Very helpful!