I was surprised this morning to find that my kids had spent almost $30 in iTunes with in-app upgrades and add-ons for their favorite games on my iPad. That's not right, but I don't want to monitor each and every button they tap when they're playing. Is there a solution? Can I turn off or disable in-app purchases? Seems rather ridiculous if there isn't some sort of way to stop it!
Yikes. $30 is a lot of money when you can buy a brand new game for $0.99 or, often, free. Game developers have figured out this loophole, though, and there are now a lot of iOS games that are free but have a wide variety of in-app purchases that can make that free game end up costing $5-$10 or more. Sneaky.
Of course you can just tell your kids "no in-app purchases", but they can be a bit clueless too and it's easy to tap on the "get more fish" or "bling out your car" or whatever. You could have an iTunes password that is required for each and every transaction, but that can also be a hassle when you want to do things on your iPad or iPhone.
Fortunately there are parental controls on all iOS devices and while it seems weird to set up parental controls on your own iPhone or iPad, it's quite an elegant solution that ends up being very low-maintenance: if you don't make in-app purchases, it doesn't get in the way.
Here's how it looked when I set this up on my iPad. First step is Settings –> General: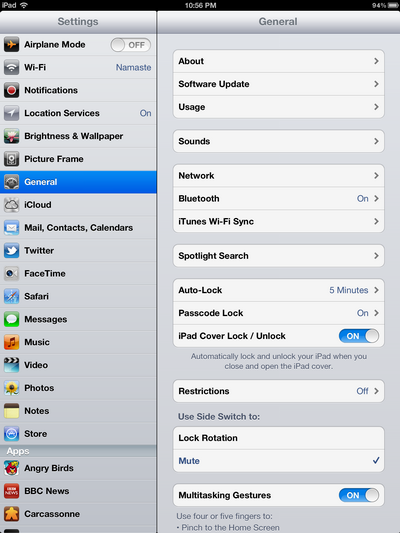 Tap on "Restrictions" to find parental controls and you get to a page where everything's probably grayed out:
What you need to do is
Enable Restrictions
. Tap on that and you'll be prompted to create a restrictions password:
You'll actually have to enter it twice. For this, I usually have a trivial to guess password like 1 2 3 4 because it's just that it forces you to stop and think that I find beneficial both for myself and my children. You might want to use something a bit more complicated…
Once you've entered the code twice, everything then becomes something you can tweak:
If all you want to do is restrict in-app purchases, scroll down to the bottom: the setting you want to change is in the "Allowed Content" section:
As I've highlighted, simply switch "In-App Purchases" from "ON" to "OFF" and you're done. Tap on the home button on the iPad itself (or your iPhone) and you'll be all set!