Facebook is driving me crazy; every time I post a GIF image, it think it's an animated GIF. What the heck? How can I fix this on my iMac?
Glad you told me what platform you're running, though the issue of Facebook automatically assuming that all GIF images are actually animated GIFs is universal, not limited to Mac or Windows. In fact, ever since Facebook added the ability for people to post animated GIFs, it seems to have lost the ability to recognize which GIF images don't actually have animation.
Annoying? Definitely. Unfortunately there's no way I have figured out that will let you change it while you're on Facebook and posting. No "just show frame #1", for example. Instead, you're going to have to convert the image format while it's still on your MacOS X system before you post it or share it to Facebook. Don't worry, though, it's easy with the built-in Preview app.
Not on a Mac? Here's the same basic image file conversion tutorial for Windows users: Convert GIF to PNG with Windows Paint 3D.
Let's start by seeing the problem. Since I am currently teasing my (adult) daughter by sending her "evil kitty of the day" images, we'll use a scary negative kitty image. As I'm about to post this GIF to Facebook, the status update box looks like this:
Notice in the preview area for the image it shows a filmstrip with a play button. That's because Facebook is automatically assuming that the GIF is animated. It isn't, but… if we just blindly proceed, it ends up like this: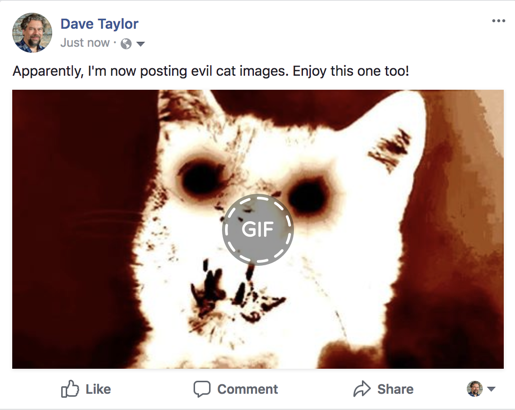 Scary image, eh? But that "GIF" circle in the middle? Super annoying!
To fix it, let's go back to the Mac system itself. Simply double click on the GIF image and it should open up in Preview. If not, Control-Click on it and choose "Open with…" and select Preview. It'll look like this:
Yeah, more scary cat. Well, scary negative cat, to be accurate. 🙂
From here, simply click on File > Export…
Now you will get a standard file save window, but the key is at the bottom, as circled:
As you can see, I've chosen PNG for the Progressive Network Graphic format. You can even leave the filename the same – the Mac is smart enough to recognize those are two different files.
Now the process of uploading it to Facebook is different and the image is properly previewed:
And when it's posted, no darn GIF circle above the image!
Now, d'ya think I should look for something more warm and fuzzy image-wise?
Pro Tip: While you're here, check out our extensive Facebook help and Mac help both!