I enjoy using Facebook and find myself spending a fair amount of time on the site, but its notifications are out of hand! How can I turn off notifications about comments, likes, posts, even election voting reminders? Thanks!
One of the most common questions related to Facebook is specifically about notifications. Either people are asking about how to receive notifications when their content receives likes, comments, shares, etc, or (far more commonly) they're getting too darn many Facebook notifications on their computer or mobile device and want to trim things down to just the essentials.
Worse, depending on how you have it configured, you could also be getting text messages from Facebook and even Web browser notifications too. Turn every notification on and your entire stream of notifications might end up being from Facebook, probably far more than you want and likely more than anyone wants! There are settings you can tweak to manage the flow of alerts and notifications, but you need to know where to find it and how to interpret what it shows. Let's have a look…
FINDING FACEBOOK NOTIFICATION SETTINGS
I'm going to show the relevant settings and options from a Web browser on a computer, but there are similar settings in the mobile app. In either case, your changes should reflect across all your computing platforms, so if your phone's overrun, we've got that covered too.
Start by logging in and clicking on your profile picture on the top right of the screen. A menu with various options appears. Choose "Settings & privacy" from the options shown. Now you'll see this:
If you've never run it, I encourage you to try "Privacy Checkup" to ensure you've got things set as desired. For our task, however, click on "Settings" then choose "Notifications" on the left side. You'll end up here: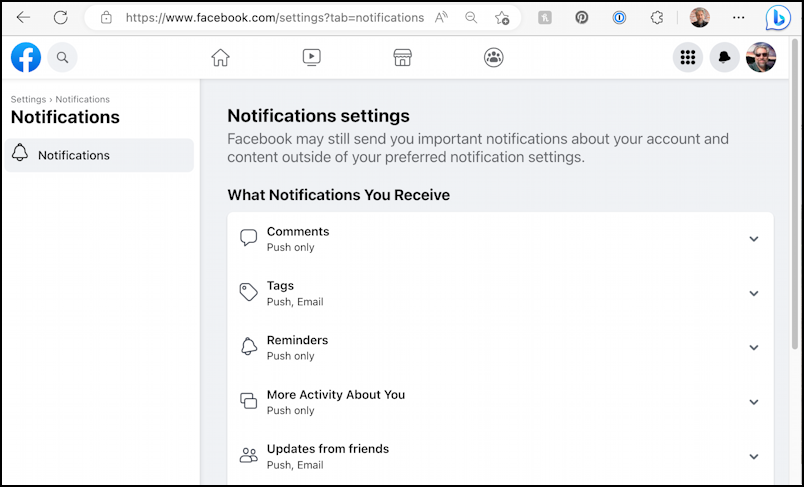 To say that there are a lot of categories is to understate the situation. There are a lot of different categories for notifications from Facebook because it's really such a sprawling social media network and site. Most all of the categories are structured the same, however, with an explanation and a cluster of options…
FACEBOOK NOTIFICATIONS: COMMENTS
Tired of getting a text message from Facebook every time someone comments on your post? That's what's covered in the very first category, Comments. Click on the "v" on the right edge to open it up and make changes:
You can see that I've opted for only "Push" notifications when someone comments on my posts or responds to one of my comments elsewhere on Facebook. Those push notifications appear on the computer screen for a few seconds and vanish, and they work on Windows and Mac systems. You might well already get them from Facebook or other programs.
Email can be overwhelming if you already get a lot of email but it also offers you the ability to have a saved record of comments and responses, even if the user later deletes their comment on Facebook itself. They cannot, of course, delete things remotely from your email system!
SMS is Simple Message Service and it's text messaging. Just as you might get a text from your pal Vishna about dinner tomorrow night, so you'd also get a text from Facebook that Vishna just responded to your FB post. If that's something you like, enable it by clicking on the slider so it shows blue.
FACEBOOK NOTIFICATIONS: TAG
What happens when you're tagged in a post, photo, or other content on Facebook? That's quite a bit more complicated than Comments, as you can see when you open up that pane:
Unfortunately, a lot of spammers and scammers on Facebook use tagging as a way to gain visibility for their posts, so I have found that not getting notifications when "anyone" tags me is beneficial. You can try different settings and see how it goes.
Notice the lower portion too: You can choose how you're notified of being tagged, from whom, and in what situations, all intended to let you identify exactly which situations justify a notification and which should be ignored! I would guess that most people turn off at least one or two of the "Receive" categories.
FACEBOOK NOTIFICATIONS: VOTING & ELECTIONS
I haven't forgotten that you asked about voting and election reminders! Facebook can definitely get a bit overzealous with its eagerness to remind you to vote. Again, and again, and again. In fact, just vote once. It's less complicated. 🙂
Click on "Voting Reminders" to see what options are presented:
Mine includes my home address – redacted, above – so it's going to alert me to special elections, local voting hours, etc. I can remove my address from this context by choosing "Remove" and from the comment it appears you can have more than one address listed too if you're a real zealot about voting.
The interface is a bit different here with the "On" link, but if you click on one, say "Election reminders", it'll show you three very different choices:
I keep up on elections and vote, but sometimes it's nice to get a reminder. Then again, sometimes there can be too darn many reminders, so "Snooze" is a great option when you're just a few days from Election Day. Really don't want Facebook reminding you? Choose "Off". Remember to do that for voter registration reminders, election reminders, and local voting alerts.
FACEBOOK NOTIFICATIONS: GAMES & BREAKING NEWS
Facebook has yet more notifications it can send you, all collected in the last category "Other":
You can't differentiate between game requests and breaking news, unfortunately, but you can disable everything if you want – or turn on SMS so you get text notifications!
FACEBOOK NOTIFICATIONS: MUTE THE ALERT!
One more thing to check before you leave this area of settings: If you do get browser-based Push alerts, sometimes they can include a beep or other audio alert. Hate it? You can turn it off in the "How You Get Notifications" "Push" entry. Click on it and here's what you'll see:
My push notifications are through Microsoft Edge, my browser of choice. I have all audio feedback disabled, as you can see: If you want the same, make sure the lower two options are in the OFF position, as shown.
That's it. Now you can wrestle with the Facebook notifications like a pro! Good luck.
Pro Tip: I've been writing about Facebook since it first came online. Please check out my extensive Facebook help library for hundreds of useful tutorials and insider tips and tricks. And why not follow AskDaveTaylor on Facebook for even more great content? Thanks!