It's driven me crazy for years: When I go to empty my trash can [recycle bin, actually] Windows always prompts me to confirm that's what I want to do. Since there's no way to accidentally request this, I just want the confirmation window gone! How can I disable it?
There are a lot of things you can do on a computer that are surprisingly destructive. There are thousands of files on a Windows PC that if you delete any of them, your computer won't boot or something important suddenly won't work. That's why there are various confirmation dialogs. Heck, that's why there's a recycle bin in the first place, a staging ground so that you can "delete" something and then realize you didn't want to delete it and can then easily recover it. Not only on Windows too, this is also the same on the MacOS X platform and even on Linux (if you're using a graphical interface like GNOME or KDE, they all have a special folder that pretends to be a trashcan.
Having said that, it can all be overzealous too, prompting you to confirm and confirm and confirm. As you say, it's kind of hard to accidentally choose "Empty trash" without meaning to. Fortunately Microsoft's got you covered with a simple checkbox that lets you, finally, disable that confirmation window!
To start out, let me demonstrate what we're talking about. Right click on the Recycle Bin / trashcan and you get this menu:
We'll come back to it in a minute, but most people choose "Empty Recycle Bin" and then get this prompt:
That's the confirmation window you dislike, right? So let's get rid of it!
Go back to the Recycle Bin menu, but this time choose "Properties":
A new Properties window appears and it has exactly what you seek: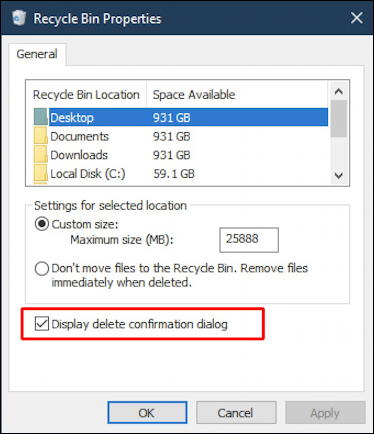 As highlighted, you'll want to ensure that the checkbox adjacent to "Display delete confirmation dialog" is unchecked. Click "OK" and you'll never have your screen darkened by that pesky confirmation window again!
Pro Tip: I've been writing about Windows for quite a while. Please check out my extensive Windows 10 Help area for lots more useful tutorials while you're visiting. Thanks!