I am having a great time with ChatGPT but have started to wonder about what happens with the info I share with the tool. In particular, if I share a document and ask ChatGPT to summarize it, does the program also save a copy to analyze later? What are my privacy options?
You are smart to be concerned about privacy issues when it comes to ChatGPT and other Large Language Model (LLM) systems. Since they build their "smarts" from analysis of enormous bodies of information, it's reasonable to ask where does all that information come from? There's lots of public domain information on the Internet nowadays, but when people share a tweet on Twitter, post on Reddit, or complain about their boss on Facebook, is that public domain? Copyrighted works are even more of an issue because if an LLM can "write in the style of" someone whose content is copyrighted, are they then violating that copyright? How about when the AI systems analyze that information in the first place?
Open AI, the company behind ChatGPT, DALL-E, and other AI-powered systems, is very aware of the situation and while the courts are arguing intellectual property ownership, they're also offering up greater controls to help us users have a better understanding of what's being shared and, finally, how to control that sharing. Since there are people using tools like ChatGPT as a virtual therapist, you can imagine that their dialog is not something they expect to ever show up anywhere else in any context.
There will be more controls as these tools evolve, but ChatGPT does let you turn off data sharing as a first step. Let's have a look…
INTERACTING WITH CHATGPT
It's pretty easy to go to chat.openai.com and set up a free account…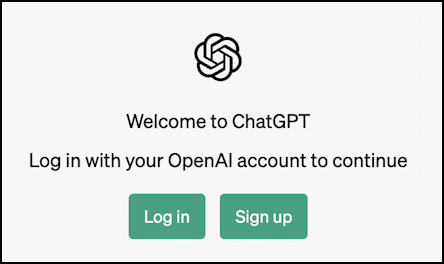 I set up an account a while back so logging in takes just a few seconds. If you haven't set one up before, click on "Sign up". Free access user accounts are constrained to a certain number of queries per week, but I've never hit my limit. If you do, you can upgrade to a "Pro" or "Business" account, if desired.
What's really interesting here is that the list on the left reflect some of my queries, but some that aren't from me. This leads to the question of where do they come from? or, flipping it around, do other people see my queries?
You can begin to work with ChatGPT by entering prompts in the discussion box if you want, but instead, click on the "•••" link on the lower left. It brings up a menu (that's the same color as the background, which makes it pretty hard to see!):
Notice you can "Clear conversations" as a way to remove your own conversation history with the tool. We're more interested in the "Settings" option, however.
CHATGPT SETTINGS: PRIVACY
Click on "Settings" and a small window pops up:
By default, the only setting is the "theme", which is light (black text on white) or dark (white text on black), or system, which tracks your operating system's theme. But… notice "Data Controls". Click on "Show".
The text is small, but it says "Save new chats to your history and allow them to be used to improve ChatGPT via model training. Unsaved chats will be deleted from our system within 30 days." It's a bit hard to understand, but "model training" means that the AI software will analyze and remember every prompt you submit, whether you're using it for virtual therapy or something else. Asking about medical issues or the results of a recent test at the doctor's office? It'll analyze that too.
It's too bad that these two are linked together because it would be nice to have a rolling 30-day window of previous interaction while also blocking ChatGPT analyzing what's actually entered. For now, however, that's not an option, so either disable both or enable both. To disable both, click the green slider so it turns grey.
Notice also that you can "Export date", which is a good way to get some insight into what information is actually saved by the system. That's it. Choose what you prefer, close the window, and you're done.
WHILE WE'RE USING CHATGPT…
I can't visit the ChatGPT tool without trying at least one fun prompt, however, so here's h0w it did with "six word sci-fi story":
Not too bad, actually. "The last human uploaded to server." Well, maybe a tiny tweak to "Notice: Last human uploaded to server."
Pro tip: I've been writing about computer and Internet basics for many years. Please check out my computer and Internet basics help area for lots more useful tutorials on AI and much, much more!