I spend a lot of time poking around in the Google Play Store looking for new apps. Too many apps have embedded videos that autoplay as I browse, however, which is disconcerting and eats up my cellular bandwidth. Is there a way to disable video autoplay in the Play Store app?
There's a lot to like about how Google's organized the Play Store for Android apps. From its open design to speedy search to categorization of applications, I think a lot of people actually spend time browsing for new games, entertainment, utilities, and productivity tools. It is, however, designed to be used with a fast, unmetered Internet connection by default, so there are some facets that can prove frustrating if you prefer not to have things autoplay or otherwise consume bandwidth. After all, not everyone's on an unlimited cellular connection nowadays (though eventually we'll all have unlimited cell data, which will be nice).
Whereas most apps in Android have their settings accessible through the main Settings app, the Play Store has its settings hidden within the app itself. At least, in the latest version; the Play Store seems to have its user experience change up every year or so!
Fortunately, it's easy to change the video autoplay setting in the Play Store app. Let's get to it!
AUTOPLAY VIDEO IN THE GOOGLE PLAY STORE APP
To start out, it's worth noting that not every app has an autoplay video included. The big companies like HBO, Peacock, Netflix, etc, definitely have these embedded videos, however, so it can be a nuisance. For example, the NBC Sports app, featured on the Play Store home screen, has an embedded video to entice you to install the program:
Where it says "WE ARE THE"? That's a tiny embedded video (with sound, though it starts auto-muted on my test device) that you have to download before it can play. It's also a definite visual distraction – which is its intention – so let's learn how to stop this pesky autoplay!
GOOGLE PLAY STORE SETTINGS
Hopefully you've long since learned that the main menu for the Play Store app is hidden behind your tiny profile icon on the top right. Tap on it and a menu of options appears: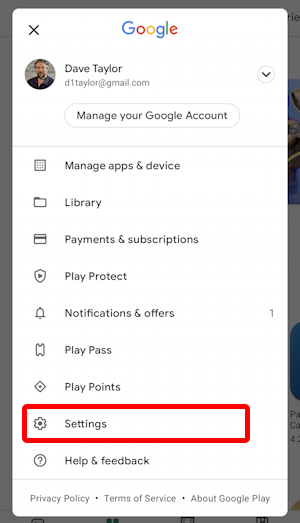 I often tap on "Manage apps & device" to check for updates to the apps I have installed, but for this purpose we want to head over to "Settings", as highlighted above.
A tap on "Settings" and you'll see that the settings for the Play Store app are broken down into five categories: General, Network preferences, Authentication, Family, and About:
I encourage you to explore the other categories of settings – and particularly the Authentication section – to ensure that everything is set to your preferences and needs.
Video autoplay? That's in "Network preferences" so, no surprise, tap on the highlighted section and it expands to offer up the settings accessible in this category:
Note before we proceed the very first setting shown (actually part of the General settings). By default, you're sending to Google not just what apps you install, but what sections of those apps you actually use. Did you realize that? Fortunately, it's easy to disable by tapping on that on/off switch icon. Privacy? That's so…. 1990s. 😒
Back on task, you want to tap the "Auto-play videos" and now it's easy to change the setting as you prefer:
The default is for it to only autoplay videos when you're connected on Wi-Fi, which is good so it doesn't eat up cellular bandwidth, but if you want to avoid the distraction of these little animated slide shows within the Play Store, choose "Don't auto-play videos". Close the window and you're done. Feature disabled.
Pro Tip: I've been writing about Android since the beginning of the operating system. Please do check out my extensive Android help area while you're visiting, for lots more useful tutorials and guides! Thanks.