My boss wants us to migrate from Zoom and WebX to the new Google Meet video conferencing service. She's a big fan of Google and now I have to figure out how to get things up and running. Can you step me through the basics for a large screen iMac? Thanks.
First there was Google Hangouts. Then Google Hangouts became part of Google Plus. Then Google Plus went away. Then Hangouts became Hangouts Meet. Now Hangouts Meet have been rebranded as Google Meet, the latest big company video conference competitor to everyone's favorite service, Zoom. Google describes Meet as "Premium Video Meetings. Now free for everyone." and shows a Brady Bunch grid of happy people, all remarkably well lit compared to every single video meeting I've attended. But that's another story, right?
Fortunately, once you get all the permissions set up, it is pretty darn easy to get going with Google Meet, including sharing your screen, an app or program window or even a single tab from within Google Chrome, even if that tab has streaming video! Easiest place to start with the setup is to log in to your Gmail account from within Google Chrome. Yes, you can use a different browser, but as you'll see in a bit, Chrome really integrates nicely with Meet. In Gmail if you click on the button to utilize Hangouts conversations (basically instant messaging through Gmail) you should see this:
If you don't see this new section, you can always just go to google.com/meet/ and you'll find the same two options. To proceed, click on "Start a meeting".
Since I've already granted Google Chrome permission to access my camera and microphone, it just drops me directly into this view:
Notice that "swi-pktg-psg?authuser=0" on the title of this window? The first portion is my unique meeting code. Unlike Zoom, this changes each time, so you now knowing that isn't going to allow you to Google Meet-bomb my next meeting!
First off, notice the three vertical dots on the lower right of the video preview. Click on it and you'll find a menu of settings and options:
Captions is a neat feature where you can automatically have closed captioning as the meeting proceeds. Possibly not great, but definitely a boon if you have people who will be connecting to the meeting in very loud environments or with hearing challenges. Obviously you want to explore Settings when you have a chance. For now, however, click on Present to fire up an empty meeting room.
Or to run through the gauntlet of setting up permissions, that is! First up, Google Meet wants to have permission to record your screen so meetings can be recorded:
This is a bit tricky to grant in MacOS X but click on the "Open System Preferences" and you'll be taken here:
You'll want to ensure you're on the Privacy tab, then choose Screen Recording from the left side list. Now simply click the checkbox adjacent to Google Chrome on the right side. You might be prompted to enter your admin password for this, but probably not.
Close this window and you'll get this warning message:

Since you granted Google Chrome additional permissions it really needs to restart. If you're just experimenting with sharing screens and presentation windows in Google Meet, however, you can safely ignore it for now, but at some point you will need to restart before your first official Meet. Um, Meet Meeting?
Meanwhile, remember a while ago when you clicked on the "Present" button in Google Meet itself? It'll finally be able to pop open the window that offers a variety of choices about what you share, starting with the option to share one of your Chrome tabs: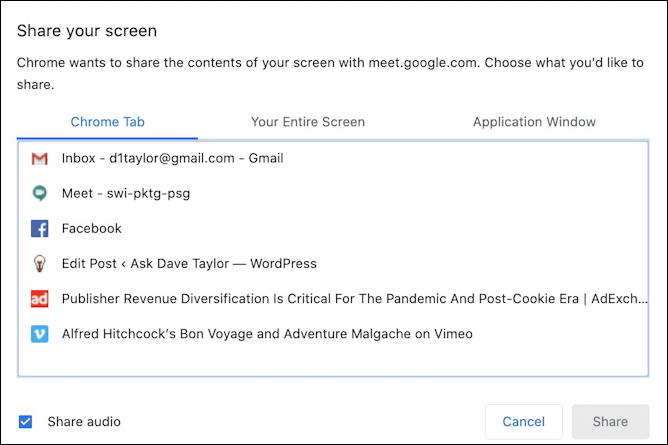 This is a list of the tabs I have open: Gmail, Google Meet, Facebook, me editing a blog post in WordPress, an article about ad revenue diversification and a Vimeo window with some previously lost Alfred Hitchcock films. Your list will vary. Notice the "Share audio" checkbox near the bottom. That might well be important if you want everyone to hear the audio from your shared Chrome tab.
Just to complete the tour, if you click on Your Entire Screen here's what you see:
Be aware of privacy implications if you share your entire screen as people will be able to see every icon, every app on your Desktop, every notification you receive while you're in Present mode.
Finally, click on Application Window and you'll see a list of all running apps:
Not much else going on other than Chrome and Messages on my Mac.
Finally, I'm going to share that Vimeo movie so others can enjoy it in my meeting too. That's done by going to "Chrome Tab" along the top of the Present window and choosing that specific tab. Notice that it picks up a subtle blue border and a message along the top:
The message on the top says "Sharing this tab to meet.google.com" with a big blue Stop button. Easy enough. And in the Google Meet window, it looks like this:
That's it. Fairly straightforward to get up and rolling, all in all, and a simple and straightforward interface. You should be up and running with Google Meet in no time!
Pro Tip: I've been writing about video conferencing and screen sharing tech for quite a while. Please check out my Zoom, Skype and Google Meet help area here on the site for more useful tutorials!