My PC's slowed way down and nothing I've tried seems to help. I heard that there's a way to reinstall Windows but am afraid to lose all my personal files and settings. Is that what "fresh start" offers? Appreciate your advice, Dave!
Whether you're running Windows or MacOS, it seems like the longer you run a system, the slower it gets. There are a lot of reasons why this occurs, but primarily we add programs, utilities, extensions, and, sometimes, malware. Our disks can fill up, and hardware slowly gets obsolete as newer operating system releases expect faster equipment too. Add them all up and it's no surprise that even Microsoft recommends that about once a year you wipe and reinstall your Windows system to keep it light and zippy.
But who wants to wipe and reinstall an OS? No-one. So Microsoft has included a really cool alternative that few people know about: Fresh Start. Sounds like a salad bar, but it's a way for you to reset your system without having to restore from a backup because it will retain all of your personal files and settings. It does, however, delete every program and app not officially from the Microsoft Store, so it can still be a bit startling when you realize your favorite shortcut utility just vanished.
Fresh Start is a great way to clean up the mess of your Windows 10 installation, however, and well worth a try to speed up your PC, whether it's 18mo old or six years old. I'll go through the process so you can see how it works. Before I start, however, be aware that it took me about 45-minutes from start to finish…
HOW TO INITIATE A "FRESH START" ON A WINDOWS PC
It's definitely a good idea to do a full and proper backup and perhaps even do a redundant backup of all your personal files, music, videos, photos, and notes onto a cloud backup service like OneDrive, Box.com or DropBox.com. The process seems safe, but you just never know and you should already have a solid backup scheme!
Okay, let's jump in! To start, search for "fresh start" in the Windows 10 TaskBar system search: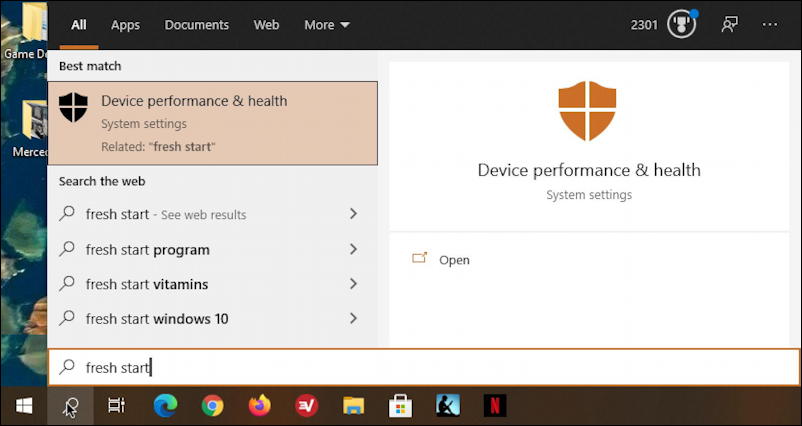 Launch "Disk performance & health" for a quick health report on your system. It will show you some basics, but even with a full list of green marks, your system can still definitely be slow…
Scroll down in this Device performance & health window just a little bit, however, and you'll find the Fresh Start feature:
The problem here is that you can see an "Additional info" link, but not the needed "Get Started" link. Why? Because you actually need to run the program as an administrator. If you see "Get Started", you're in good shape. If not, you'll need to switch to the command line so you can launch it as an administrator. That can be done by searching for "cmd" in that same TaskBar search: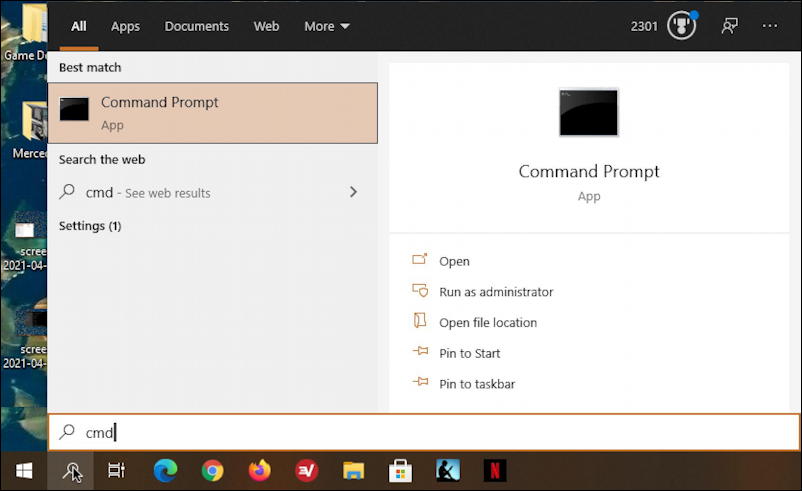 Don't just launch the Command Prompt, however, because you need to choose "Run as administrator".
It pops up the black command prompt window, an interface that's basically a throwback to 70's computing:
As shown, carefully type in exactly systemreset with no spaces. Press Return and a new window will pop up: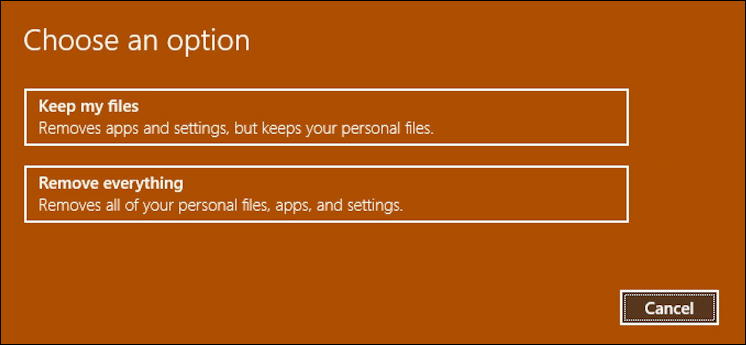 I recommend you choose "Keep my files", the first option, but if you do that and it doesn't seem to change anything, you could try the more aggressive "Remove everything". I'm going to "Keep my files".
The program then gets to work. It's a bit optimistic when it says "This won't take long".
Then you'll have some warnings, including a list of what programs and utilities it'll actually remove from your system: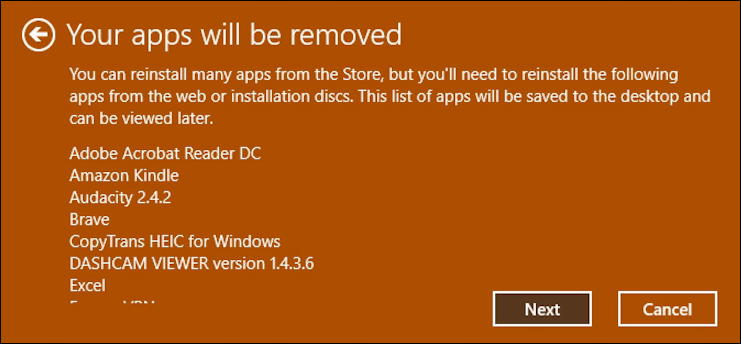 It's worth scrolling through and jotting down all the apps you really can't live without so you can reinstall them, but I bet at least some of them are programs you'll have actually forgotten about. For me, it's things like the Dashcam Viewer.
Finally, you'll get to this point: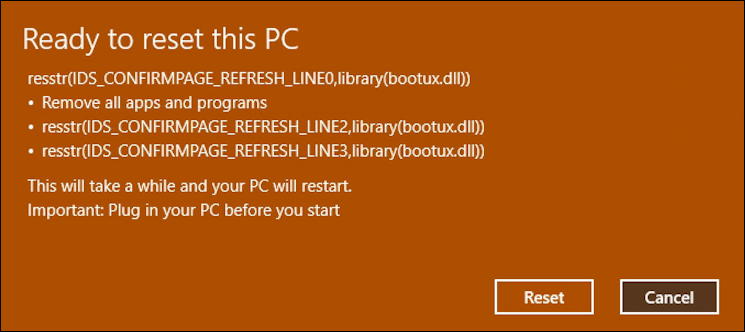 Before you proceed, it's smart to confirm you do have a reliable backup and also make sure your PC is plugged into a power source. You really do not want it to run out of power halfway through this process.
RESETTING YOUR WINDOWS PC, SCREEN BY SCREEN
Once you do click on that "Reset" button, you'll be starting a journey that'll be anywhere from 30-minutes to an hour or two. Be prepared and make sure you have a book to read, a game to play on your phone or similar. The first thing that the reset program will display is:
Then you'll switch to a Windows boot screen and get excited that it's almost done.
It's not.
Things proceed:
and after at least fifteen minutes – at least in my experience – it'll stall out at 86%:
My process actually got to 94% and then jumped back to 86% again, which was definitely disconcerting! Eventually, though, it got to here:

This begs the question: preparing for what? It's already in the middle of the process, right?
Fortunately, you have plenty of time to ponder these puzzling questions as the process slowly chugs along. Eventually, you actually get to the WIndows install step:
In case you don't realize, a subsequent screen during the install process will remind you that the process will take a bit of time.
After maybe 15-20 more minutes and at least one or two reboots, you'll get to the Windows login screen:
Now you're thinking "done! huzzah!", but when you actually log in to your account, you'll find that you've been deluded.
It's not quite done with the install process:
Finally, finally, 48 minutes after I started the process, I am logged in to my PC and ready to see what's missing:
It's now easy enough to go to the Microsoft Store and reinstall the key programs that were eradicated.
More importantly, though, your PC should indeed boot up faster and run faster with all that other cruft removed. Best of all, all my personal files are still available!
Pro Tip: I've been writing about Windows 10 for quite some time and earlier versions of Windows before that. While you're visiting, why not check out my Windows 10 & PC help area? Thanks!