I have set up a blog using WordPress and it works well, though, unfortunately, it doesn't write itself. 🙂
My question is two-fold. First, what do you use to set up your weblog, or what service do you use? And, second, is there any way to keep *##@ texas hold-em spammers from leaving comments without shutting off the comment feature? I haven't taken the time to research the support since I've been too lazy to dig, but it would be great if you had some solution.
Well, I can't help you with the magic of having your blog write itself (though you might want to check out my teleseminar Exploding your Business with Blogging for lots of content generation strategies), but I can help with the tweaks and modifications to WordPress!
I admit, it can be a challenge to find the exact information that a blog owner needs when you're looking through the vast wordpress codex or support forums. Especially when you just want to get down to the business of writing your blog without having to learn every detail of how it works.
There are a lot of good tools for handling comment spam that wordpress.org links to through the codex in their Spam Tools area.
You'll note that they also show where to find tools that can help with trackback spam, email spam, any kind of spam that will arrive to your blog.
It really is a personal choice which comment spam tool to use. The better they get at keeping out spammers, the more they can annoy your human commenters. And some work better than others. No matter how well a spam filter works, it will not keep out a real person with off-subject comments (meaning you will still need to moderate your comments regularly).
The wordpress blog shown below is using a comment authorization plug-in from Scott Merrill to control spam (it requires that the commenter verify his email address and click on an emailed link to activate the comment).
When you choose one, you will often be redirected off of the wordpress.org website, to the developer's site to download the plug-in. As always, choose what you download carefully. If there are additional instructions, the plugin provider will let you know (on the page where you download the plug-in).
Choose one and download it to your machine. It will be zipped up, so you'll need to extract it and save it locally.
Then upload the extracted files to your wordpress blog. It goes in the wp-content/plugins folder. [If you don't already have a "plugins" folder in your "wp-content" folder, you can make one. There won't be one there if you've never installed another plugin.]
Here is an snapshot of above mentioned "comment authorization" plugin uploaded by FTP to a typical plugins folder.
?
Then log in to your blog and activate the plugin, in the plug-ins tab of your admin area – under the "Action" column. Most of the time, all you have to do for it to work is click "activate".
?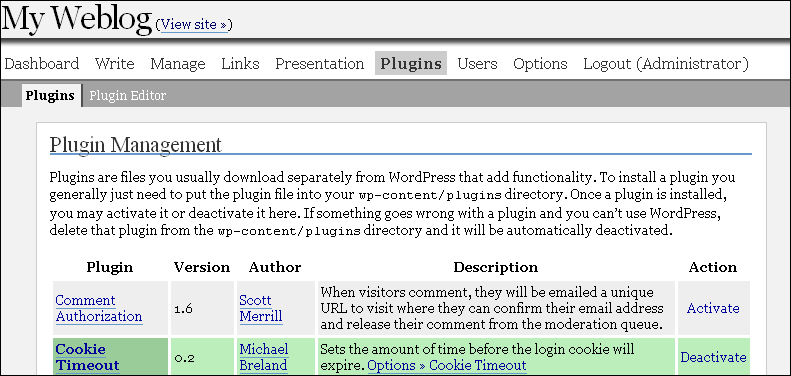 Click on the image for a full-size view
Once you've activated the plugin, it will appear highlighted, like the "Cookie Timeout" plug-in in the above picture.
Wordpress is extremely extensible, allowing nearly unlimited plugins to extend your blog's capabilities. If you don't like one, you can deactivate it easily. Want to learn more? Check out the
installing Plugins
area of the WordPress documentation suite.
Good luck to you! Without some sort of comment spam management solution like this, running a blog can be quite an exercise in frustration!
Thanks to Desi for her help with producing this answer.