There used to be a way to sort Favorites alphabetically in Internet Explorer but that feature has vanished with the latest version of MSIE in Win8. How do i sort my bookmarks?
If you're running Microsoft Windows 8 or Win8.1, odds are quite good that you are also running Internet Explorer 11, either in "window" mode (the standard interface where it's a window on the Desktop) or in the full-screen "Metro" mode (where it takes over the entire screen). Either way, turns out that the Favorites management area hasn't changed a huge amount, you just have to know that Microsoft decided that sorting options wasn't important enough to warrant an actual button in the edit window.
Yeah, who thought that, I dunno. Maybe in Redmond they have secret third-party tools that help them manage their Favorites. Or perhaps none of them actually surf the Web and bookmark favorite sites, so it's never an issue?
In any case, I'll show you how to sort your Favorites in window view but it works in both.
To start, open up Internet Explorer and look on the top right: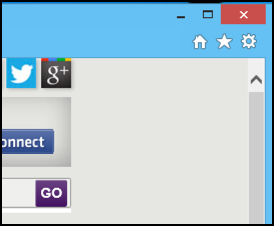 You'll want to click on the star icon, which gets you to the Favorites menu: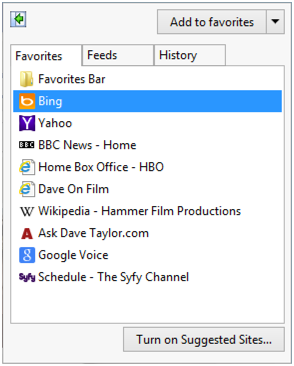 You can see my set of bookmarks, and it's in random order.
Well, actually, it's not. It's in the order that I saved them as favorites, so "Bing" was first, and "Syfy" was last.
To organize and manage your Favorites list, click on "Add to favorites" on the top right (yes, it's totally counter-intuitive):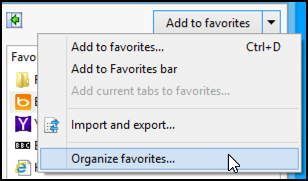 There's the option you want. "Organize favorites…"  Choose that.
You can see the set of options here. You can click and drag to reorder Favorites, delete them, create sub-folders (which give you sub-menus on Favorites, quite handy).
But where's that darn Sort button? It doesn't exist. Instead, right-click on any of your Favorites and look at what's in the context menu!
Yup, so the feature's still available, it's just hidden in the last place someone is going to look, the context menu for individual Favorites.
Bizarre.
Ah well, now you know where it is. So choose it and in a fraction of a second all your bookmarks are reorganized: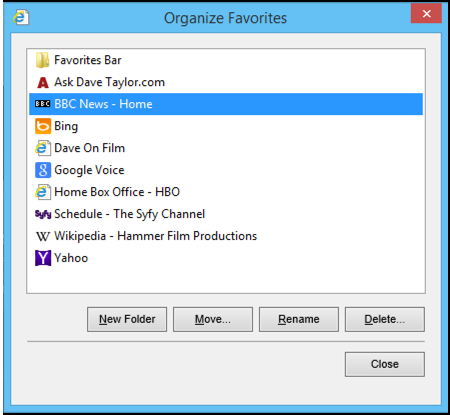 That's the trick. Click on "Close" and you're done. Until the next time you want to sort your Favorites!