I just bought a new Sony PSP and am having a heck of a time figuring out how to get it to work with my Windows XP PC. I know I can copy music and pictures onto the PSP, but I don't know how. Help?
Good news. It's not difficult to accomplish what you seek, but there are a number of steps required to download files from your PC to your PSP.
The first step is to make sure that you have a Memory Stick Duo in your PSP and, if necessary, format the Memory Stick with the PSP itself (go to Home, then Settings, then scroll down to System Settings and use the 'X' button to select this option, then scroll down to Format Memory Stick and select the option). You'll only have to do that once.
Next, take the USB cable and hook one end into the PSP on the top middle edge and the other end into your PC.
Now, using the Settings menu, choose USB Connect and your PC should shortly see your PSP as a removable drive.
The very first time I did this on my Windows XP system, the OS installed some new drivers, then promptly told me it had to reboot for the device to be mounted on the system:


So, logically, I did just that, and when it rebooted the device showed up as
Removable Disk G:
, as shown here on
My Computer
: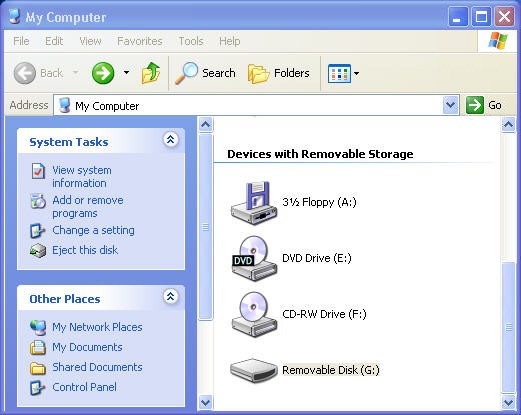 Double click the new drive and you'll find that there's only one folder therein, called
PSP
. Double click in that and you'll find that you have four folders that the format has created: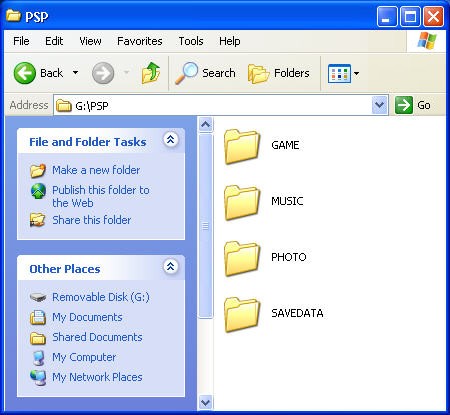 Looking good! Now if you have MP3 music files, you can drag and drop them into the
MUSIC
folder (and if they're in the wrong audio file format, please see
How to convert WMA audio files into MP3 audio files
), and JPEG (or, sometimes, JPG) photographs or graphics, you can download them into the
PHOTO
folder. Once you've done that, perusing the PHOTO folder, for example, will reveal that your pictures are loaded and ready to use:
That's about all you need to do, believe it or not. Copy any music or graphic files you want into the appropriate folders, then when you're done move back up to the list of "Devices with Removable Storage", click on the PSP removable disk and choose
Eject
.
(Actually, sometimes when I do this step Windows XP refuses to eject the disk, complaining that "An error was encountered trying to eject 'Removable Disk (G:)' but I've found if I ignore the error and just unplug the PSP, all is well)
Now, to view downloaded pictures on your PSP, move to the Photo area. You'll see one item shown: "Memory Stick" and an indication of how much free space you still have on your Memory Stick Duo. Click on that by pressing the 'x' button and… poof! You'll see all your photos listed. Click on any and you'll get a nice full-screen view.
To listen to the songs you've downloaded, go to Music, click through the "Memory Stick" information, and you'll see a list of MP3 files. Click on any of them to have them play.
That should get you going with your PSP. The issue of how to download movies, well, that's quite a bit more complicated and something we'll explore in a different article. 🙂
Useful reference articles:
  •  
Download music from your PC to your Sony PSP
  •  
Watch DVD Movies on a Sony PSP
  •  
Getting Network Update to work on a Sony PSP
  •  
Sony PSP Firmware Update Instructions
  •  
iTunes music on a Sony PSP