How do I update my Sony PSP unit to the new 2.0 firmware release so that I get to use the Web browser, etc? I don't have a Wifi connection, so I need instructions that don't require wireless, too. Thanks!
I just recently updated my Sony PSP unit to the 2.0 firmware release too, so i can step you through the procedure I used. For this one, I used the download to PC option; if you have a wireless wi-fi network, you can use the detailed instructions I posted earlier instead: Sony PSP update instructions for wireless wifi networks.
The first step is to go to the Sony Playstation Web Site and make sure you have all the required items there.
Now, scroll to the bottom of that page and click that you "agree" with their terms of update. You'll then be asked by your Web browser if you want to open the file or save it to your disk: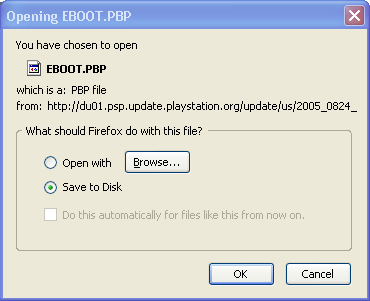 I'm running Firefox here, so my dialog box might be a slight bit different from what you'll see with Internet Explorer, but the basic idea here is that you
can't
open this file – it's for the PSP – so just save it to disk.
Once the download has finished, hook up your Sony PSP to your Windows PC – I have WinXP Pro – and make sure that on your PSP you choose 'USB Connect' (I have more details on how to do that in
Sony PSP to Windows PC: Music and Photos?
if you need it). The PSP will show up on your computer as the unimaginatively named "Removable Disk":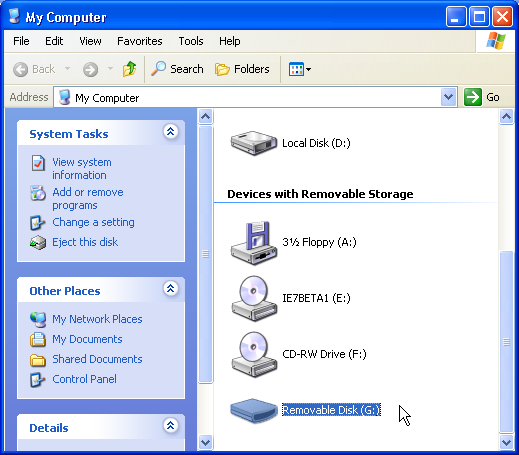 Click on the device, you should see a folder called "PSP". Open that and move into a subfolder called "GAMES". Within that you'll have to create a new subfolder called "UPDATE":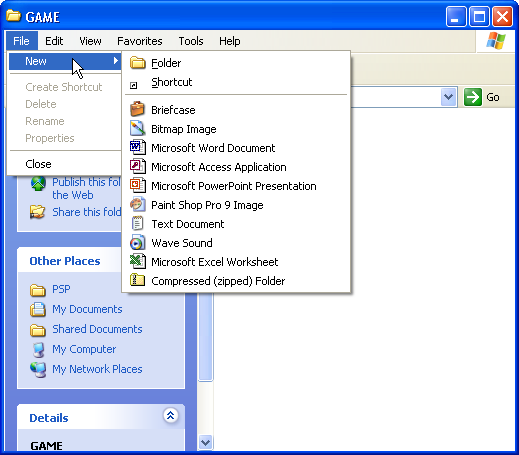 Now, finally, you're ready to copy the downloaded file across to the PSP so you can run the update. Just drag and drop the file
EBOOT.PBP
into the newly created UPDATE folder: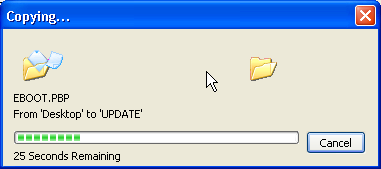 Once that's done, eject the PSP from your PC. Almost done!
On the PSP you now need to make sure your unit is still plugged in to the wall (this is
critical
so that you don't have a battery glitch and trash your PSP unit!), then navigate to the "Game" area. One of the choices here will be
Memory Stick
. Choose it by pushing the "X" button and you'll see
PSP Update ver 2.00
.
That's what we want! Push "X" again to start the update process. It clears the screen, vanishes for a few seconds, then comes back and either says "PSP System Software Version 2.00" and has a "Start" option, or tells you that you don't need to apply the update since you're already running 2.00 on your Playstation Portable.
Assuming that you, like me, don't yet have 2.0, you'll want to choose "Start", go through the user agreement (are there too many lawyers on this planet or what?) and
leave your PSP untouched
until it's done. My update took about two minutes. Not too bad.
That's it. You should now be the proud owner of a Sony PSP unit that has the 2.0 firmware system installed, which means you now have a Web browser and lots of other spiffo updates to the system. I'll write about how to work with the browser in another article, but I hope this will get you up and running with System Software 2.00 on your PSP!
Oh! One last tip: once you're done with the update, you'll want to delete it from your Memory Stick. Do this by again going to GAMES then Memory Stick, then when you're looking at the "PSP Update ver 2.00" push the upward pointing triangle button (on the right control area, not one of the four directional buttons on the left). You'll see three choices, one of which is "Delete". Choose that, and you'll have just deleted the now-obsolete update file.