Got a weird one for you, Dave: I received an email from Google confirming my address as a backup and recovery email address for an account I didn't create! Is someone spamming me or has someone stolen my identity on Google?
I know just what you're talking about because once every few months someone does that with me. I figure it's a typo, but I'll get an email from Google saying basically "congrats on setting up your new Gmail account. This is your recovery account. Well done!" even though I have no idea what they're talking about. 🙂
The good news is that there's nothing to worry about, your account security hasn't been compromised, no-one's pretending to be you on Gmail, and your identity is safe. Well, as safe as it ever is here on the Interwebs, at least.
You can also "disavow" your address as the recovery address for the unknown account, which is probably a good idea. Let's go through all the steps, shall we?
To start out, here's the Gmail notification I received: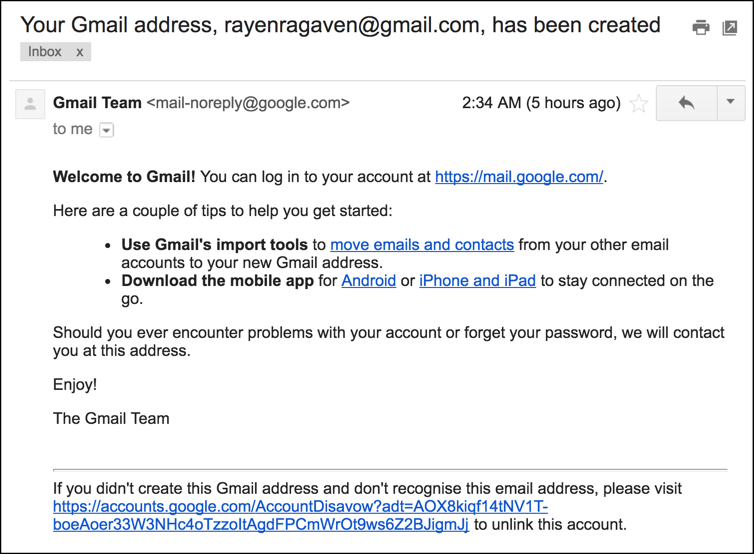 I don't actually know who "rayenragaven" is, but hey, they used my email address as their backup, so it's fair game, right? Anyway, what's happened is that they signed up with their address, it worked fine with Gmail, and then they set up my address – d1taylor – as their backup. Odd. A typo? Or did they think I'd help out in the case of an emergency [I won't]?
Look closely at the bottom portion, however. "If you didn't create this Gmail address and don't recognize this email address, please visit…" followed by a pretty gnarly URL. Click on that link: time to disavow this connection.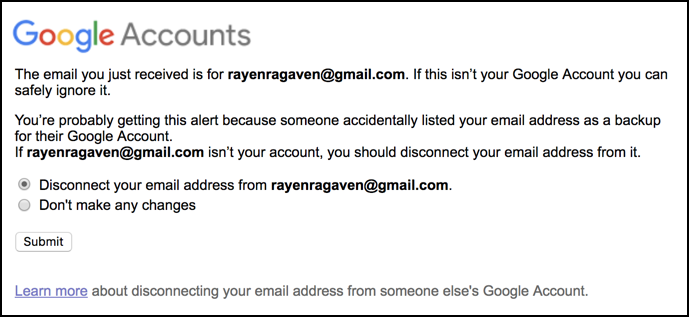 Two options don't make any changes or disconnect your email address from the new Gmail addr. Choose to disconnect, click the little button and choose "Submit" to proceed.

That's it. Done. Nothing to stress about, really, and you haven't messed up their account either: it'll just show that they haven't set up a recovery email address.
So where is that recovery information in case you ever lose access to your Google / Gmail account? That's worth checking out while we're here. In Gmail, go to Settings [off the gear icon on the top right] and navigate to the "Accounts and Import" tab:

Yes, for reasons I can't explain, Gmail still has an interface that looks like it was designed in 1997. Maybe it was. Anyway, click on "Change password recovery options" and you'll get here: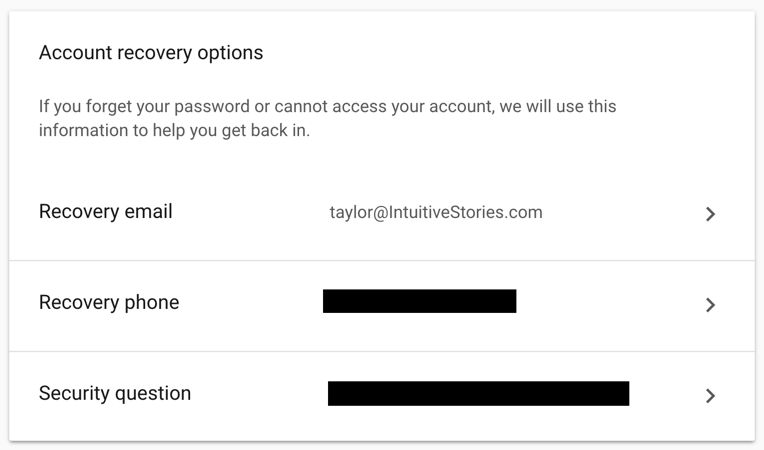 I have three set up, an email address called "recovery email", a recovery phone, and a security question. I've obviously blanked out the latter two for my own privacy and account security, but the top one is accurate and I retain control of that email inbox too, so it's good. Yours isn't set or is set to an account you no longer have? Update it by clicking on it. Smart.
Higher up on the page is an option for a Security Audit. Click on it, the Google security check-up is well worth the extra few minutes to check and manage. Mine showed I have some work to do: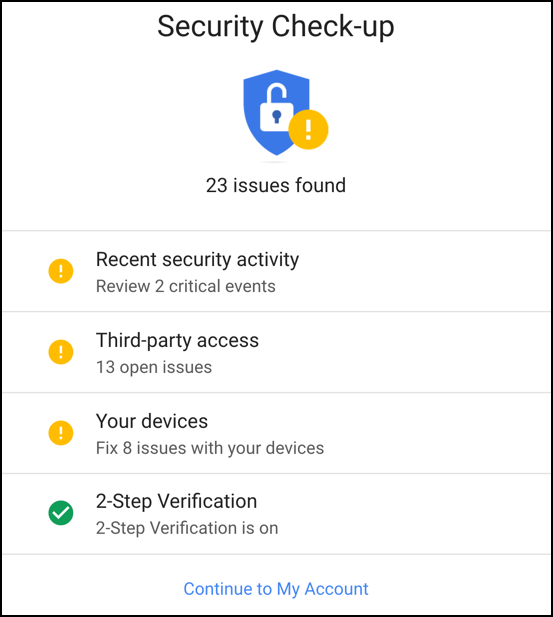 If you're curious, it's just about all related to all the test devices we receive here at AskDaveTaylor HQ: sign in to a new Android phone or tablet, a computer or even a TV for YouTube and it shows up on the list to be confirmed or blocked. Good stuff, well worth examining every so often.
Anyway, that's the story with the bogus recovery email settings. Easy to disavow, worth doing so (it helps the email account holder know they need to set up the right address instead) and an easy way into checking your own account security and recovery settings too.
While you're here, I invite you to check out our extensive Gmail help area too. We've written tons on how to work with and optimize your Gmail experience!