My daughter is a huge fan of Snapchat, but I was reading about location sharing and something called Ghost Mode. Is Snapchat sharing my daughter's location with everyone??
That's a great question because Snapchat has just sharing the locations of its users easier to identify and did a pretty miserable job of letting these users know what's going on and what changed. My 13yo daughter is also a big fan of Snapchat, as are all her friends, and while I look at their interactions and just roll my eyes, they do have a lot of fun with the photo sharing app.
Let's start right out clearing up a potential misconception too: there's no "public feed" of what people are posting on Snapchat, so if your own daughter is only connected to known friends, classmates and family, those are the only people who will be seeing their Story posts. Individual posts on Snapchat are shared with one or more people (like text messaging), so in that instance, only those people see that content.
But location is slightly different, because the Snapchat app can analyze and share your location at all times with everyone you've connected with, even without telling you. Connect with someone at a party and forget about them and you'll show up on their Snapchat "where are my friends?" view until you disconnect them. Let's have a look!
To start out, a typical Snapchat screen and pic: The road ahead.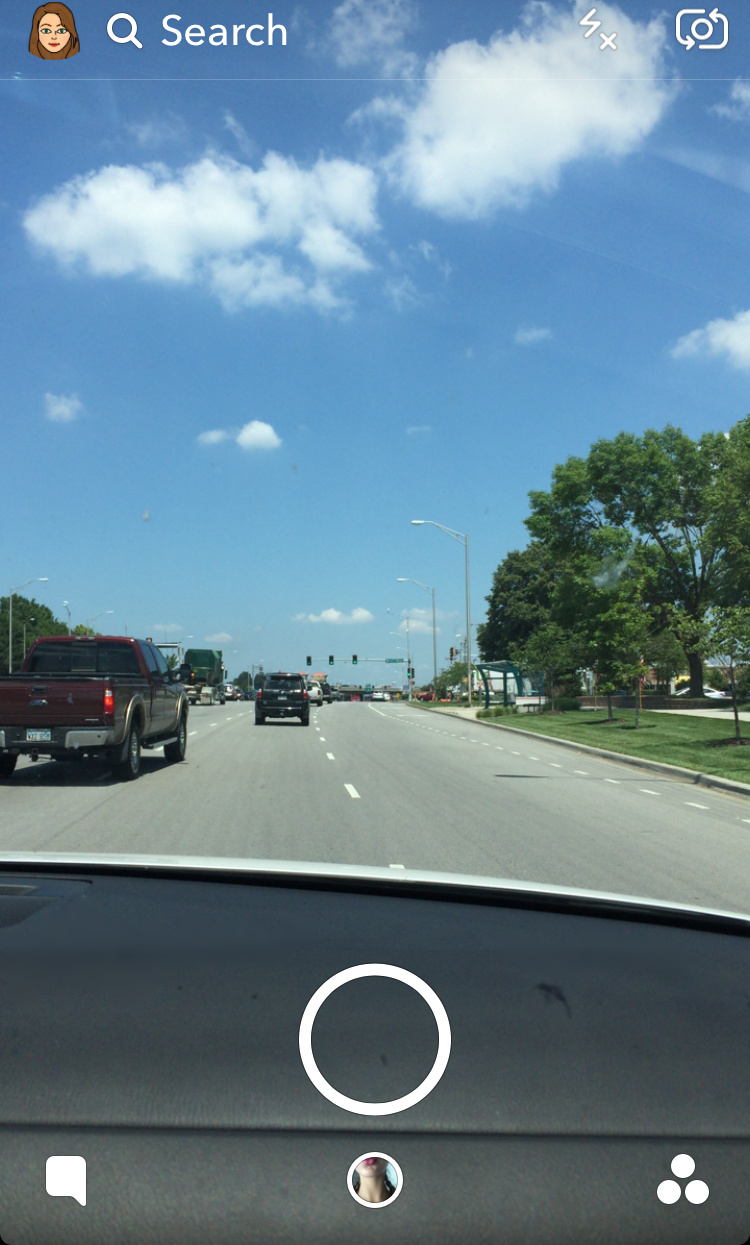 Pretty thrilling stuff, eh? We were, ummm, driving. 🙂
But things aren't all benign in Snapchat land. My daughter shared a map that showed the location of a number of her friends on a map: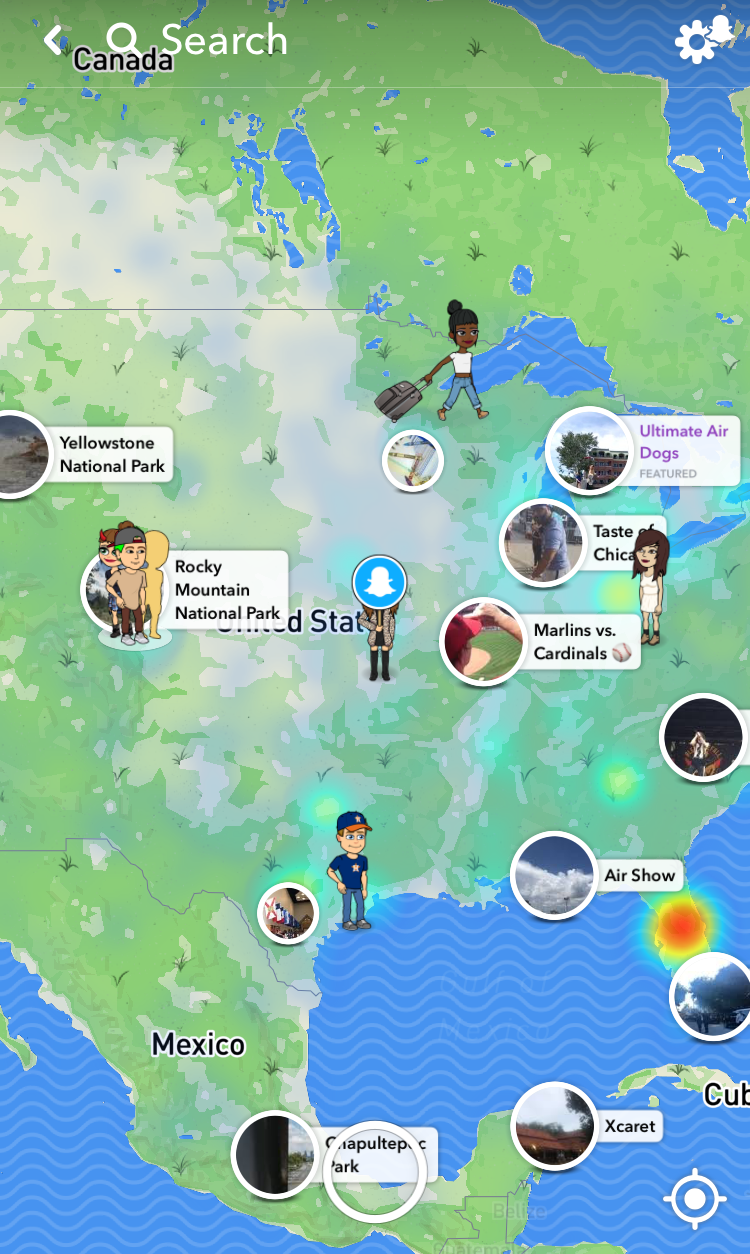 You can zoom in and get down to very specific addresses, and if more than one person is in a specific location, they'll all show. Which means when a few friends meet up and you're not invited, now you know. Which means that if your bestie is hanging with someone else, you can see that. It's not really a great idea, however much fun it may look from the above screen capture. My daughter turned this feature off based purely on her thinking about the pros and cons, I'll note.
Enter Ghost Mode. The idea of ghost mode is that if you've set this mode on your Snapchat app, it won't share your location (you'll be a ghost, get it?). By default your daughter IS sharing her location, even when she's not using Snapchat.
To "ghost" on Snapchat, start on the main screen…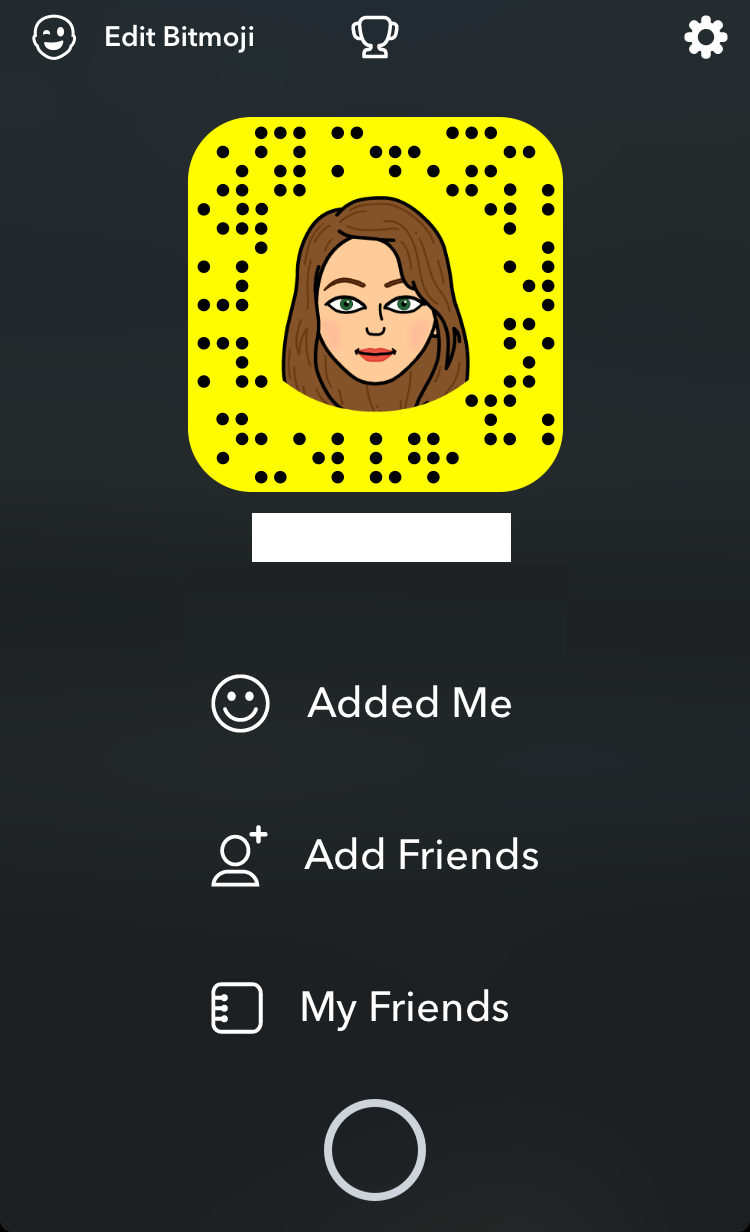 See that tiny gear icon on the top right? Tap on it to get to your account settings.
Lots of information you probably want to keep private, as we do with all the redaction above. Still, you can see the basics, but what you can't see is where the Ghost Mode can be controlled.
To get to there you have to swipe down a ways, until you find the "Who Can…" section of privacy options:
The setting in question is "See My Location" and you can tell in the above that this account has already gone into ghost mode. If your daughter's settings show "My Friends" she's sharing her location 24×7.
Tap on the ">" symbol adjacent to "See My Location" to get to the critical setting:
Note that if your daughter balks and says she wants to share her location with her cousin or BFF, there is an option to "Select Friends…" with location sharing where you can specify just a few people who will be able to see where you are at any given time. Still, my suggestion is to disable this feature and it rather bothers me that Snapchat enabled this without making it really big, in your face, overt and complicated to enable, rather than to disable.