My family is really into Thanksgiving, which I've always liked as a holiday. Turkey, desserts, football, family, what's not to like? This year, however, my kid sister was complaining that we should skip eating turkey because it has an abnormally high amount of "triptofan" [ed: it's actually spelled tryptophan]. What is tryptophan and why should we avoid it?
Well, let me be the first to wish my fellow Americans a happy thanksgiving, even if it's a bit unusual this year. Props to you for doing the research and reading this article! I too think it's one of the best holidays we have, though it's continually diluted as we go further and further into a politically correct world. I haven't seen many Pilgrims or native Americans in the posters and advertisements, for example, whereas when I was a kid I remember it was all about the Pilgrims sharing a table with the Indians to celebrate the harvest…
Anyway, there's no question that the meal of the day has become turkey "with all the fixings" and that one of the notable things about turkey is that it does contain an amino acid called tryptophan. Turns out, however, that it's one of the twenty standard amino acids and we need it in our diet. In fact, L-Trp is also categorized as an essential amino acid for human diets.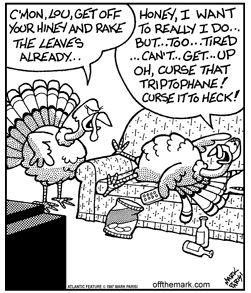 Going all the way back to college organic chemistry, amino acids are building blocks for protein biosynthesis and cannot be synthesized by our bodies: if you don't eat things with amino acids like tryptophan, you don't get 'em in your diet and you can't assemble what you need for healthy proteins. End result is that it adversely impacts your health.
Just as importantly, our body uses tryptophan to make niacin and serotonin, the latter important in creating stable moods and a healthy sleep pattern. So, yes, tryptophan-rich foods are going to help you get a good night's sleep and be happy, or, depending on intake amount, lethargic.
Before you toss the turkey in the trash, however, keep in mind that tryptophan is found in most protein-based foods or dietary proteins and is particularly plentiful in chocolate, oats, milk, yogurt, cottage cheese, red meat, eggs, fish, poultry, sesame, sunflower seeds, pumpkin seeds, and peanuts. Despite popular belief, the amount of tryptophan in turkey is typical of most poultry, not abnormally high. Let me say that again:
The amount of tryptophan in turkey is typical of most poultry.
In fact, the reason that people tend to lay around in a stupor after eating a Thanksgiving meal isn't because of the tryptophan in the turkey, but simply because it's typically a big, rich meal and our body just needs time and energy to digest it all successfully. That's why a good football game or two and a sly nap are just what the body ordered.
I don't want to say your sister's a spoilsport, because there are definitely people who aren't fans of turkey, and it's true that the generic bird from the supermarket can ostensibly be full of growth hormones and other things to help the birds grow quickly, but still, seems to me that she could simply opt out of putting any on her plate and even offer up an alternative like ham or even tofu, as she's so inspired.
But skip the turkey on Thanksgiving because it's abnormally high in tryptophan? I think your sister might be demonstrating the meaning of the adage "a little knowledge is a dangerous thing". 🙂