In addition to having a ton of music on my Apple iPod, I also have a copy of it all on my laptop, which is great. Any time I want I can plug in my headphones and listen to it while working. Except there are some songs that I just don't want to show up when I'm in "shuffle" mode in iTunes. Can I mark them as not eligible for play during a shuffle?
Thanks for asking that question. You're reminded me that I need to tweak those settings too because I sync my iPhone with my MacBook Pro and as a result, my iTunes library includes a CD full of ring tones. It's very weird when they show up when I'm shuffling through music in a hotel room, background music while I'm working! In fact, one time I was sure my phone was ringing and I'd missed the call. But that's another story! 🙂
Turns out that there is the ability for you to specify that a specific track — or a set of tracks or albums — should be omitted from the shuffle playlist, though you have to hunt a bit to find it.
To start, let's jump into iTunes and find a track to skip or omit:

The trick here is to right click (if you're on a PC) or Control-click (on a Mac) on the track information. You'll see a context menu pop up with a remarkable number of options: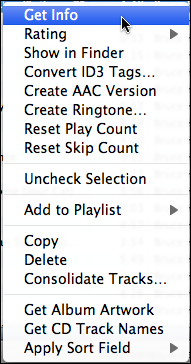 Choose "Get Info" and you'll see a ton of information that iTunes knows about that particular track:
Don't get sidetracked here, though. Click on the "Options" tab along the top of this window and you'll find what we want:
I've highlighted it in this screen capture, but you can see "Skip when shuffling". Click it and close the window. Done.
Now, if you choose a set of tracks at the same time — a much easier way for me to avoid my daughter's music on my shuffle playlist, for example — you'll find that the Get Info window has less information and the Options tab is structured differently: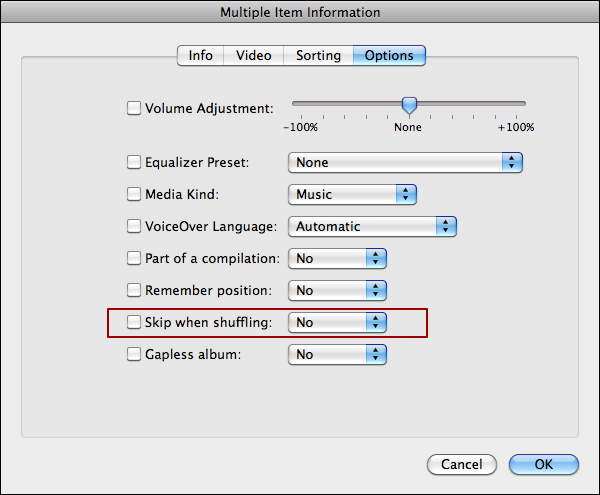 Same basic operation, though, check the box and choose "Yes" from the little menu. Close the window and you've restored control of your iTunes shuffle playlist.
Enjoy!